The main motive for the A.W.E.D Event was to initiate that curiosity to come out of one's comfort zone and take a small step ( if not taken already!) into realms unknown. To explore the taste buds of other countries and then to customize into our own palates preferances. This helps us to come across so many variations and plethora of tastes that its worth taking every step. That being said, I am overjoyed at mails which emphasize on the same – of that new dish done, of the new creations explored, of that effort taken not done before.
This time the cuisine explored was Chinese which included Indo-Chinese, American -Chinese and Sichuanese Cuisine. There has been warm reception to this theme as before and there have been wonderful and v.beautiful entries. I have had a entertaining month trying out many of your dishes and have still many more in my list. Ok Lemme start the Chinese Menu – Hope you like what you see

Appetizers


1) Bhags of Crazy Curry is really crazy – cos she calls these luscious looking pancakes as dilapidated. Although Chinese Cooking hasnt come under her expertise hands yet – as she claims – these chinese pancakes are a total winner for me.
2)Happy Cook at My Kitchen Treasures sent in her soulful looking Noodle Soup and she made it vegetarian just for me and that too before she went on a break. HC – hope you are having a gala time

3)Priya at Live2Cook lets her excitable kid inspire her to make Chinese Pancakes and whips up a delicious looking appetizer for all of us. This is one recipe which am sure will be loved not only by her little one but by people of all shapes and sizes

4) and 5) Rashmi at delhibelli sends a double loot with Wontons – in chilli oil and then in soup!Double Yum!
6) Divya at Divya Dil Se shares with us a very appetizing looking and her favourite sweet corn soup. If you have never had it before, this will sure lure to make one right away.
7)Cham of Spice-club never lets me down esp when it comes to her presentation skills and I have not yet started talking about her recipes. Her pic should do the talking for me

My latest aquisition from her blog was Wheat Idlis – and next her noodle soup is sure to win me over.
Main Course
I have classified the Main course into 3 groups for ease and simplicity. First lemme start this with the eternal favourite Noodles
Noodles
I have made, eaten and enjoyed noodles for as long as I can remember and seeing so many varieties only made me more excited.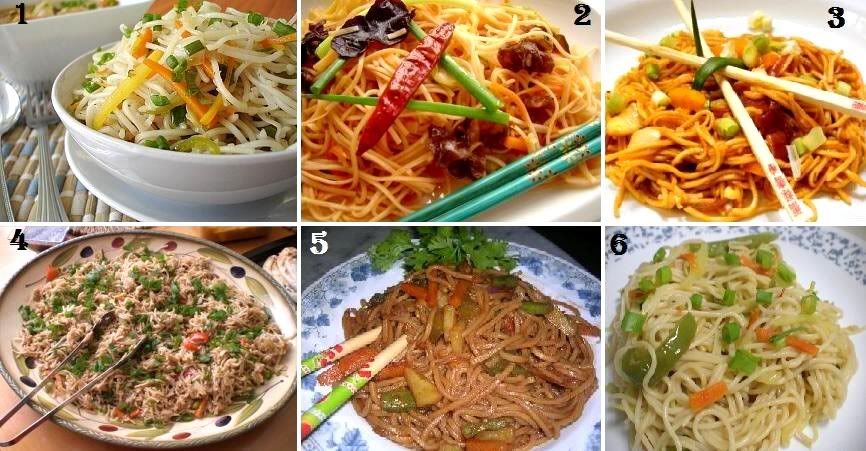 1) Sailu from Sailu's Kitchen does not need an introduction. She has been inspiring so many of us with her perfect pictures and all round recipes.Here again she leaves me amazed at her colorful and hearty Vegetable Noodles. Thats a must try.
2)Rashmi at Delhi Belle whips up a utterly delightful looking Shangai Noodles which is worth all those minutes spent at the kitchen.
3) Mansi at Fun and Food sends us her Schezuan Noodles which is a true blue a restauranter piece.
4)Mythreyee at Paajaka kindles our senses by sending in her Schezuan style Hakka noodles where she shares about her *secret* for this dainty dish.
5)Neha at Tasty Recipes who dedicates this appetizing Noodles to her kids. But it looks like we all are going to enjoy the same

6)Trupti at Recipe Center showcases her yummy noodle recipe in a new site

Loved the pic.
7)Deepthi at Vegetable Platter sends her version of Hakka Noodles with lots of vegetables and a touch of spice(yum!) making it a true Indo-Chinese Affair.

Radhika of Tickling Palates gives us some 'must-knows' about the Pasta-Chinese connections, about Chinese inventions and of course all these along with her version of Noodles made in Tomato sauce.
9)Raaga at Chef at Work decides to go healthy by making her favourite Hakka noodles instead of eating the same outside with so much oil.Her healthy version is sure a must try

10)Vivinidhi at Charche Chauke ke gives a good info about the Chinese-American Chop Suey. That vivid red color along with lots of vegetables makes it a sight to watch. Go on – watch it – You will find it hard to take your eyes away.
11)Kalva at Curry in Kadai makes an totally enchanting and healthy Whole wheat Noodles stirfried with assortment of vegetables. That forkful looks so inviting.
12) Then there is this Hakka Noodles – a total Indo Chinese affair from yours truely
Rice
Rice is such a staple and Fried Rice has never been more famous anywhere else. Also Indians have sort of adopted the Chinese fried rice and the versions that have bubbled out of the cooker is mind boggling!
1) href="http://dessertpro.blogspot.com/2008/07/pineapple-fried-rice-main-course.html">JZ at Tasty Treats awes us again and again every time she posts – her presentation is so. I have always ogled at her pics without fail and this happened this time too with her absolutely delicious Pineapple Fried Rice!(drool!!)
2)Hima at Snack-o-rama presents her spicier version of Chinese Fried Rice. I had been missing her with her absence and when I received her entry, I couldnt have been any more happier

3)Arundathi of My Food Blog will always be Anu to me! I am so glad for the concept of Recipe Marathon which bought about her friendship. I can see Anu staring at me -Ok well lets get checking her Fried Rice shall we? She is not the one for Chinese cooking at home, but all the same she made some delicious and healthy looking fried rice for all of us. It is as simple as it can get!
4)Skribles at Food with pinch of love adds in a caboodle of vegetables to her version of Chinese Fried Rice.This is sure to make you proud of being a vegetarian
5)Happy Cook at My Kitchen Treasures is back again with her neat looking rice which would be sure to make you clamour for more
6)Kamala at Mom's recipe brings along her own touch among so many versions of the Chinese Fried Rice.As I commented at her blog – it truely is a bowl of delight.

7)Shifa at Voiz out brings out her family favourite and a weekend affair on to the blogger plate. Her fried rice is as healthy and tasty as it gets. While there, dont forget to check out her recipe for Gobi Manchurian too.

Sireesha at Mom's recipe makes us her husband's fav and looking at the picture, it looks like its going to be many of our favourite too

9)Jayashree of Spice and Curry makes one of my all time fav and quick fix meals – Soya fried Rice.It has all the essential ingredients to make it luscious and healthy. Dont give it a miss!
10)Sunshine Mom at Tongue Ticklers presents her Szechuan Rice Supreme which looks as authentic as any Sichuanese Cuisine. Another healthy and delicious treat for all of us.
11) Nags at For the Cook in me version of the rice is not only simple but it looks very tasty too.
12)Sia at Monsoon Spice emphasises on the term 'Going weak in the knees' by way of her photos. You cant but drool and keep drooling some more at her presentation and quality of her pics. Added to it her Tofu Fried Rice looks utterly irresistable.
13)Foody Guru at Few Minute Wonders shares her cousin's recipe of Fried Rice and says its her favourite. The picture sure looks like its ought to be everyone's favourite.
14)Divya at Dil se sends her easy and quick Fried rice which looks delightful and totally scrummy from the looks of the picture esp with all that cashews and raisins.
Side-Dishes
Every main meal is incomplete without the extra zing bought by the dishes at their side. The flavour of – be it the noodles/ rice is enhanced by the accompaniment that is served along with – Short of ideas? Why not check the massive list out here. I have to warn you that it might confuse you since you would want to try everything!:)

1)Bhawana of Taste Of India tries something totally new and oh boy! was it worth it? It was – totally for me. Her Potato Manchurian looks so yummy.
2) Divya at Easy Cooking gives you the answer to so many of our dreams. No Fry Gobi Manchurian! No you read it absolutely right – its No Fry indeed. Dont believe me? Jus hop over to her blog and see it for yourself.
3)EC at Simple Indian Food has everything you want and her Veg Manchurian was yet an another answer to my ever lasting search for a excellent veg manchurian recipe.
4) Jyotsana at Curry Bazaar takes us right into Chinatown with her delightful Gobi Manchurian. She has quite a handful of chinese recipes at her blog – so do check them out too.
5)Karuna at Foodie by Nature totally makes you want to try her Sesame Chilly Potatoes. I mean you heard me – dont you feel like wanting to taste it pronto?

6)Lisa at Food and Spice's variety of vegetarian dishes boggles me! I have tried so many of her recipes with A+ results and her Sauteed Azuki and Mung Beans is another one added to my 'to-do' list.
7)Medha at Cook with love totally won me over with her so colorful Sweet and Sour Baby Corn that I tried it the minute I got her entry and it was a total keeper! Good for entertaining too.

Neha at Tasty Recipes back again with an utterly mouth watering and spicy Chilli Paneer – it was a total love at first sight for me and am sure it would be for you too.

9)Padma at plaintain Leaf sends in her unique combo of Mushroom and broccoli stir fry. I havent tried my hands on this blend but its a must try

10)Rachel at Tangerine's Kitchen tempts us with her utterly delicious plate of Indo-chinese Potato stir fry! Thats another one in my 'I-made-it and -liked-it"list.
11)Ranji at Ranji's Kitchen corner – another recipe marathoner whose bubbly countenance is a reason for many moments of laughter and her yummy Gobi Manchurian brings the same smile in my lips which she did during group's so many endless threads.
12) Roma at Roma's Space sends her v colorful and easy bowl of stir fried vegetables. Thats an appetizing looking bowl – wouldnt u say so?
13)Sailaja at Sailaja's recipes wows her guests with her Gobi Manchurian and she wows us too

Check out her version of the famous Indo-Chinese fare.
14)Sailu from Sailu's Kitchen is back again with her Vegetables in Spicy Garlic Sauce. I totally dig this recipe and this was another recipe that I tried with fabulous results. This is so worth bookmarking.Dont take my word for it – Go ahead and try yourself
15)Simran at Bombay Foodie makes such a healthy Kitsch with a delectable mix of beans and Tofu.
16)Valli at Cooking 4 all Seasons says its her first time at making this dish but this does not look like it at all. It looks as pro and elegant as any we would get from a restaurant. Its another one in my to-do list.

17)Suma of Suma's Cuisine. As soon as I saw her recipe for Soya Manchurian the first thing that struck me was – why dint I think of this before!! Soya chunks are a staple in my pantry and I have tried so many things with it – somehow this never came across my mind. I loved it when I made her recipe. Its worth a shot.
18)Sumi from Sumi's suKitchen goes out of her comfort zone for this event to whip up an droolworthy Chilli Garlic Mushroom. Another one to bookmark guyz.
19)Sunshine Mom at Tongue Ticklers gives us another entry with a delicious and spicy Paneer Nuggets. Thats one yummy dish thats going to be a hit wherever, whenever its made!
20)Vandana from Cooking up Something Nice makes her version of the so-often-made-and-loved Gobi Manchurian. She says that she enjoys taking part in blog events and if she makes such dishes, I am sure we would enjoy "her" participating such events too.
21) Nags at For the Cook in me makes an another "why-dint-I-think -of-this-before" dish. I seem to be thinking this so often nowdays what with you guyz coming up with such creativity. Her version looks absolutely heavenly. Just take a look at her pic and you would sure agree!
22)Sia at Monsoon Spice ladles an 'out-of-this-world' looking bowl of Sweet and Sour sauce. One look and you know its perfection and second look – you would want to recreate the same magic at your own kitchen too. I know I did

23)Vani at illatharasi helps me to get introduced to a completely new green veggie. I never knew of Kailan and her wonderful and easy dish prompted me to do some research about her ingredient. Thats one thing to watch out for.
24) Thats an entry from yours truly – Seitan Stir fry - which gives more than it takes to cook. Simple Easy and too healthy not to try.
25) Another one of the ever famous Gobi Manchurian from Divya at Dil Se's kitchen. Doesnt the color on this one look absolutely amazing?
26)I am not alone in my liking for Seitan, I guess. Pavani of Cooks-hideout has cooked up a luscious looking what she calls as a General Pav's Seitan which she made into a vegetarian recipe ( thats my girl

) It luks yummy and seems to be a powerhouse of nutrition.
Snacks
One thing that I am totally addicted to is snacks! Munching between meals is considered not a healthy habit but the ones which I received for the event may very well prove all these doctors wrong!

1) Anna from Morsel and Musing introduced me to yet an another delightful ingredient – Tofu puffs with her recipe of Salt and Pepper Tofu. Thats prompted me to search high and low for these bites and try Anna's recipe as soon as possible

2)PJ at Seduce Your Tastebuds really did seduce mine with her Fried Tofu fingers With Black Magic Dip. She was almost not going to make it, yet she found time to share this beautiful recipe with all of us. Sometimes last minute creations can make wonders!
3)Pearlofeast at Anyone Can Cook shows step-by-step instructions of how to make the delicious and yummy chinese dumplings right at your own kitchen. No more excuses not to try them anymore, is there?
There is nothing like getting to know a region's culture/traditions – especially heard from a local or a person who has stayed there long enough to get properly exposed to that place's day-to-day activities. That being said PJ
at Seduce Your Tastebuds gives a very delightful view of the Chinese Marriage. In her words
"The wedding colour, it is quite standard: Red.
Red is central to the wedding theme of China . It signifies love, joy and prosperity and is used in a variety of ways in Chinese wedding traditions. The bride's wedding gown is often red, as are the wedding invitations, and wedding gift boxes or envelopes for cash gifts. Even the bride and groom's homes are decorated in red on the wedding day.
Before the party, most of the time the new couple will stand at the front door of the restaurant or hotel. They thank everyone for coming. Usually, people who come to the wedding party will give the new couple some money that is called "Hong Bao". When almost everyone comes, the party begins………"
Got you curious dint I? Hop over to her blog to get to know more. Its so interesting.
I hope you like this AWED Chinese Menu and would use this as a reference to your satisfy your chinese appetite. You are welcome everytime

I have tried to include everyone who has sent me a mail, but in case as with human tendancy, if I have overlooked someone's entry, I apologise and pls do drop me a line. Will include it pronto.