Exactly an year ago, I happened to meet a chef wannabe. She was originally from India and was staying in the US for last 15 yrs but her accent was unbearable! It was Tamerican! ("Tamil + American"). I am simply astounded at few fellow Indians, the kind of attitude that they carry as a baggage, all cos they happen to be "not so Indian" right now and the compulsive necessity to show that they have changed completely and are much "above" the "unprivileged" others

Anyways, among her incessant blah's, I heard few words, one among which was what I assumed to be 'coolies' and I remarkably thought that she said I looked like one!!! Was I pissed? You bet I was! The cheek of her to insult me so !!
Source: Food Network
But I did later understand that she was talking about not 'coolies', but Coulis!:) And her comment was something to the effect of my shade of lipstick was the same color as her coulis she made that day! One of those astoundingly rare occasions when a compliment was taken as an insult! Phew! Coming to Coulis

What is Coulis?
Coulis (pronounced as coo-lee)is French, meaning strained sauce. It is derived from latin word 'colare' which stands for 'strain'.The sauce can be either sweet or savory. In the early days, they were supposedly used to mean the sauces which used to drip from meat, while they were cooking.
What are coulis made of?
Coulis can be made either from pureed fruits or vegetables. They must be thick and evenly textured. Usually while making coulis with fruits, the fruits are used uncooked whereas with vegetables, they are cooked by way of roasting, simmering etc to soften them up before pureeing them to a sauce.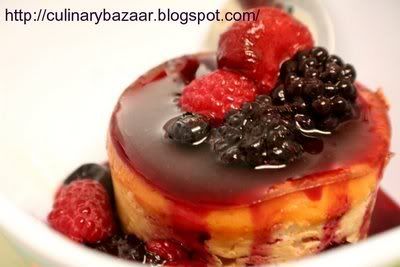 How are Coulis used?
Coulis usually accompany any main dish. They are used as a glaze, as a topping or as a base for a main dish or a dessert. They also make a beautiful garnish esp. when it comes to gourmet cooking. Have you noticed the chefs at Food Network artfully decorating a plate with colorful droplets of some liquid. Most of them are nothing but Coulis

either made to accompany the main dish or made from the main dish itself

.
Source: Mendenhallin
Although they are available pre-made in shops, they are among the simplest to make at home. They can be prepared in jiffy and can be refrigerated for few days – not more than a week. But if it needs to be stored longer, freezing is an excellent option. They are amazing to transform a simple dish to gourmet looking in matter of seconds

Link to this recipe
Bookmark this page using the following link: http://chefinyou.com/2008/12/what-is-coulis/
Do you have a website? You can place a link to this page by copying and pasting the code below.
<a href="http://chefinyou.com/2008/12/what-is-coulis/">What is Coulis?</a>