I opened my fridge in a jiffy - saw some paneer and not so interesting vegetables, opened my freezer saw some frozen peas. The mind raced through dishes - "shall I make
Muttar Paneer?
" - I asked my husband. He was like "mmh!..dint we have it just last week, I want something else with Paneer!" "But I dont have any other interesting vegetables! I just have an hour to prepare something before your friend comes." - I said "Oh well (sulking) - ok then make it then" - He said "Ok let's strike a bargain - How does Muttar Paneer Parathas sound to you? - I can serve it with some mint raita" - I said "What is muttar Paneer paratha?" - my husband, thoroughly confused "Wait and See " - I said simply.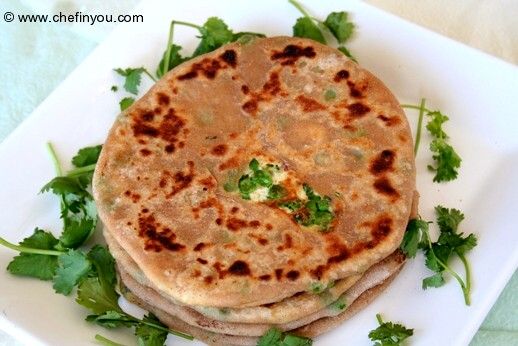 Its a simple grated Paneer and mashed peas mixed together with seasoning and used as a stuffing inside an Indian flatbread. Simple, yummy and an absolute winner. This is how I made it. It made up about 8-10 parathas for us. I like it little thick. If you want you can easily halve the recipe.