Cilantro Lime Rice (chipotle style)
Have you ever been a situation when you wanted to throw out all things complicated - be it from serious life to career issues to as simple as clearing out a crumpled up wardrobe to your bookshelf? Ah! I know how it feels. Sometimes I feel that we all make things too complicated when they need not be. A simple solution is all it probably needs. Simplicity is the best cure for most of our problems but well, it can be the hardest thing to get (what a paradox!).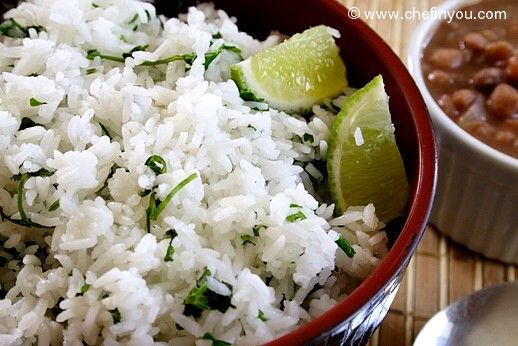 I LOVE
chipotle
and especially their Vegetarian Fajita Burritos. Down to earth ingredients come together to form such a delicious and clean flavor. Its an epitome of simplicity. I especially love their rice and I was surprised to see that there are quite a few lovers for that rice like me (Web- what do we do without you?). Here is the recipe for Chipotle style Cilantro and Lime Rice. Has only 3 main ingredients and takes like 10-15 minutes to cook!
Enjoy it in
Black and Mango Quesadillas
for a substantial lunch, or in a burrito along with
Vegan Frijoles refritos (Refried Beans)
,
Guacamole
,
Pico de gallo
or
vibrant Mango Salsa
. Its great as a side to any spicy meal which is how we enjoy it more often along with chilled
Watermelon Agua Fresca
.
Ingredients
1 cup Basmati or any other long grained rice, rinsed lightly in cold water
1 tsp oil (for that authentic taste use 1 tbsp butter)
1-2 small limes
1/2 tsp sugar (optional)
about 3 tbsp cilantro
salt to taste
Method
1
Soak the rice in some water for 10 minutes. Although it is not required, I find that it helps to keep the grains separate and avoids it getting mushy!
2
In a skillet, in low heat, add the butter/oil along with rice and sugar. Let the rice get coated with the oil. Once the rice gets aromatic add juice of 1 lime. Stir for a minute.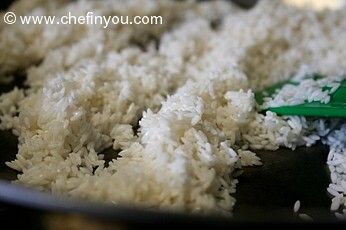 3
Add 2 cups of water and salt - cover and cook for about 10-15 minutes.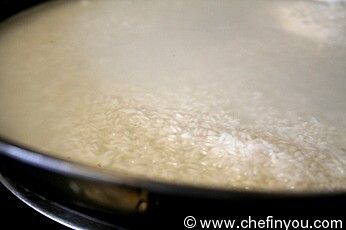 4
Check to see if the rice has absorbed all the water. ( Note: Some people like to cook Basmati with 1 cup water. For me 2 cups works well since I find that 1 cup gives a crunchy grain and is not completely cooked.)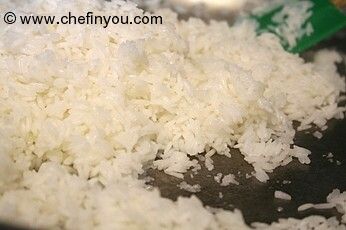 5
Stir it v lightly and add chopped cilantro. You can add more if you like. Taste and add more lime juice if required. Remove from flame, fluff the rice lightly and let it sit for 1-2 minutes with the lid on.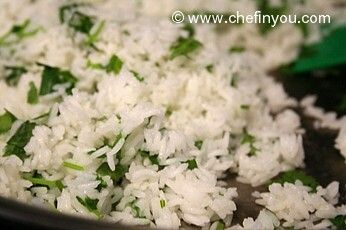 You can optionally add lime wedges as garnish. I served it along with
Frijoles Refritos ( Refried Beans)
. This rice goes very well with spicy and hot dishes. The flavors are simple though they burst with the freshness of lime and aroma of cilantro.
Related Recipes You May Like
Did you make this recipe?
Please click below to share your experiences while you were making this recipe. Thanks for your input!
Have a favorite recipe?
Know a family recipe your mom used to make? Or maybe a go to recipe that works everytime? Share it with your fellow foodies!