Classic Chocolate Fudge Brownies
The way I got this recipe is quite a memorable incident. I was newly married and was exploring my talents in the kitchen. I did not know anything about baking yet. For me, in those days,
baking
was something which bakers did at the shops along with some major factories specializing in it. It did not even enter my mind that one can make
cakes
at home leave alone
breads
and
cookies/biscuits
! We went skiing one day along with my husband's friends. The wife of his colleague bought some cakes and brownies for us which she had made at home. I was like astounded to say the least. I kept asking her "Did you really make it at home?". I did not even stop to think how she would have taken it!  Her husband told us, she was a chef. I was like "Oh, no wonder". Sweetheart that she is, I think she totally understood my point and was like "Oh no - its easy. You can easily make it at home since here Ovens are so common :). You should totally try :)"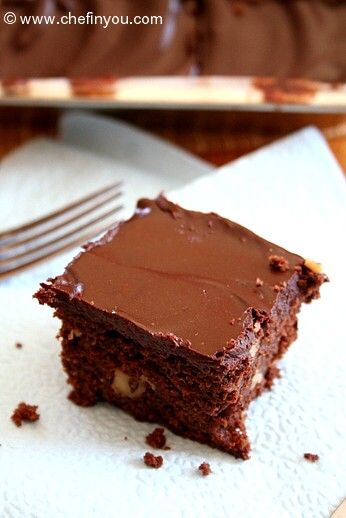 After I got home, I thought about it and then decided 'Nah! Cakes and stuff at home? Me? No way!". In India, during that time, baking was not a common term in households - may be in v few but not common at all. Nowadays I see that its becoming quite a regular affair in many homes. Anyways- back to my experience. I was just content on learning the regular aspects of our cooking, slowly extending it to other unknown cuisines. But among many cuisine, I kept bumping into lots of baked goods. One fine day, I thought I might just as well do it and noted down this brownie recipe which they called as American Classic in some book (whose name or source has skipped my memory!). I saw something which my husband pointed out as Oven and I had to fend off for myself after that. I realized there were other things to buy and once I made a list - I simply felt lethargic and left it.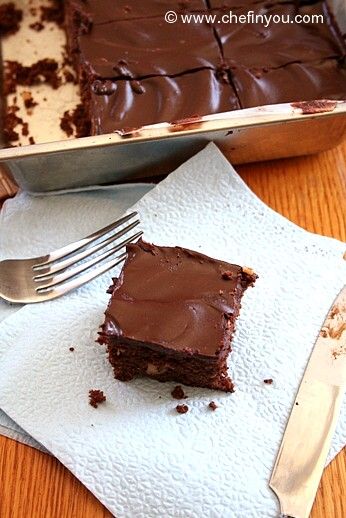 Few months later, I did finally get the courage to bake but I started out with a bread - which I will blog about later. Then just a year back, I remembered these brownies and made them. No thinking twice, no hesitation, no nothing - just plunged and baked some. I thought back to the time when I sat down with this recipe for such a long time, hesitating to take that very first step! Nostalgia totally! I made these again few days ago for a special person whom I was going to meet for the first time since she is a total chocoholic! Here it is - Its a rich treat, hence you can cut down the frosting if you want to. But together with that, its a must for all chocolate lovers.
Basic Information
Cook Time
:
30 min to 1 hour
Yield
:
About 12-16 pieces
Ingredients
1/2 cup self-rising flour
1 cup chopped walnuts (or pecans)
2 eggs, lightly beaten
3/4 cup butter, melted
6 tbsp cocoa
1 cup light brown sugar
1/2 tsp vanilla extract
For the frosting
4 ounces semisweet chocolate chips
2 tbsp butter
1 tbsp sour cream
Method
1
Preheat Oven 350F. Grease an 8 inch square shallow cake pan with wax paper. Mix the butter and cocoa in a pan and set aside.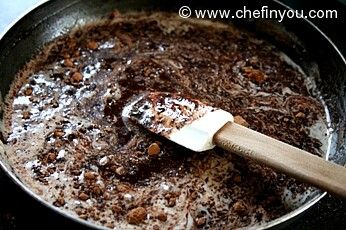 2
Beat together the eggs, sugar and vanilla extract in a bowl.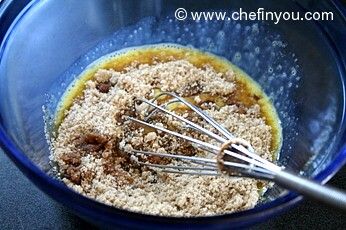 3
Mix it along with cocoa mixture.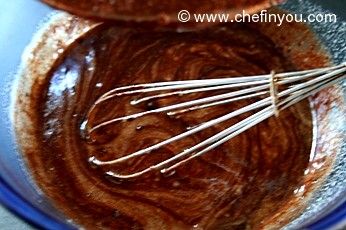 4
Stir in the nuts.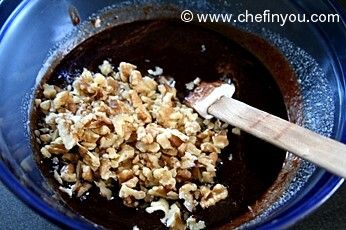 5
Sift over the flour
6
and fold it along with the mixture.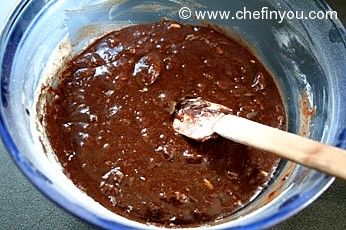 7
Pour this mixture into the cake pan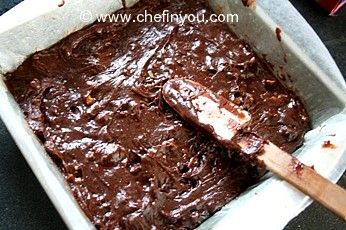 8
and bake for 20-35 minutes until risen. It will still look soft and wet but it will cook further while cooling. Let it sit to cool.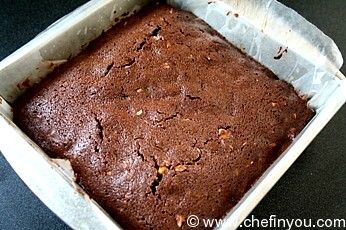 9
To make the frosting, melt the chocolate chips and the butter together in a pan.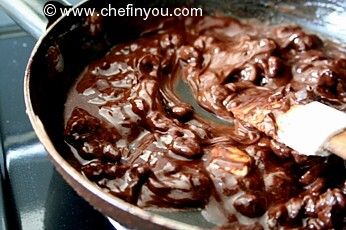 10
Mix it well until smooth. Remove from heat.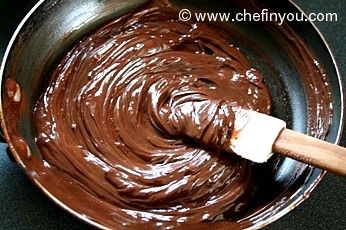 11
Now add the sour cream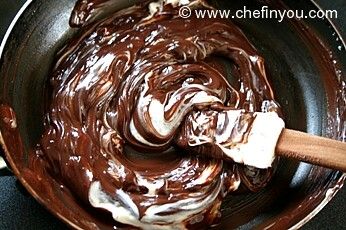 12
and beat it until smooth and glossy.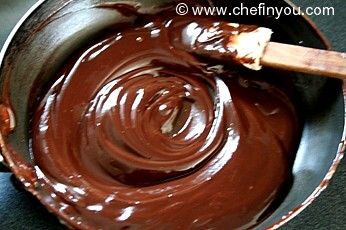 13
Let cool slightly and then pour it on topof the brownies.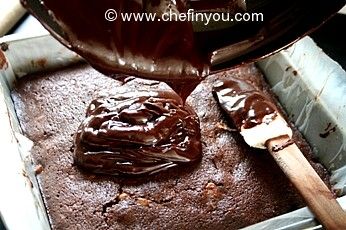 14
Spread it well.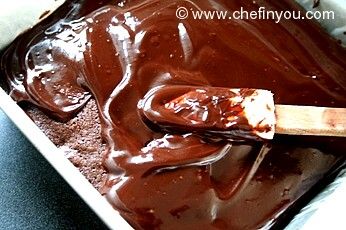 15
Let it set well. You can also refrigerate it for some time to speed up the setting process. Slowly cut it into pieces.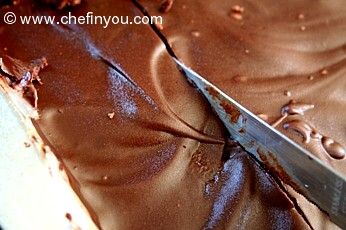 16
It would make about 12 large pieces. You can cut it into smaller pieces since its pretty rich.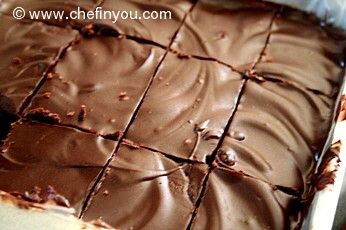 Its gooey, smooth, chewy with a slight crunch  from the nuts.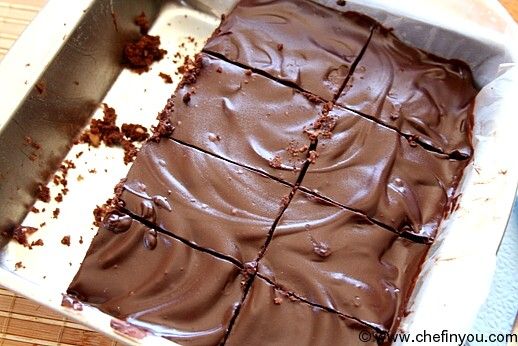 Of course, its chocolaty and heavenly for all choco lovers!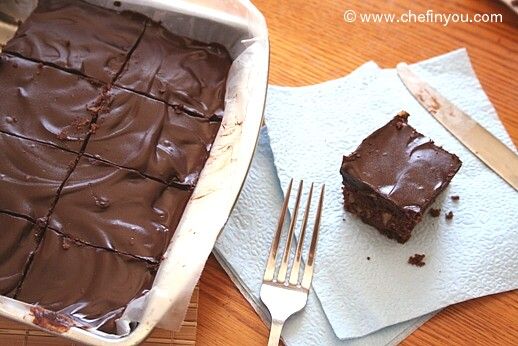 Related Recipes You May Like
Did you make this recipe?
Please click below to share your experiences while you were making this recipe. Thanks for your input!
Have a favorite recipe?
Know a family recipe your mom used to make? Or maybe a go to recipe that works everytime? Share it with your fellow foodies!