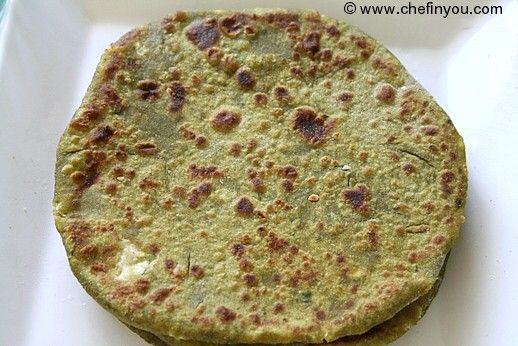 Our dinner regular is
Roti
and
Paratha
. Now when its going to be almost the same every single day, I like to make it interesting by adding different elements to it by way of stuffing.  Also I find it easier to make parathas which enables me to slack off on a side dish since mostly parathas by themselves are heavy and don't need much by way of a side dish. Simple raita and pickle is mostly enough to suffice a full blown meal. Even if you are planning for a side dish, make sure its something very light and gravy based. You need something to balance the heavy parathas with something light.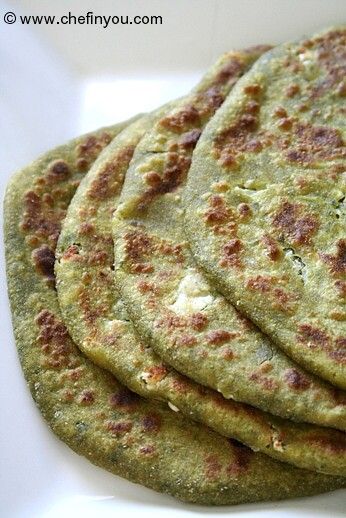 I chanced upon this paratha during a visit to an Indian restaurant which we had never been to earlier. We loved their selection and we ordered this paratha. It read Hara bhara paratha with a cauliflower, spinach  and potato filling. It tasted yummy especially since there was some Ghee involved in the cooking. Nothing beats the taste of ghee! Ghee lovers will scoff at butter for sure - but well Ghee is more calorie rich than butter. Sigh! :(  Anyways, I used their base idea to recreate the same at home, my way. If you know me, then you will understand my need to incorporate paneer somehow ;)! I am to
Paneer
what
Paula Deen is to Butter
! ;)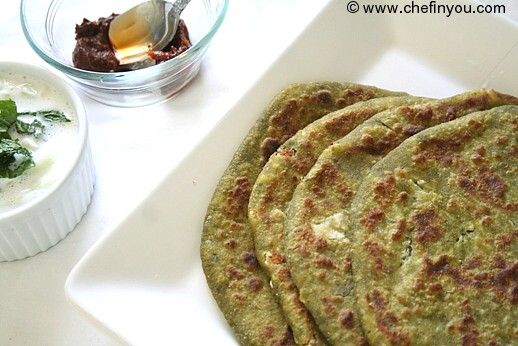 So I added some Paneer to the mix of stuffing :) But this is a versatile dish. You can add whatever stuffing strikes your fancy. The spices are also easily customizable. I used what I had on hand on that day but get wild with it :)
Basic Information
Prep Time
:
30 min to 1 hour
Yield
:
Approximately makes around 8-12 parathas depending on the size
Ingredients
For the cover
3 cups whole wheat flour
about 2 cups spinach
little salt to taste
1-2 tbsp plain yogurt ( I used Greek Yogurt- fat free )
For the stuffing
1 cup cauliflower, grated
1 cup paneer, grated
1 large steamed and mashed potato (I used it with skin, you can peel it if you like)
1-2 green chillies, thinly sliced, or as per taste
1 tbsp cumin-coriander powder (garam masala, chaat masala will also work)
little salt to taste
sprigs of cilantro, chopped
Method
1
Wash the spinach well in cold water.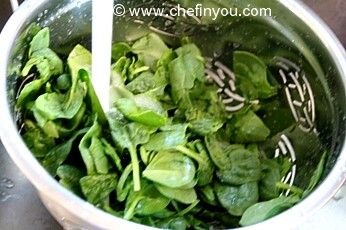 2
Next add it along with the yogurt to the blender.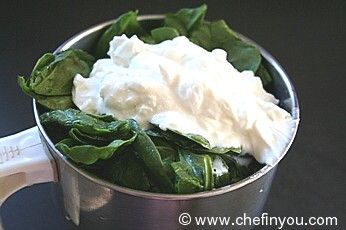 3
Blend it into a smooth puree.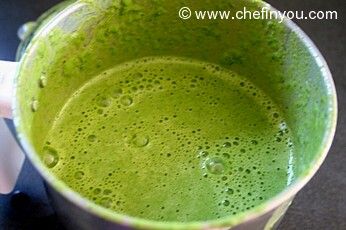 4
Take the flour and salt in a bowl and mix well.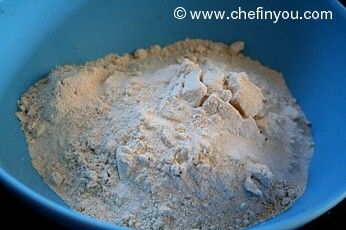 5
Use this spinach puree, little by little,
6
to knead it enough into a smooth pliable dough. Take care to add only little of the liquid at a time. You dont want to make it into a batter. Even if it does become one, add more flour to achieve the right consistency. If the puree is not enough add little water to bind the dough together. Set aside covered for few minutes.
7
Prepare the filling. Add all the ingredients for the filling together.
8
Mash it to make it into a thick paste. You can do a taste test and add any seasoning you like. Make sure not to add too much salt since the cover also has salt.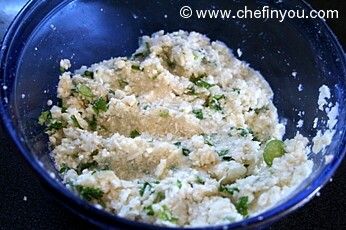 9
Now take a small lemon sized dough. Pat it down with flour.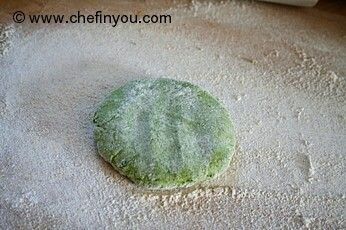 10
Roll it out a little.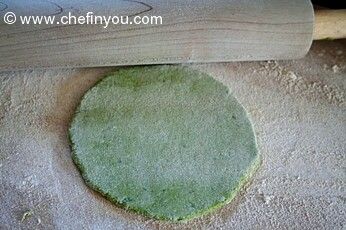 11
Now make a small ball of the filling and place it in the middle of the dough.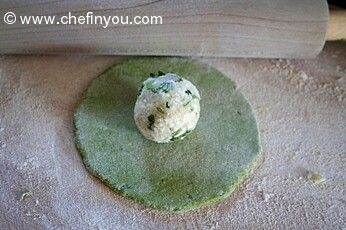 12
Bring up the sides of the dough above the filling to form a dough. Pinch it.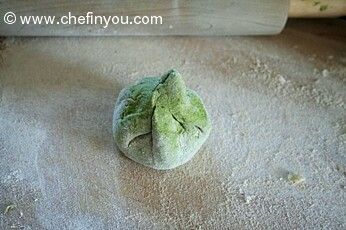 13
With the flat of your hand, press it down.
14
Flour it well so that it does not stick.
15
Slowly roll it out using a rolling pin.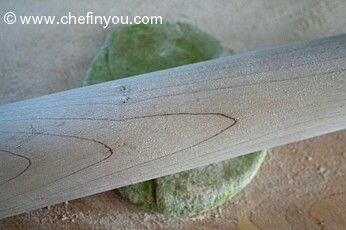 16
I usually make it medium thick - You can do it the way you like. Make sure not to press it too thin since the filling might come out. A little out does not really matter ;) Place it on a preheated pan. Add some Ghee/Oil on all the sides and few drops on top.
17
Turn in about 3-4 minutes when brown spots start appearing.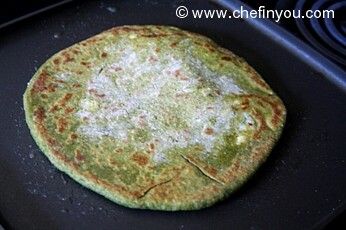 18
Repeat for rest of the dough.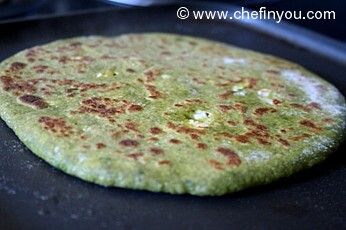 Serve hot with Raita and pickle. Of course a pat of butter/ghee wont hurt it at all ;) I am sure that green color will be more enticing to little ones where you can sneak some spinach into their meals.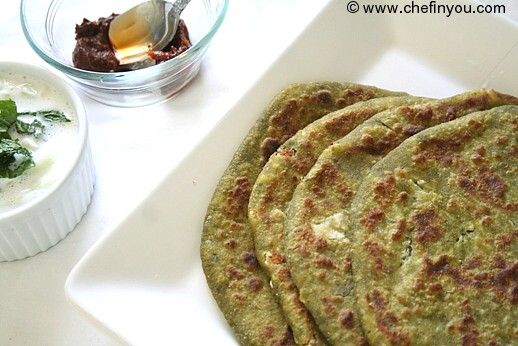 Related Recipes You May Like
Did you make this recipe?
Please click below to share your experiences while you were making this recipe. Thanks for your input!
Have a favorite recipe?
Know a family recipe your mom used to make? Or maybe a go to recipe that works everytime? Share it with your fellow foodies!