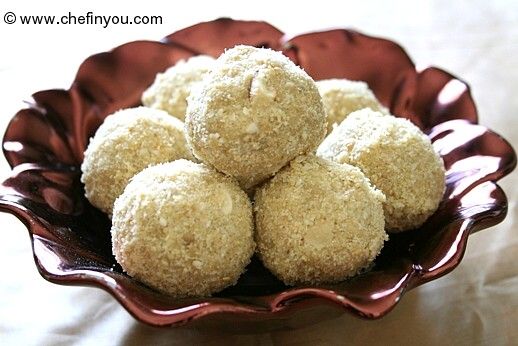 Everyone has a specific reason for blogging. They are as myriad as the people behind such blogs esp. when it comes to food blogging. My reasons were/is quite different from what you probably heard before. I have this hyper active approach to learning/doing things - multi tasking to explain it simply. Its a boon as well as a curse. Boon cos I try to fit in as many things as possible in one single day. And a curse, cos - I try to fit it as many things as possible in one single day! Sigh! It leads to stress and pressure to finish off every single one well and that's so not happening, clearly cos I am no super woman!  I want to learn as many things in one single setting that I end up up doing its and bits of 10 different things instead of 1 complete thing. This haphazard learning approach was what I had earlier applied to my cooking where in I wanted to take in as many things as possible. To get away from this bad habit, I took up blogging cos taking pictures and documenting every single aspect of a recipe made sure that I learnt it properly first. Participating in all those blog'o'sphere events which follow a specific theme helped me to focus.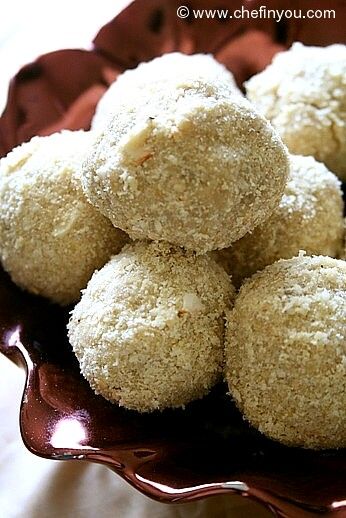 During that time was when I first got to know one of my first Blog'o'sphere friends - Viji from
Vcuisine
. Something about her writing style, her cooking and thoughts made sure that my memory of home far away from the current one was kept fresh. Also she is exact opposite in her approach, than me,  of doing every thing - more systematic and in a timely manner which kept me rooted from going back to my old habits :) Her blog is now private but she has graciously told me that I could always share all those traditional recipes with everyone.  I tried her Sesame Ladoos (made during
Navarathri
) and have thus reproduced it here. This is made and distributed in the form of a powder on a Saturday (since sesame seeds is special to
Lord Shani, Hindi Lord of  Saturday
). But you can also make it in a ladoo form like this one. I have added its and bits of my viewpoints/changes here and there to the recipe.
References
recipe courtesy from
vcuisine
Basic Information
Yield
:
Makes around 8-10 ladoos
Ingredients
1 cup Sesame Seeds
¾ cup Jaggery (I grated it)
½ cup Desiccated coconut (I used dry coconut powder since I only had that on hand)
2 tbsp Cashews broken
½ tsp cardamom powder
1 tbsp Melted Ghee (optional)
Method
1
Dry roast the sesame seeds in a non stick pan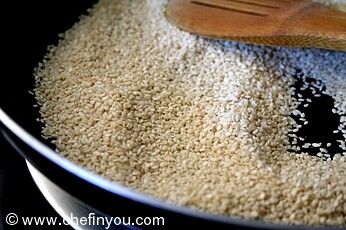 2
until brown.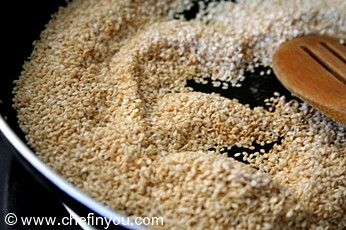 3
Add rest of the ingredients except Ghee and cashews.
4
Grind it into a fine powder. You will find that the oil from the seeds is enough to bind the powder into ladoos.
5
Alternatively, I roasted the cashews pieces in ghee since I wanted the flavor and little bit of richness.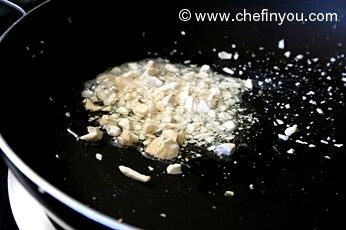 6
Once the cashews browned, I added them to the ground sesame-jaggery mixture in a bowl and gave it a quick mix.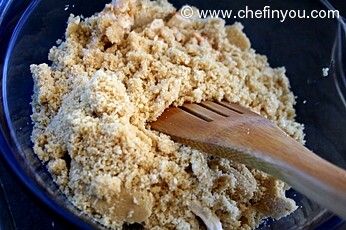 7
While hot, shape them quickly into balls. You can enjoy them simply as powder too.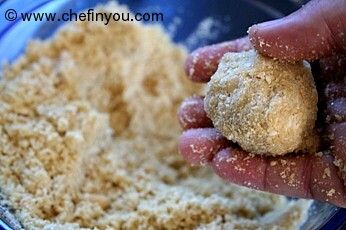 8
Shape all of them likewise. I think I got around 8-10 ladoos.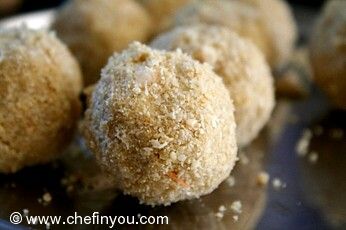 Enjoy :)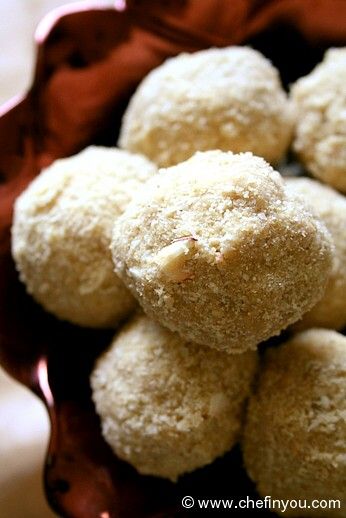 Related Recipes You May Like
Did you make this recipe?
Please click below to share your experiences while you were making this recipe. Thanks for your input!
Have a favorite recipe?
Know a family recipe your mom used to make? Or maybe a go to recipe that works everytime? Share it with your fellow foodies!