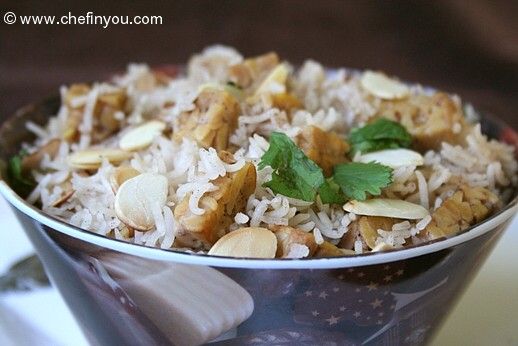 Rice recipes are my go to meals. I am a true blue Indian at heart for sure. Also the fact remains that rice recipes are the easiest to create a variety with. They are also quick to make especially when I have to pack lunch. Since protein is a key word in my household, you will almost always find few packets of tempeh, tofu, seitan, paneer , frozen (lima + edamame) beans in my fridge not to talk about scores of other protein rich ingredients in my pantry. It helps not only in substituting non vegetarian dishes to ones without, but also adds variety and nutrition to our day to day menu.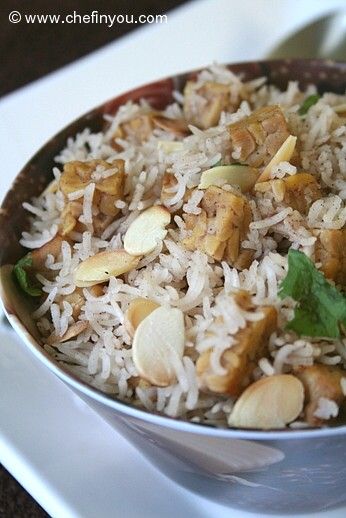 So while browsing my reader one day, I came across this interesting recipe from my
favorite blogger Cynthia
.  I had never heard of this rice before and needless to say, I was intrigued. Since it contains meat, I opted to make a vegetarian substitution by using Tempeh. It was a quick meal and also v satisfying. We enjoyed it with a spicy ladies finger curry and carrot raita. A nutritious and a hearty meal.
Ingredients
1 cups Basmati rice (soaked in water for 30 minutes,optional)
227 gms (8 oz) of Soy Tempeh
1/2 tsp ground allspice
1/4 tsp cinnamon
pinch of black pepper
1/4-1/2 cup toasted sliced almonds
salt to taste
Few springs of cilantro to garnish
Method
1
I cubed the tempeh and then stir fried in a skillet with some vegetable oil. I would ave used about 1-2 tsp. of oil.  I cooked it until it was slightly browned.
2
Drain te rice. The soaking is not mandatory. I do it cos I find that it helps to keep the rice separated. Add the rice and spices to the pot. Give it a quick stir - for about 1-2 minutes.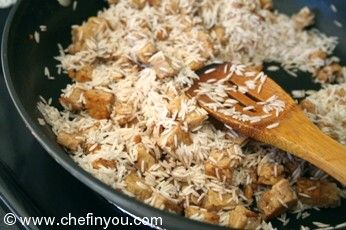 3
Add 2 cups of  water (1/2-1 cup more or less depending on the quality of the rice). Cover and reduce the heat. Simmer for twenty minutes.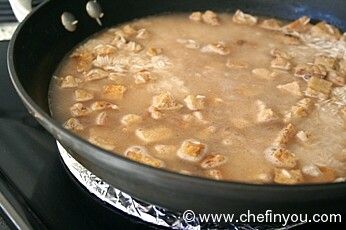 4
Remove from heat and let stand for another 10 minutes before serving.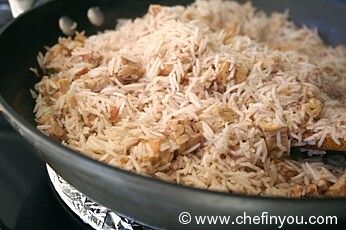 Fluff it up and serve hot garnished with toasted sliced almonds and cilantro. A simple protein rich fix.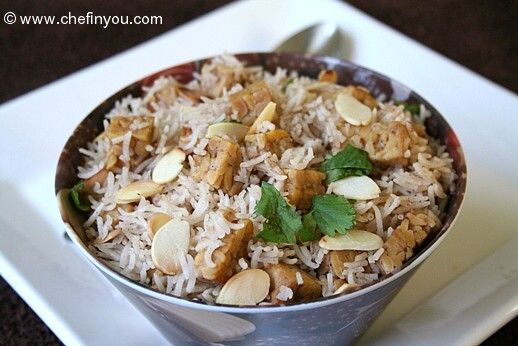 Related Recipes You May Like
Be the first to showcase this recipe!

Your Name
Did you make this recipe?
Please click below to share your experiences while you were making this recipe. Thanks for your input!
Have a favorite recipe?
Know a family recipe your mom used to make? Or maybe a go to recipe that works everytime? Share it with your fellow foodies!