Chocolate Pound Cake with Tofu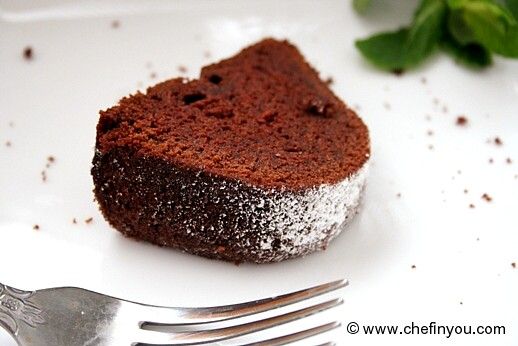 Phew! At last! I have to say I am relieved cos after ages of wanting to use Tofu in my cakes, I finally have done it. Its taken me some serious burst of
'free spiritedness
to make this happen. To throw more light to what I am talking about , hop over to
Mad's space
who came up with this
totally mad and absolutely rad idea
! This months theme was to make an Eggless version of the more popular Chocolate pound cake with each of the FSB members opting for different substitutes. I chose
Tofu
My advent towards something new has always been a painful path - more for the onlookers than me. I do research, mull over grocery aisles of handful of shops to find the ingredients I can choose. The end result is mostly in the extreme - a total bomb or a super duper high flyer! My husband is like - "why can't you just throw few things and make it now already", types! Err...except one small hitch in that plan Mister - that would make me a sane wife ;)!! Don't think you are THAT lucky ;).
The idea of tofu and chocolate actually tasting good together seemed believable when I made the
Tofu Chocolate Pudding!
There was a danger of tofu making the cake dense - that's a common complaint. But again it always comes to choosing the right substitutes for a recipe. So using a tofu substitute for say Angel Cake is not really going to work cos it will not make it as light or airy as that of the angel cake. But I know that tofu would work well for something little more dense normally in its texture like Brownies, Pound cakes and cookies. So, started my experiment.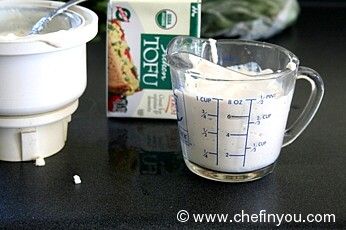 My Notes and Observation(s)
Though I do measure, it has always been in cups. But nothing beats the scale hence used for this recipe.
1. Pureeing the tofu well until completely smooth is very important. A lump will kill the texture of the end product. Also measure the pureed tofu and NOT regular tofu and then puree it.
2. Its recommended that you puree the Tofu along with other liquids you use for a recipe. I Pureed the "already pureed" tofu along with vanilla extract and 1/4 cup of milk and let it sit in the fridge for an hour or so for the flavors to blend. Agreed a bland tofu will not affect the taste, but I just thought to add some flavor to tofu before I add it to the recipe. I am not sure if it really helped to "enhance' the final product.
3. Though Tofu works for pound cakes, I wanted it see if I can create a light texture too by incorporating some air into tofu. I beat the tofu (just like you would do with eggs) to incorporate some air into it. Again, I dunno if it helped the texture Vs. without doing it. But I was happy with the texture of the end result. I did not find this pound cake to be really dense as expected from an eggless version.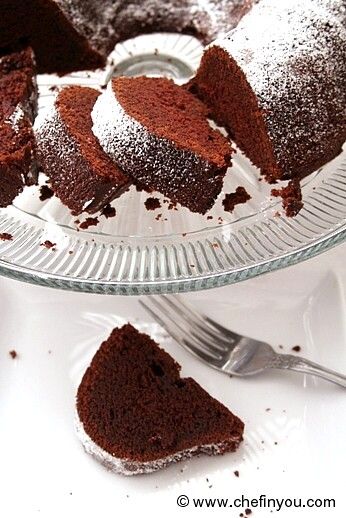 4. Most Important: Has it happened to you that you commit a mistake when somewhere in your heart you know you are making one? One of the things I have learnt in baking is never to over beat a batter. For this recipe, since I was trying to avoid the dense effect, I knew that I shouldn't be beating the batter though it insisted on the original recipe with eggs. But "time" being v precious to me nowadays and my babysitter (read as "husband") getting impatient, I wanted to speed up the process and did beat the batter more than I would like. I think that was instrumental in the final pound cake to be little on the "dry" side. Agreed, we camouflaged it with some vanilla icecream to make it super moist and absolutely delicious but that little dryness could have been avoided. But - It was not that dry to call this failure. It was still good without the ice cream.
Basic Information
Prep Time
:
30 min to 1 hour
Cook Time
:
30 min to 1 hour
Yield
:
Makes one - 8"X8" Square cake. I made use of 9.75X3.38 inch bundt cake pan
Ingredients
250 gms all purpose flour (or Maida)
250 gms sugar
250 gms butter
50 gms cocoa powder
1 cup pureed Mori Nu silken Tofu (firm) or any other silken Tofu (instead of 4 eggs)
1 tsp baking soda
1/2 tsp baking powder
1/2 tsp salt
1 tsp vanilla essence
Milk – as required, to adjust batter to dropping consistency - max ½ cup
Tips
If you want to
Bake using Microwave
pls refer to these articles
Substitutions
please refer my handy chart
Method
1
Pre-heat the oven to 180 deg C (350 deg F).
Line the base of a square pan (8″x8″) with butter paper, or grease the base with butter and dust with flour till well coated and set aside. 
I used a BUNDT CAKE pan
(nonstick 9.75 X 3.38 inches). Beat the
eggs until fluffy
pureed and flavored tofu until you see air bubbles in them and set aside. This step is
OPTIONAL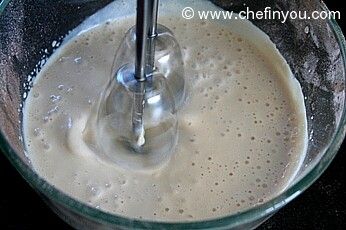 2
Meanwhile, sift together the flour, cocoa powder, baking powder, baking soda and salt.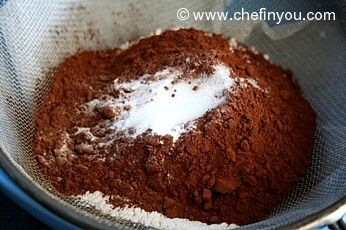 3
Do this thrice and set aside.
4
Cream the butter and sugar. Add the vanilla essence and beat well.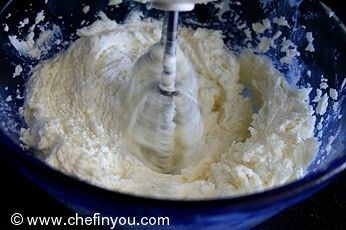 5
Add the tofu beaten eggs to the butter-sugar mixture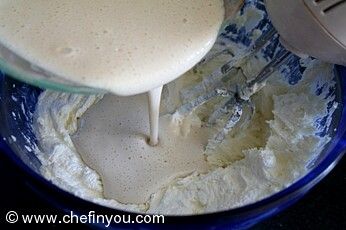 6
and beat well till it has been incorporated. Seeing a curdles kind of texture, I thought I messed up the batter but nothing like that happened. So dont worry about that look :)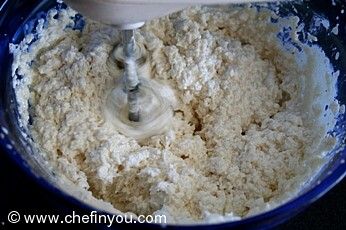 7
Now, add the sifted flour mixture to the butter-sugar-egg mixture little by little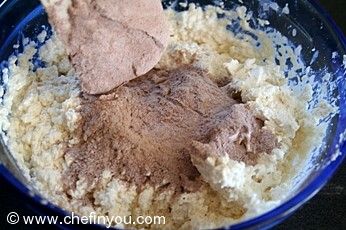 8
and beat well till  blended smoothly. (Please read my Notes above before beating the batter)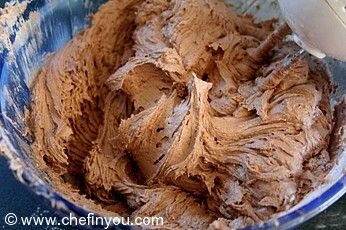 9
Add adequate milk to achieve a batter of dropping consistency.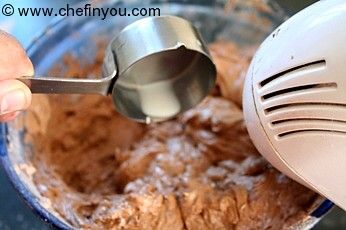 10
Pour batter into the readied pan,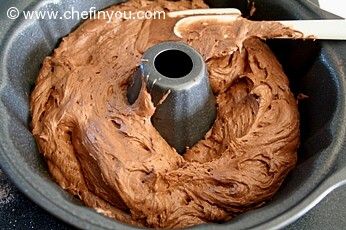 11
smoothen the top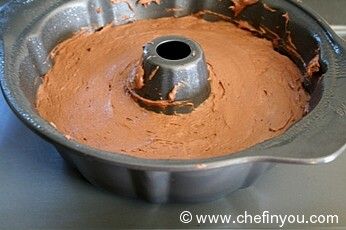 12
and bake  for 45-50 minutes or till done. ( My oven took only about 32 minutes)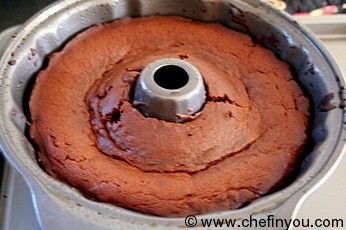 13
I toppled it out after it had cooled and here is the final cake cooling in the counter.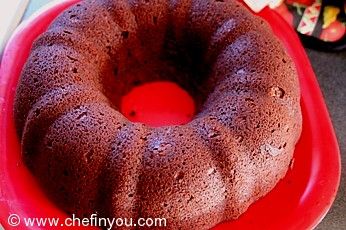 The cake was chocolatey, rich but a tad bit dry. As I said, the dryness, I think was cos of the beating of the batter after adding the flour. Just gently mix the flour with the wet ingredients and I assume that the cake would be more moist. But overall, for me, this experiment was a success!  Don't forget the ice cream!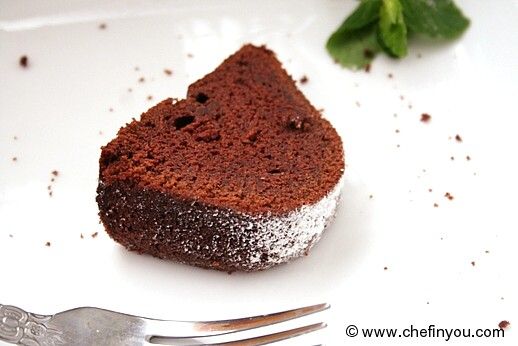 Related Recipes You May Like
Did you make this recipe?
Please click below to share your experiences while you were making this recipe. Thanks for your input!
Have a favorite recipe?
Know a family recipe your mom used to make? Or maybe a go to recipe that works everytime? Share it with your fellow foodies!