I love soup. There was a time when it was not so. I sure have come a long way from those days.  In fact, I prefer having Soup as my main meal, although I can't say the same thing for my other half which is why my lunches are mostly soup. Its perfect for all seasons. Cooling light soup for the hot days and warm, hearty soup for the winter! Oh and peppery goodness for the rainy days. Coming to today's soup. This Thai Soup has been on request from my husband for a long while now. Thai cuisine is one of the toughest when it comes to making them vegetarian while retaining the original flavor. And there is only one reason for it - Fish sauce. Its immensely crucial to most of Thai dishes and without it, its simply not Thai at least for those who have tasted the real deal. But apart from it (provided you are not as fussy about authenticity but would swap for any great flavor), if you happen to carry few choicest ingredients, you are good to recreate some yummy Thai food at home.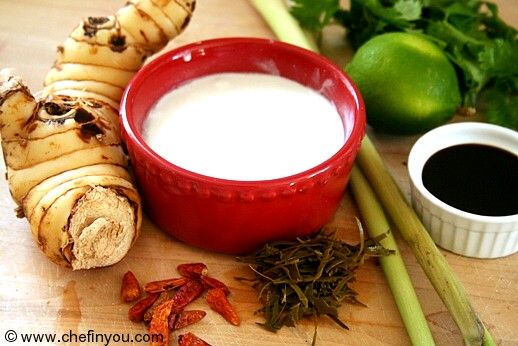 Personally for me (Galangal + lemongrass + Kaffir Lime leaves + Soy Sauce + Lime + Coconut Milk + Thai Bird's Eye Chillies + Cilantro/Mint/Thai Basil) = Vegetarian/Vegan Thai Cuisine!
The fish sauce (nam pla) as you can see has been replaced with Soy sauce. This savory flavor balanced  with the other aromatics competes to a certain degree with the real one - at least to a degree that would please a Vegetarian's palate without feeling cheated. This Tom Yum Soup (or more correctly Tom Yam) falls into this category. Usually Shrimp or Prawn play a pivotal role in this soup which has been replaced by Tofu in this version to provide the protein aspect of it. The meatiness comes from the mushrooms while I added the carrots for color. And yes, the extra vitamin A does not hurt now, does it ;).  You can skip the coconut milk and use a little milk or simply skip it altogether replacing it with additional stock. There is no "perfect" version for this soup since it relies predominantly on the foodie's taste buds. So feel free to use this for a base recipe and add/subtract herbs/vegetables/spices as per your requirement.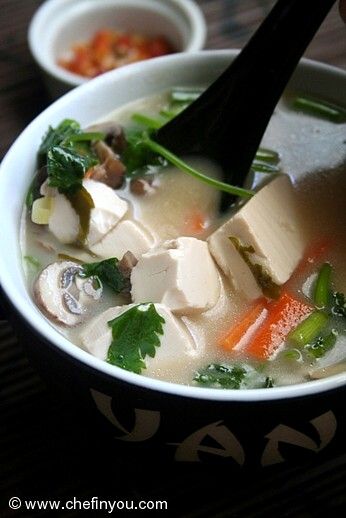 Several online resources helped me in creating this dish in my kitchen. But I have listed only 3 of them which I finally zeroed in with all the notes that I had gathered and these came closest to creating the authentic flavors. Hence have mentioned only these sites.
Basic Information
Yield
:
Serves 2 as a main course and 4 as an appetizer
Ingredients
6 cups Water or Vegetable stock
3 Kaffir Lime leaves (see Tips)
2-3 inches of Galangal, sliced (see Tips)
1 stalk Lemongrass, minced (see Tips)
4 tbsp Soy Sauce (or to taste)
1 tbsp Lime juice
1 cup Baby Mushrooms, sliced (or use any mushrooms)
1 Carrot, julienned
12.3 Oz Mori Nu (Extra Firm) Silken Tofu (see Tips)
2 Spring Onions, sliced thinly
1-2 tsp Thai Bird's Eye Chillies, crushed; or to taste (See Tips)
5.46 fl.oz (about 3/4 cup) Thai Coconut milk (see Tips)
1/2 tbsp sugar, or to taste (optional)
About 1 cup Cilantro (or use Thai Basil), chopped
Tips
Please Remember that with every ingredient that you substitute the flavor of the soup changes (and possibly further away from traditional Thai flavors).
1.
Kaffir Lime Leaves
- I had a hard time finding the fresh ones and finally managed to locate shredded lime leaves in a bottle and used them. These shredded bits bothered my husband while having the soup, hence next time I might use them to flavor the stock and filter them away before using it in the soup.
2.
Galangal
- Though Ginger is often touted as a substitute for Galangal, I personally think that the aroma and taste that it had was no way remotely close to ginger. It lacks the sharp peppery taste of ginger and instead has an immensely citrusy flavor. Reminded me of Eucalyptus. See if you can find the bottled version before using Ginger.
3.
Lemongrass
- Try to find the fresh ones. Don't go for the powdered/ dried versions. Also try the freezer cos some shops carry the frozen lemongrass. To prep the lemongrass, remove the tough outer leaves and chop off about 2 inches of the lower bulb. Slice the fleshy part - about 2/3rds of the stalk. The upper end will be mostly green and woody and is not great for slicing. You can use these as it is for soups/broths.
4.
Tofu
- You can use any soft tofu. I have been generous with my tofu since I was going for a soup-as-a-meal. About 1 cup of tofu should be enough as an appetizer.
5.
Chillies
- The Bird's Eye Chilli is authentic to this soup. But if not available, you can use dried red chillies.
6.
Coconut Milk
- Few versions use coconut milk, while few others don't. You can instead increase the stock or use few tbsp of coconut cream or just plain milk. I had a can lying around that I wanted to use and hence did. Use as per taste
Method
1
Bring the stock/water to a boil. Add Galangal, lemongrass and Kaffir lime leaves to the broth.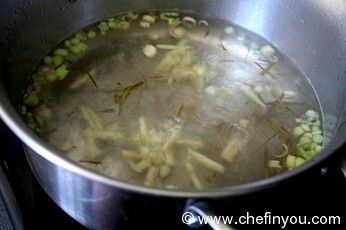 2
Next goes in the tofu and carrots. The carrots need to soften and the tofu needs to absorb the flavor to prevent it from being bland.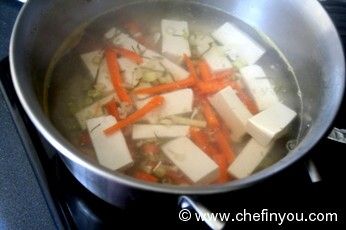 3
Once the water comes to boil and the carrots are almost soft, add the mushrooms.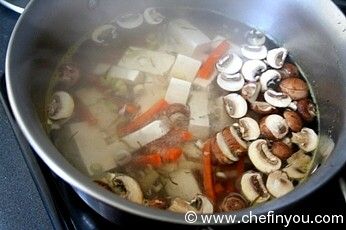 4
After 1 -2 mins add the soy sauce  and sugar is using. You can do a taste test and see if you need any more seasoning.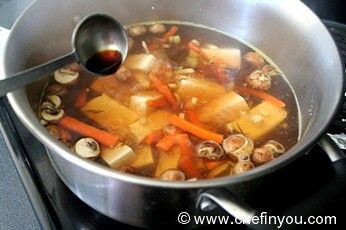 5
Reduce the heat and then add the coconut milk.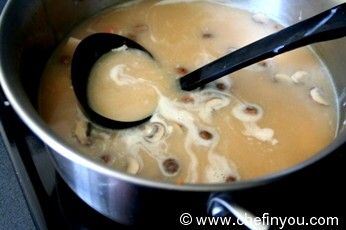 6
Then add the lime juice, chillies and cilantro. Adding them last helps to keep the broth fresh tasting and full of flavor. Taste test again -  You can add more crushed chillies for extra zing and spiciness. If you need more salt, add little more soy sauce (or just plain old salt). If you find that you have added lots of lime juice and its tasting sour, add sugar. But if the salt-sweet ratio seems kinda off, add little more lime juice. The recipe is dependent on customization to one's palate and needs. So feel free to make changes.
Serve warm with additional chillies on the side and more cilantro.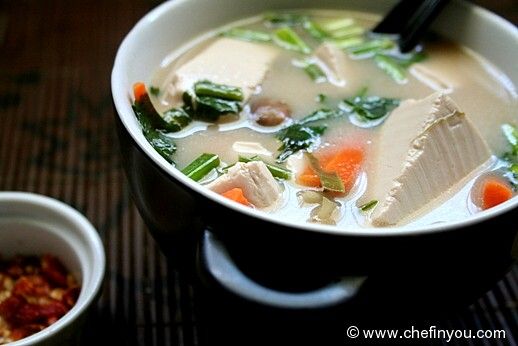 Related Recipes You May Like
Did you make this recipe?
Please click below to share your experiences while you were making this recipe. Thanks for your input!
Have a favorite recipe?
Know a family recipe your mom used to make? Or maybe a go to recipe that works everytime? Share it with your fellow foodies!