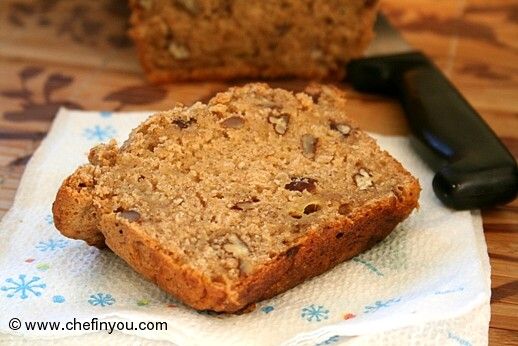 Regular readers must be aware of my penchant for baking with fruits -
Whole Wheat Pumpkin Bread
, 
Grapefruit Ginger Bread
,
Beetroot Chocolate Brownies
,
Very Berry Coffee cake
etc etc (just to name a few!!) The craze for it or should I say the necessity arose when I realized that I hardly ate fruits. Dunno why -  taking an apple from the bowl in the center of the table is easy enough - yet it just never happened! Since I was becoming baking crazy anyways, I decided to sneak in some fruits in it. That move started my fruit consumption.
Its been years now and I have
thankfully
improved in that area. I make it a point now to eat some kind of fruit on a regular basis. So much so that, in the recent months, I am enjoying 2-3 different fruits everyday! Did I hear applause? Yeah! Thank you :). I know I have mentioned about it in few posts before - this
Banana Coconut Bread
started it all. From then on, I have had this love-love relationship with Banana in baking. Be it for a
Wholegrain Banana Cake
, a 
Wholemeal Banana Walnut Muffins
, or a
Banana Chocolate Brownie
- it just tastes like million bucks! As if the
Banana Breads Recipes
in this site aren't enough already, I have another bread for you today with bananas as the star ingredient.
This recipe is simplicity personified. And I needed to make it for the
sake of my resolution
than for my banana passion
and of course for the ripe bananas on my counter-top staring at me accusingly
. Since this bread does not use refined sugar, I was ecstatic. Though I have used refined white flour, in my defense, I have to say that I have reduced it by 1 cup from the original recipe thereby bumping up the wholemeal flour. There are few other experiments that I am still trying to eliminate white flour, but they are for another post/recipe.  We love this bread and it makes a hearty breakfast bread. Take my suggestion - toast a slice and spread a little butter on it -  you will have the brightest start to the day right at the very first bite!
Basic Information
Yield
:
Makes one 4-by-8 inch loaf.
Ingredients
2 cups Whole Wheat Pastry Flour,
1 cup unbleached All Purpose Flour
1 cup toasted Pecans, roughly chopped (see Tips)
1 tbsp Baking Powder
1-1/2 tsp ground Cinnamon
1 tsp fine Sea salt
3-4 ripe bananas (enough to make 2 cups)
1/2 cup water
1/2 cup Canola/Vegetable Oil
1/2 cup pure Maple Syrup (see Tips)
4 tsp Vanilla extract
Tips
1.
Pecans:
If you don't have Pecans, use Walnuts instead
2.
Maple Syrup:
You can substitute this with Honey
Method
1
Preheat Oven 350F. Mash the bananas. Set aside.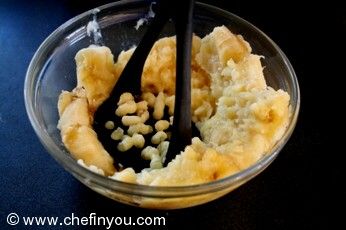 2
In a bowl, whisk together the dry ingredients.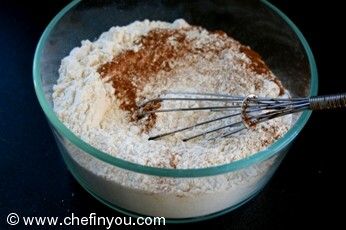 3
In another bowl, whisk together the wet ingredients along with mashed bananas. Whisk until well blended.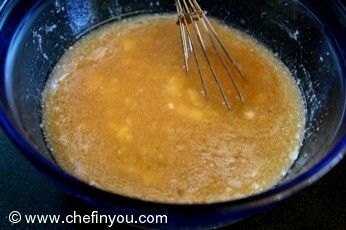 4
Using a rubber spatula, fold the wet mixture into the dry.
5
Fold in the nuts. Do not over mix. Few lumps are perfectly fine.
6
Pour the batter into a greased 4-by-8 inch loaf pan or 8-inch square baking pan.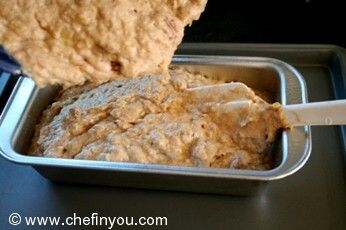 7
Bake for 1 hour, or until a toothpick inserted in the middle of the loaf comes out clean.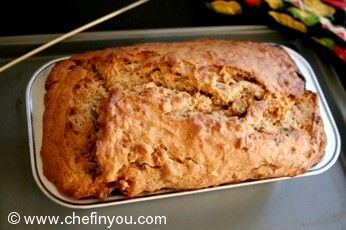 Cool in the pan for 15 minutes before serving. This toasts extremely well and made a hearty breakfast the next day.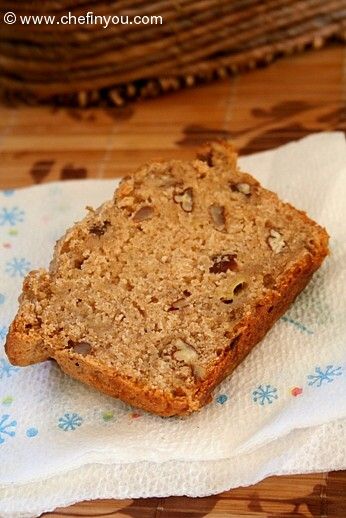 Related Recipes You May Like
Be the first to showcase this recipe!

Your Name
Did you make this recipe?
Please click below to share your experiences while you were making this recipe. Thanks for your input!
Have a favorite recipe?
Know a family recipe your mom used to make? Or maybe a go to recipe that works everytime? Share it with your fellow foodies!