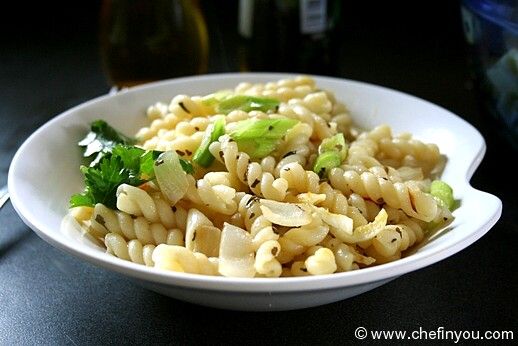 We both have reached a stage in life when eating out doesn't seem to thrill us anymore.  When you work, that seems to be such an easy option. But just like so many things that we outgrow in our lives, eating out has become a mundane chore that we no longer enjoy. Instead eating at home - however simple - seems to be a more attractive option. There is a medium jar filled with pasta in my pantry. I try to keep it filled  'cos its my emergency store - for days when I have no time to cook a proper meal  or I am too famished to even plan a meal. Like this particular day. After enjoying some easy time at work for 2 weeks, came cartloads of work.  With a toddler at home, things managed to get more hectic. When I checked my fridge, I spotted some green garlic and immediately went to my pantry for some pasta.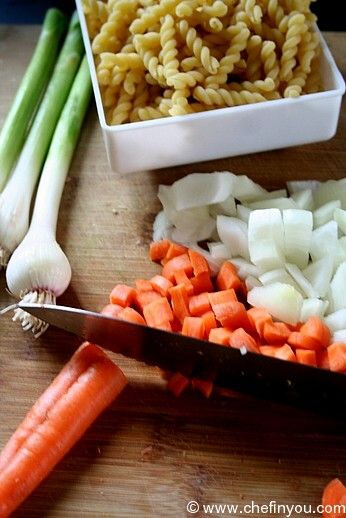 I wanted some color and thought to add in some bright orange carrots -  some beta carotene doesn't hurt :) - along with onions for providing more body. I had made some herb whole wheat bread during the weekend which I thought went well along with these. I did not have parmesan on hand, so I thought I will use in some Nutritional yeast for its complete protein and also to provide some cheesy flavor.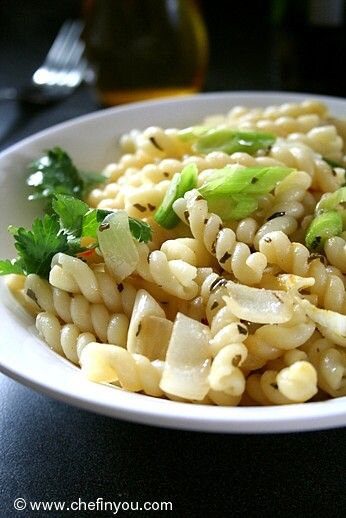 Since I love Oregano for its aroma and strong taste esp. in pasta, I added a little bit in this meal as well. We loved it. The meal was light yet filling. Since we always buy Greek Yogurt, whipping up some Indian Dessert -
Shrikhand
was immensely easy which we enjoyed after the pasta to complete our meal. This is very simple pasta recipe with a delicious garlic favor.
References
from my kitchen notes
Ingredients
8 oz (abt 250 gms) pasta(or use gluten free pasta)
1 tbsp Extra Virgin Olive Oil
2-3 stalks Green Garlic, sliced (or as per taste)
1 medium Carrot, chopped into small cubes
1 small Onion
1/2 tsp Oregano - or as per taste (optional)
Sea Salt and Pepper to taste
1-2 tbsp Nutritional Yeast , or to taste (or use Vegetarian Parmesan)
Few sprigs Cilantro/Parsley to garnish
Method
1
Cook the Pasta as per the package instruction.
2
While that's cooking add a dot of butter/vegetable oil in a saute pan. Add onion and the carrots along with salt.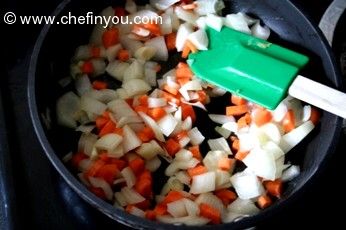 3
When the carrots are soft - takes around 5 minutes (provided you chopped the carrots in small pieces. The larger pieces would take longer to cook), add the green garlic. Give it a quick stir and in about 30 seconds switch off the flame. My idea was not to really cook the Green garlic , in order to retain the bright garlic flavor. But you can cook it a little longer too. Set aside.
4
Remove the pasta to a bowl.
5
Add in the Extra Virgin Olive oil - give it a toss.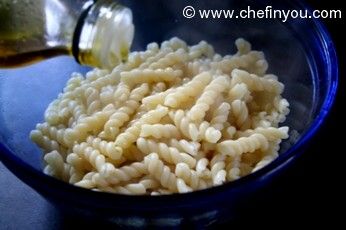 6
Add Oregano, if using.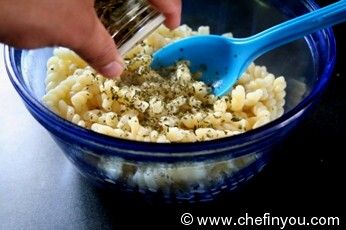 7
'Give it a good mix. Add more if you like (along with any other spice you want)
8
Next add in the cooked veggies.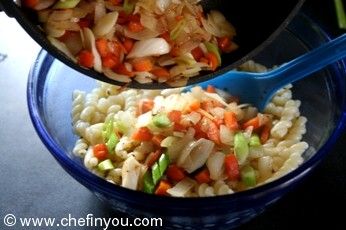 9
Stir to combine.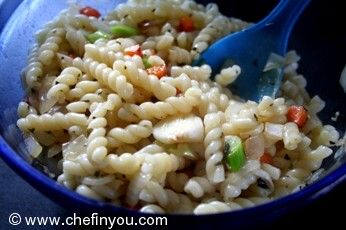 10
Add in cilantro, black pepper and nutritional yeast (or parmesan).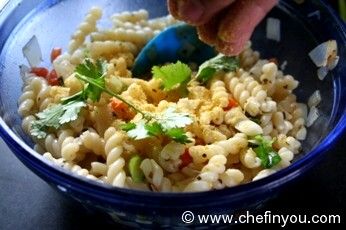 Combine and serve hot.
We enjoyed this weekday dinner along with herb whole wheat bread and additional EVOO with a dessert of
Shrikhand
.
Related Recipes You May Like
Did you make this recipe?
Please click below to share your experiences while you were making this recipe. Thanks for your input!
Have a favorite recipe?
Know a family recipe your mom used to make? Or maybe a go to recipe that works everytime? Share it with your fellow foodies!