I know I have said it quite a few times already, but then here I am at it again – I love wholegrains!. I cook with it often enough and you can see my passion for whole grains here. If you like the texture of Wheat berries, then you would like Farro too.

Farro (Triticum dicoccon) is Italian for Emmer wheat – which is known to be an old form of wheat. It was supposedly first cultivated in Babylonia, and is still prevalent as a cereal grain in Europe. It is also referred to as "two grained spelt" or "starch wheat." But Farro is not Spelt. If you see Spelt in your aisle, don't confuse it with Farro and vice versa. Though they have connections, they are different. Farro looks like a plumpier version of Barley. The number of wheat products that you get in the market nowadays is mind boggling! Much to the chagrin of the celiacs but a boon to most of us with generous all-purpose (but no nutritional use) flour laden pantries. Farro can be used in stews, as a substitute for rice or in salads. They are not fussy to cook with. Look out for the semi-pearled variety, give it a quick rinse and cook as mentioned below.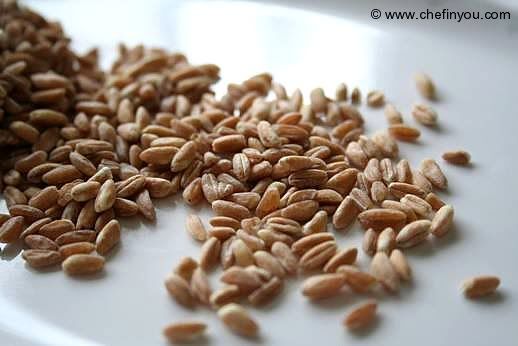 Although most purists insist on soaking the grain overnight, it is not the end of the world if you forget  to – It still does not take hours to cook like wheat berries. The cooking time to properly cook Farro ranges between 20-40 minutes.
I give this range in order to accommodate one's taste preferences – Just Tender, chewy or full mushy! I like mine chewy and I love it in salads so it takes about 30 minutes for me to cook farro. Overnight Soaking would of course reduce the cooking time even further taking about 10-15min for the chewy texture. Since there aren't really any steps that I can show when it comes to cooking it in Rice/pressure cooker, I have posted pictures only for stove top method.
How to Cook Farro on a stove top?
For 1 cup Farro, add about 2 and 1/2 cups salted water in a saucepan
and bring it to a boil.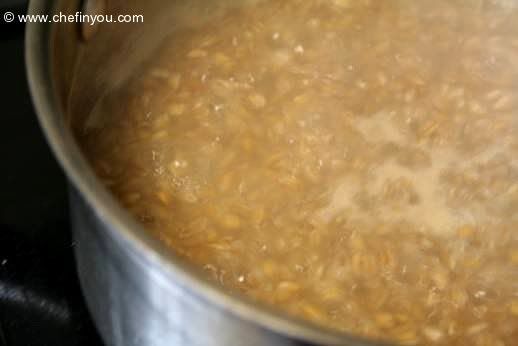 Reduce the heat and simmer the grain with a closed lid
for another 15-30 minutes until tender.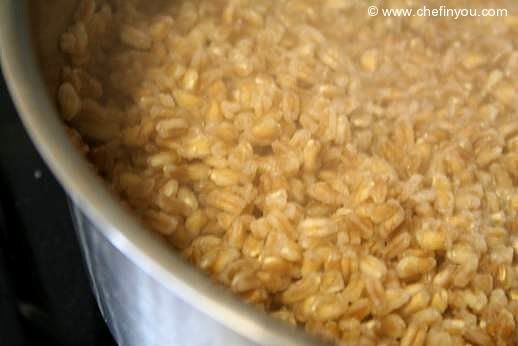 Drain the water if any – I use this sometimes for my soup or cooking vegetables – cool and then use as per need.
How to Cook Farro using Rice Cooker?
I have cooked Farro using cooker only once. I soaked 1 cup Farro overnight – added 3 cups water and cooked it on Brown Rice setting. It took about 45 minutes to get cooked completely.
How to Cook Farro using Pressure Cooker?
Soak Farro overnight. I used 3 cups water to 1 cup Farro – and cooked it for 2-3 whistles. Takes approx 10-15minutes. It is fine even if you forget to soak – it takes about the same time to cook too. If you have forgotton to do the due diligence to the grain beforehand (!!!), simply pressure cook it – it saves lots of time, effort and electricity/gas!

Link to this recipe
Bookmark this page using the following link: http://chefinyou.com/2009/06/how-to-cook-farro/
Do you have a website? You can place a link to this page by copying and pasting the code below.
<a href="http://chefinyou.com/2009/06/how-to-cook-farro/">How to cook Farro</a>