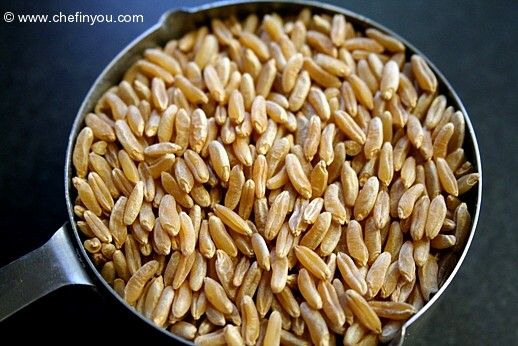 Among my many visits to the local health stores, I happened to get my hands on this ancient grain KAMUT®. It is a long grain with a brown cover – v similar looking to brown basmati rice. It has a sort of nutty flavor and is closely related to wheat. You can cook it as chewy or as tender as you like. KAMUT® is supposed to be originally from Egypt.

So is Kamut off limits to people suffering from Celiac disease?
Surprisingly, as some studies show, its not. Many people allergic to wheat actually find that they can tolerate Kamut – of course when eaten in moderation. But test out the water well anyways.
*** UPDATE ***
While sources like Wisegeek and "Vegetarian" Cookbook (editor:Nicola Graimes) say that some people with wheat allergies and celiac (respectively) can tolerate Kamut, thanks to Micheal Thorn and Cynthia K from Gluten Intolerance Group who have bought to my notice that its not. Although people with Wheat Allergy "might" tolerate the grain, the celiacs certainly cant.
So is Kamut off limits to people suffering from Celiac disease? The answer is Yes
So is Kamut off limits to people suffering from Wheat Allergies? Few might be able to tolerate it. Confirm the same with your doctor before trying it out.
You can see more information with respect to this in this site : http://www.allergy-details.com/45-kamut-safe-wheat-free-or-gluten-free-diet
Nutrition, Health Benefits in KAMUT®
Kamut is rich in Protein, approx 30% more than wheat. Since it has a slightly higher fatty acid content, this grain can be considered as high energy grain. It is immensely beneficial with its stock of Vit E, Magnesium, Zinc, Phosphorus, Thiamin etc. However it has to be noted that has less fiber than wheat. It is easy to digest though.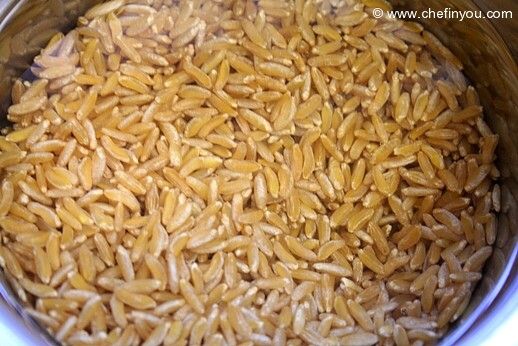 How to cook KAMUT®
1.Stove Top Method
Soak 1 cup Kamut overnight. Then add 3 cups water and bring it to a boil, Add a pinch of salt (if needed), bring the heat to low and simmer for 40-45 minutes or until tender.
Note: Not soaking it would increase the cooking time substantially. Also sometimes I find that if I am soaking it beforehand, I really don't need 3 cups of water. 1-1/2 to 2 cups of water suffices for the grain to cook to a chewy texture.
2.Pressure Cooker Method
Although the need to soak in this method is not necc. it sure helps in the cooking process. I find that for 1 cup Kamut, sometimes I find that even 2 cups water is more than enough and I have water left over. It could be the quality of grain too. So start off with 1-1/2 cups of water, test it out if it meets your texture and increase water if needed.
3.Steamer Method
I haven't tried this out personally, but for 1 cup Kamut, use 2-1/2 cups of water. Place it in a steamer and it takes approx. 1 hour.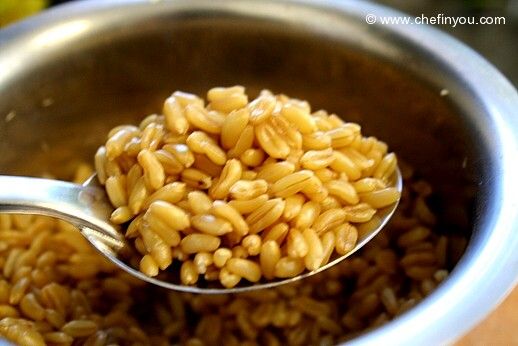 Other types of KAMUT®
The one form commonly available is Kamut flour. It is a great addition to home made pasta and you can use it to bake breads, cookies and even cakes.
Puffed Kamut cereals and crackers are also available in health stores.
You can check out other cooking methods of Grains in my Back to Basics section
Link to this recipe
Bookmark this page using the following link: http://chefinyou.com/2009/08/how-to-cook-kamut/
Do you have a website? You can place a link to this page by copying and pasting the code below.
<a href="http://chefinyou.com/2009/08/how-to-cook-kamut/">What is Kamut and How to cook Kamut</a>