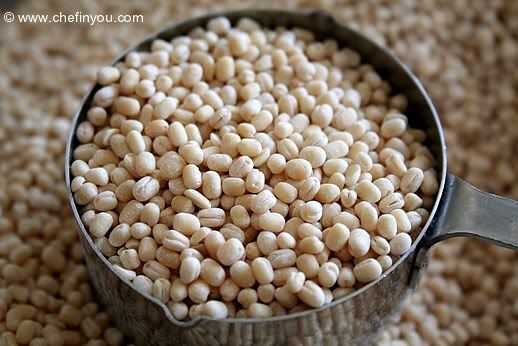 Its the festival month for Indians. Krishna Jayanthi followed by Ganesh Chaturthi. One of the best times to be in India – the lights, decorations and FOOD are worth dying for. Usually this month is all about me watching my mom start her prep work for making myriad number of snacks and sweets. Till date, after having started cooking myself, it has never ceased to amaze me how she managed to make plethora of different types of food so fast with her two burner stove which I can't with my 4 burners!
Although I love challenges in the kitchen, one thing which scares the sh*t out of me is making traditional Indian sweets/snacks! If Baking is all about measuring and precision, Indian sweetmeats is all about experience and look and feel! Although I have helped my mum with all the preparations it was more as a 'do this', 'do that', 'pour this', 'pour that', 'stop fidgeting',' don't play with the food in the oil -be serious' kind of activity than doing serious observing and cooking.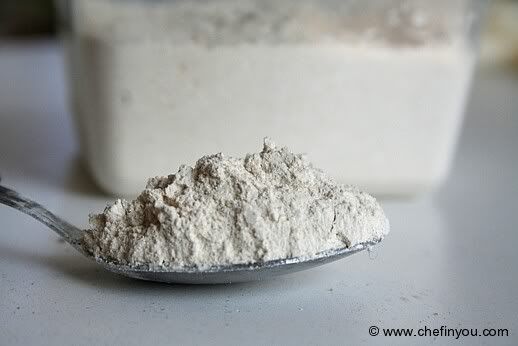 Anyways, with a very 'supportive' husband who has lots of courage and guts to take on anything I throw at him – I do undertake ambitious projects of making traditional festival recipes often enough. So lets kickstart the foods for this month shall we? I am going to start with one important ingredient which is needed for making some savoury South Indian specials. Its Urad Dal ( Black whole gram Lentils) Flour.
There are 3 ways of going for this important 'cant-do-without' ingredient.
Traditional Method – Long
Take the lentil, wash it well under running water, place it in a cloth and dry it under the sun. Once completely dry, roast it in a skillet without oil and rush it over to your local rice mill to make a nice flour out of it.
Traditional – Modern Method – Medium
This is the method which I am going to show you. Its not your typical method, but in this age and place, where in God's name am I going to search for a food mill? Or time to sit and dry it in the sun ( which by the way is playing hide and seek where I live)? But I love to cook so this method works well enough for me and which is what I have showed the steps for.
Take the lentils – make sure it is stone/debris free and dry roast in a skillet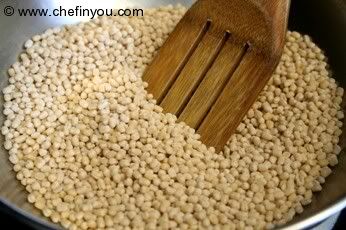 In about 5-10 minutes, it becomes aromatic and reddish. Its OK if, you, like me, in your over enthusiastic multitasking, over- roast few here and there. Make sure they are indeed v v few and do not end up looking like they have not been skinned at all. That, my deal ppl, does NOT taste good when ground into flour!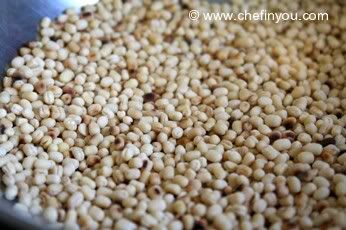 Cool them considerably. And grind it to nice fine powder in your food processor.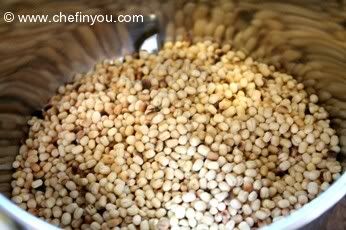 Make sure to rest your processor in intervals to avoid it getting over heated.
Once fine, transfer the flour into a air tight container.
It keeps well and use it to make festive dishes which will soon follow at Chef In You.
Modern Method – Quick
Go to your nearest Indian store and buy ready made Urad Dal flour!!!!!!!!!!!!
Link to this recipe
Bookmark this page using the following link: http://chefinyou.com/2009/08/urad-dal-flour/
Do you have a website? You can place a link to this page by copying and pasting the code below.
<a href="http://chefinyou.com/2009/08/urad-dal-flour/">How to make Urad Dal Flour</a>