One of my favorite activities is grocery shopping. My husband tells me that I look like a kid in a toyland. This surprises me since I always have hated shopping, going out among crowds, trying to sort out patiently and buy anything! I am not what you can call a great company for doing anything which uses words like 'shopping','window shopping','buying','checking out so and so', 'clothes','beauty parlor' – come to think of it even 'theaters'. I love traveling – not in cities but in uninhabited places, where crowds are unheard of, where the only 'noise' per se is of birds/animals/ greenery making the racket amidst the howling of winds. Having said this – now this penchant for patiently sitting in the middle of plethora of fruits and vegetables ( the crowds, the store speakers blasting ads, sorting and picking etc included ) does not stop me from getting excited! Talk about being an oxymoron within oneself!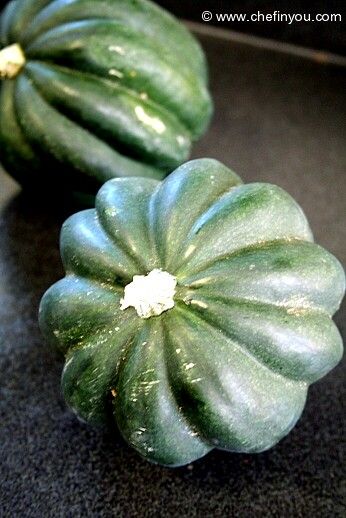 I love trying all vegetables and fruits and in my last shopping, I saw some amazing looking Acorn Squash. Couldnt resist bringing these beauties hope.
Acorn squash (Cucurbita pepo) is a winter squash with distinctive longitudinal ridges and sweet, yellow-orange flesh. Although considered a "winter" squash, acorn squash belongs to the same species as all "summer" squashes (including zucchini and yellow crookneck squash). Source: en.wikipedia.org/wiki/Acorn_squash
You can get more information from wikipedia. I will instead go into the whole cooking and preparing aspect of this squash. I usually find that squashes tend to be v. sweet for my taste. But somehow I find this ok – at least the way I prepared and ate it. It is not complicated and the only effort you need is when you cut it open. The minute you do that – everything else is as simple as breathing.
How to Prepare Acorn Squash
I used 2 small acorn squashes. I find it easier to cut in the acorn squash once I slice a little bit on one side, so that it can rest on its bottom giving me more edge and helpful while I am putting pressure with the knife. It has to be cut lengthwise, hence place it on a counter top, slice  little of the ridge like shape on one side of the squash ( lengthwise)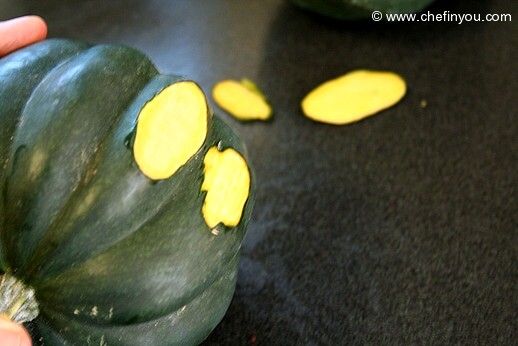 Rest the squash on that side so that the cut side is at the bottom. Place the knife in middle of two ridges (the valley??!!), apply lots of force. Its little hard – but a good excuse to flex your muscles

Apply more pressure and the knife will slice through till the end.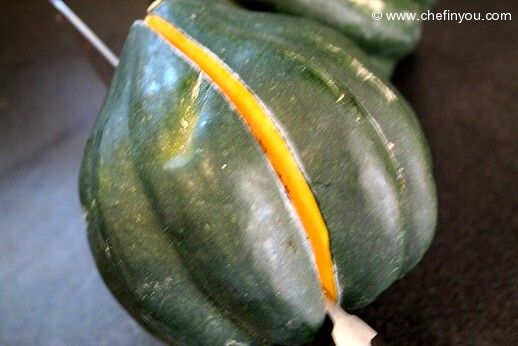 You will see the squash has lots of membrane (fibers) and lots of seeds.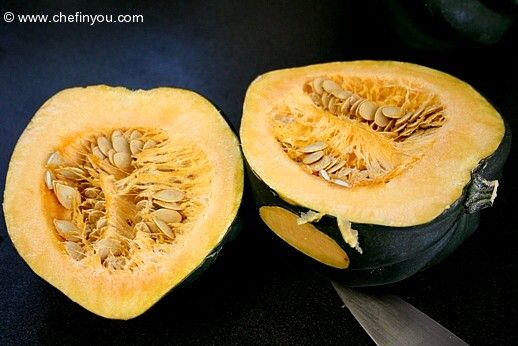 Scoop these out and set aside.
Don't throw of the seeds – they are edible and are scrumptious when roasted! – Juts like pumpkin seeds. We will get to that later.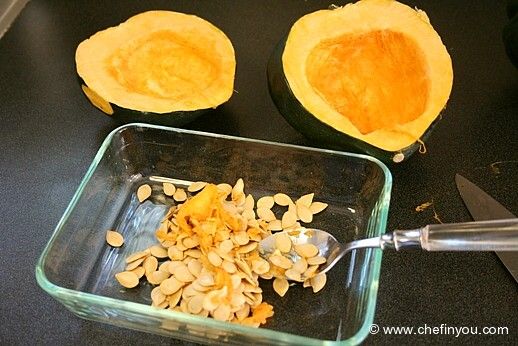 How to Bake Acorn Squash
Once the squash is clean and devoid of the filling , place them face down on a baking sheet. No oil or butter is required. You can, if you want, add any glaze if you want – prepare a sweet or savory filling as needed. In that case, if using a glaze/filling, bake it upside down with the cut side facing up. For my purpose, I am simply baking it hence will do it with face side down.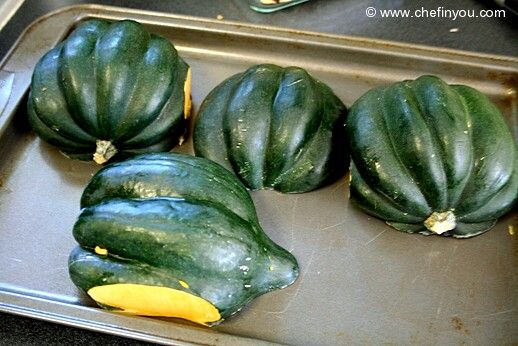 Bake it in a preheated 375F oven for 20-30 minutes. From what I read in the internet, many resources told me that it would take like 45 min to 1 hour to bake the squash completely and that too in 400F oven – But I found that it was done completely within 30 minutes – although I didn't check before 30 min. I had my timer on for 30 and found it already was baked to perfection. It could also be because of the size of the squash. Mine were small.So keep an eye out from 20 minutes. When it starts oozing out some of its liquid (when some foodies call as bleeding), you know its done. My ends were burned , caramelizing, which one of the resource tells is when you know its done completely.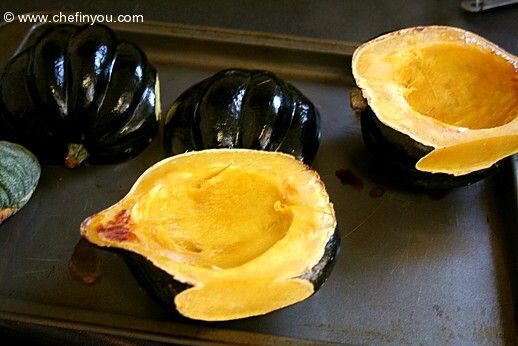 The more you do this 'Bleeding', the sweeter and less water soaked it is. So use your discretion and taste buds in mind. You can follow a cheat guide on this one : do a taste test. Simply scoop out little of the pulp. If it matches your taste you are done. If it is not sweet enough for you – bake for some more time, may be till the prescribed 1 hour.
You know it is done, when you can press the sides of the squash (the shells) and it gives in to your hands without holding rigid. And also when you see the insides soft enough to be able to make scooping out with a spoon very easy.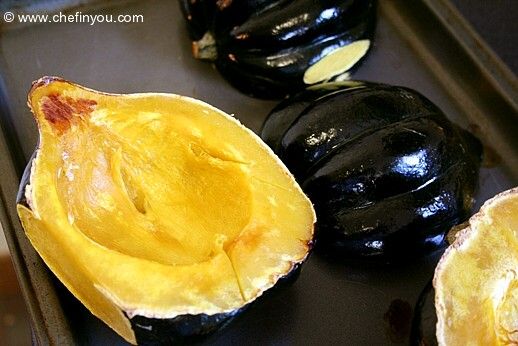 Serve this mashed, as soup, use it as a shell for stuffing or simply as baked halves with savory/sweet glaze. It tastes remarkable in many ways.
How to Microwave Acorn Squash
Cut the squash lengthwise as detailed above, Place the halves in a microwave safe container, cover and cook for about 15 min high (depending on your m/w) without any water.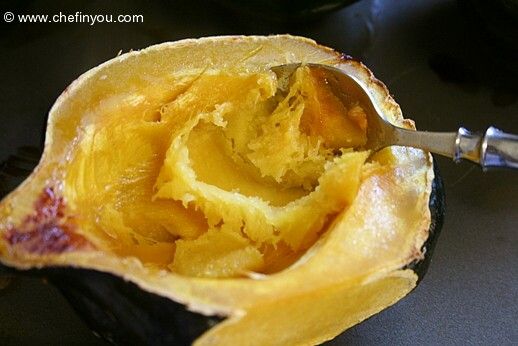 Can I cook Acorn Squash Whole?
Yes, you can. Repeat the same process as mentioned in the Baking procedure. Just dont cut it beforehand. Pierce the skin in several places and bake in 375F. This takes a little longer than the previous cut method.You know its done when you can press it shell and it gives in to the pressure. The cut it lengthwise and serve in any ways you please.
Some No-No's with Acorn Squash
I haven't personally tried any of these, but since I read about it, I thought I will share it.
- No peeling. The ridges make it almost impossible to peel. Why go into all that trouble when easier methods are available
- No Boiling. It supposedly spoils flavor and texture.
- Adding water while baking will only steam the squash and not bake
How to Buy Acorn Squash
Found in all major supermarkets. If the squash is shiny and very dark green in color, then you know its not ripe yet. It should be a little dull in color ( which you might think is not good enough to buy..but well that's the one in fact) with some orange coloring on the skin. The ideal squash will look this way on the outside while the insides will have a dark orange'ish yellow and it wont be overly sweet.