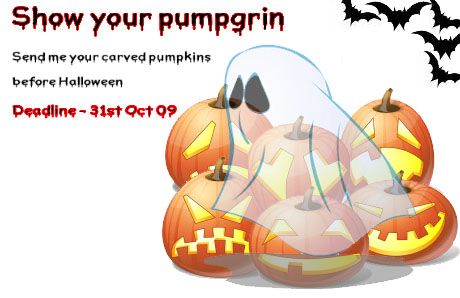 We carved a pumpkin for the very first time. So…
ARE YOU PLANNING TO CARVE ONE TOO? WOULD YOU LIKE TO SHARE IT WITH ME?
I would be excited to see your creativity and probably learn something out of it , get inspired so to speak. You can either post your pumpkin in your blog and send me a link or you can simply send me a picture of the same with your name  at dhivikarthik AT gmail DOT com and I will display them here at Chef In You.
You can send me new ones or archives posts with your pumpkins (if any). Simply add this event link to your post (for others to know) and  send either a pic or link to me. I will do the rest

Send it to me before the 31st of this month. Remember the earlier you send it, the more people can try your idea

I will showcase them as and when I get the entries
In the meanwhile here are few funny Halloween quotes :
Blood donors needed. See the Count.
Ghosts have real spirit.
That's witchful thinking.
Jack-o-lanterns are on the cutting edge
Practice safe hex.
Want to go out for a bite?
I am having an old friend for dinner
Don't forget about sending in your carved pumpkins!
Link to this recipe
Bookmark this page using the following link: http://chefinyou.com/2009/10/show-me-your-pumpgrins/
Do you have a website? You can place a link to this page by copying and pasting the code below.
<a href="http://chefinyou.com/2009/10/show-me-your-pumpgrins/">Show Me Your Pumpgrins ;)</a>