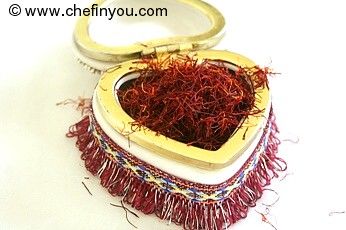 "Best things come to those who wait". Sure! After waiting for last few months, my chance for hosting Indira's – JFI is here finally! For any foodie the essence of every single ingredient is profound. Its like a beautiful poem where each ingredient come together to form wonderful verses of the complete recipe. And its only a poetic justice that I host this event which celebrates such natural ingredients.
My site Chef In You is about enjoying ingredients in different ways where each region in different parts of the world honor it in their own ways. Take a boat ride through the back waters of God's own country Kerala in India, ride on a camel through the dessert lands of middle east, fly over the liberty statue or surf the waves of Latin beaches. Wherever you go, you will find at least one dish which honors this Queen of Spices – Yes, you guessed right. I am talking about Saffron. Its one of most stylish and regal spice of all. Expensive, Exquisite and Elegant. A little pinch always goes a long way in giving a distinct regal touch to the dish by way of aroma, taste and color.

So let's celebrate this month of December by getting spoiled in the royal warmth of Saffron,shall we? Here's what you got to do
1. Cook and Enjoy a dish that has Saffron as one of the main ingredients.
2. Share the dish you enjoyed by way of posting it in your blog during this month of December.
3. I would really appreciate it if you could keep it Vegetarian or Vegan since this is meat free blog.
4. What? You already have quite a bunch of saffron based dishes in your blog? Awesome. Do repost it with a link back to this announcement.
5. Send me a picture not exceeding 350px in width. Height does not matter.
6. Of course you can use the logo to flaunt of your dish for this event, if you want to.

7. Email me your entries to dhivikarthik [at] gmail [dot] com, with JFI-Saffron in the subject line and with following details
* You Name
* Recipe Name
* Recipe Link
* Type of dish (Appetizer, Main course, Snacks & Beverage, Dessert or Baked Goods)
* Picture
8. Deadline is December 31st 2009. Any number of entries are welcome. More the merrier. I will post the entries as and when I receive them.
** I am on a short Blogging break and will be back on New year's day . Keep sending me your entries and I will add them to the round up once I get back. Thank you for participating

**
Link to this recipe
Bookmark this page using the following link: http://chefinyou.com/2009/12/jfi-saffron-event/
Do you have a website? You can place a link to this page by copying and pasting the code below.
<a href="http://chefinyou.com/2009/12/jfi-saffron-event/">JFI – Saffron (December 2009)</a>