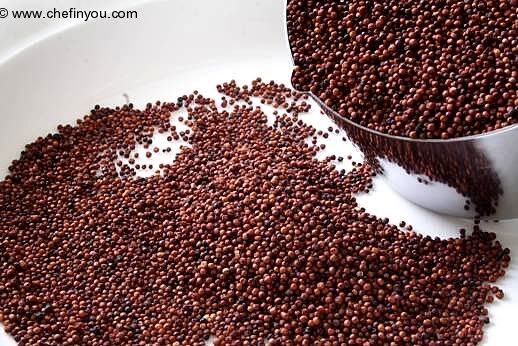 Regular Readers of this blog know of my wholegrain passion which I call as 'CDUWG'. And you must also been witness to my exuberance on getting my hands on Ragi (Indian Finger Millet) which I have mentioned here and again here. After the initial posts of basic preparation of Ragi, I was overwhelmed with queries in my inbox and comment section asking me Ragi recipes which I prepare with them. I was caught with several other work projects that time and did not have time to capture photos of the dishes I was making and had to make do with drafts for more than 2 months.
But then after the numbers reached like 68, I just did not feel good about dilly- dallying and I posted 2 recipes. I, of course, have few more recipes up my sleeve and will post them as and when I can. Until then here is a consolidated post for you to enjoy which I am sending over to dear Madhuram's JFI Ragi.
Be the first to showcase this recipe!

Your Name
Made This Recipe?

I would LOVE to showcase it! Please click below to share your experiences while you were making this recipe, and thanks a ton for sharing.
Link to this recipe
Bookmark this page using the following link: http://chefinyou.com/2010/01/ragi-recipes/
Do you have a website? You can place a link to this page by copying and pasting the code below.
<a href="http://chefinyou.com/2010/01/ragi-recipes/">Ragi Recipes for JFI</a>