After her excellent article about Baking in M/W convection Oven, Divya once again comes back with another extremely resourceful post about baking in M/W mode. For a person who does not own and has never baked in a M/W before, even I feel courageous and motivated to start doing so after these important tips and tricks. I am thankful for this list which I insist every baker MUST have. Don't forget to hop over to her blog -Easy Cooking to check out myriad baked goods that she whips out using her M/W which will surely tempt you to start baking right away

 – DK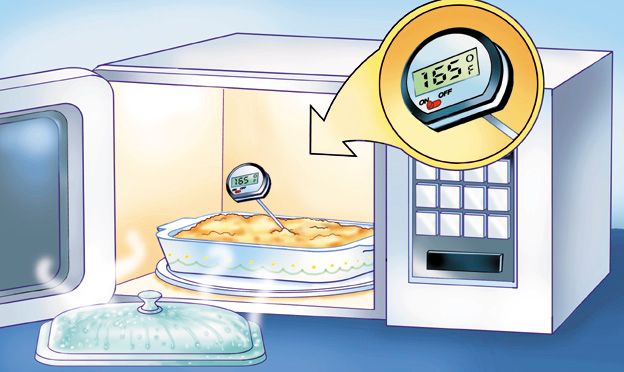 1) How to Bake in M/W?
Baking in Microwave is actually Microwaving as you are making use of the Microwave rays to cook faster.For example,if you are baking a cake,the Microwave only helps it to cook faster rather than baking it.But the end result is delicious nevertheless.The brown crust and the texture can be compromised if you have the urge to eat a cake immediately,as in right-now!!
2) What are things to keep in mind when I want to bake something in M/W?
First things first-Use Microwave proof utensils for baking.Metal utensils,non-stick cookware and plastic bowls are not suitable.Make sure the size of the pan is appropriate[you don't want the batter to overflow and make a mess on your turn table].
3) What is the ideal temperature to bake in M/W?
Though many Microwave recipes require you to bake at full power[100%],out of experience,I can vouch that 70%-80% is ideal.As and when you start cooking/Microwaving,you can judge the temperature and time for yourself!!
4) What are the steps I should take if I am going to follow a recipe made in standard Oven in my M/W (temperature, consistency of batter etc?)
There are no different recipes for Microwave and for OTG.You can follow the same recipe.With regard to consistency of batter[for cake],take care that it is a flowing batter[a bit looser than idli-batter consistency]because if the batter is too thick,it wouldn't cook well during the set time and microwaving for a longer period of time would result in a hard cake.
5) I have a microwave oven and do most of my baking there. So when you talk about degree based baking/grilling/cooking, how do I correlate the same temperature and time frame with the microwave?
As I already mentioned,any recipe could be adapted to cook/bake in Microwave.
For baking [Cakes&Cookies] -approximately 7-8 minutes at 70%-80% power.Please keep in mind that the food continues to cook as it cools down.
For grilling – In my Microwave[IFB] there is no option to set a temperature[power] for grilling,so I just set the time according to what I am grilling and keep a close eye on it.But I would say 5-7 minutes would be ideal.
For cooking – Cooking in Microwave is faster and many Microwaves these days come with set options to cook a particular dish.Setting the power at 70-80% and checking in between the cooking process should do the trick.
6) How to make Pizza in M/W
Cooking with a ready-made Pizza base- Use a microwave safe plate and top the pizza base with toppings of your choice.Bake at 80% power for 8-10 minutes[or till the cheese melts].
Cooking with a home-made Pizza base – Bake the Pizza base at 80% power for 7 -8 minutes and then proceed with the method above.
Things to keep in mind – Since the Microwave actually cooks faster rather than bakes,the pizza wouldn't brown well.But the taste would be almost the same!
Microwave and Cakes
1) How to make Eggless Cakes in M/W-
Follow any eggless recipe of your choice and bake at 70-80% power for 7-8 minutes.Even if the surface appears uncooked,leave it aside to cool as it continues to cook as it cools down.Some eggless recipes on my blog -
Eggless Chocolate Cake with Mocha Icing,

2) Whenever I bake cakes in my  microwave it browns them at the top and the bottom remains uncooked. The cookbook recommends a temp of 180deg for cakes and it always gets charred at the top. Why?
I think consistency of the cake batter plays a big role here.While baking in the microwave,make sure that the batter is not too thick,but a flowing one.Reason being,if the batter is thick,it wouldn't cook evenly.In a microwave,the edges cook faster than the middle portion. While in convection mode,if the top starts to brown fast,just cover the cake pan loosely with a foil and continue baking.That should solve the problem.
3) Why are cakes baked in an m/w so dry?
Microwave cooking is quick and fast and the food continues to cook as it cools down.So even if the food appears uncooked at the end of the prescribed time,just leave it aside to cool.If you continue to microwave it till it appears cooked,it tends to become hard and dry.
4) I use IFB 25SC2. Can u please let me know what utensil to use while making a cake in microwave mode? I use Bakelite glassware. But my cake never pops out whole after I finish cooking it. I even grease it well with butter….also what mode to use when making a pizza?
Same pinch,I have the same model.For cakes,you could use any microwave proof tins.Cool the cake in the tin for 5-10 minutes and then try inverting it into a plate.
For Pizza,use the grill or Convection mode.You could also try the Microwave method.
Microwave and Brownies/Cookies
1) How to make cookies, biscuits in M/W-
For baking cookies/biscuits,use a Microwave proof tray and bake at 80% power for 8-10 minutes.
2) I've been trying to make brownies with microwave recipe and each time its been bad…either its become a cookie or its dry…really want to know the right way to bake cakes, brownies etc in a m/w or convention cooking.
Brownie batter is usually a bit thicker than the usual cake batter and I am assuming that must be the reason why they don't come out good.I would repeat the same thing,loosen the batter a bit by adding milk/yogurt since that would help to cook the batter evenly and not only round the edges or at the top.

Microwave Features/ Brands
1) What are the features to look out for in an M/W that would be ideal for most of the baking recipes?
If you are planning to bake extensively,look out for a Microwave with Convection mode.Nowadays,all Microwaves come with a combination of Convection and Grill modes.You could also go for a solo Microwave if you do not want the extra features.
2) Is there a particular brand of microwave that you would recommend?
Even though I am not paid to say this,I would say that IFB Microwaves are one of the best you could buy.But no bias here-Samsung,LG and Whirpool have Microwaves with similar features.Choose your pick!!
3) How to Broil in M/W Oven? What is needed for it?
Sorry,I am afraid I do not know of the Broiling method in Microwaves!!

Microwave Vessels/Bakewares
1) Can metal moulds be used in an m/w (convection and grill m/w)?
In Convection,Grill modes yes,because the Microwave ceases to be one during the Convection/grill mode and there are no Microwave rays present.But if you are using the Microwave cooking/baking mode,use only Microwave safe bowls/plates.
2) What Vessels are Microwave safe. Is everything other than "Metal" safe for M/W?
Microwave utensils are usually marked "Microwave proof" including glass ware[like Pyrex].Metals and Plastics are a no-no.
I hope I have answered your queries.I am happy to be part of DK's blog through this.I hope you find this post useful.Do mail/comment if you have got any more queries!!
Divya.