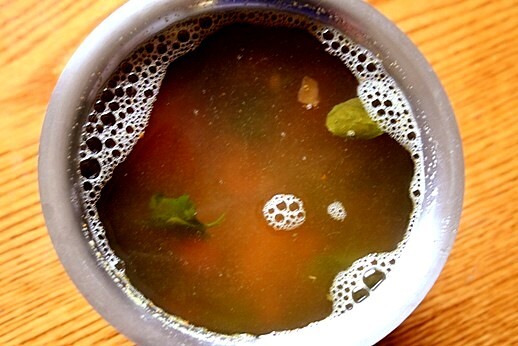 Rasam is similar to soup. But this is usually mixed with steamed rice and enjoyed as a main course in South India. There are many varieties of making rasam. Among them is this Lemon Rasam. This is very useful for removing bile in our system and is rich in vitamin C.
Ingredients
For the Broth
1 large Tomato, chopped finely
1/4 cup toor dal (pigeon peas)
1 tsp grated ginger
2-3 Green chillies, slit lengthwise (as per taste)
1/4 tsp turmeric
1 tsp salt (or to taste)
For the Rasam Powder
1/2 tsp coriander seeds
1/2 tsp peppercorns
1/2 tsp toor dal
1/4 tsp cumin seeds
For Garnish/Tempering
2-3 twigs curry leaves
2 tsp coriander leaves
1/4 tsp hing powder
1 Lemon (or to taste)
1/2 tsp mustard seeds
Ghee or oil for tempering
Method
1
Pressure cook toor dal and keep it aside
2
Take 4 cups of water in the vessel.Add tomatoes, green chillies, grated ginger, salt. turmeric, hing powder into the water. Heat it in med-high heat.
3
Meanwhile take another frying pan and dry roast toor dal, coriander seeds. pepper.
4
Grind it in a mixie along with cumin seeds. Add this rasam powder to the boiling water (rasam). Add curry leaves, and cilantro leaves.Keep it in a slow flame. Add 1 cup of water and cooked toor dal and rasam starts making bubbles in the sides. now you can season it with mustard seeds, and a pinch of additional hing (optional - for aroma) with oil or ghee.
5
Remove it from fire. allow it to cool. after 10 minutes, add lemon juice. Serve hot.
This recipe was contributed by a ChefInYou member.
Related Recipes You May Like
Did you make this recipe?
Please click below to share your experiences while you were making this recipe. Thanks for your input!
Have a favorite recipe?
Know a family recipe your mom used to make? Or maybe a go to recipe that works everytime? Share it with your fellow foodies!