Thakali/tomato kuzhambu - with coconut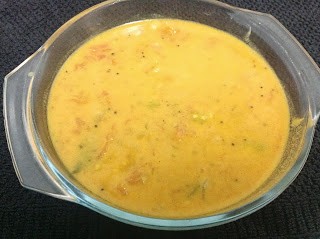 Thakali / tomato kuzhambu is always my all time favorite recipe. It is very simple to make & yet delicious. This thakkali kuzhambhu is a unique recipe which is made without tamarind and almost tastes like a tomato thokku flavoured with coconut. It is so delicious & it is rich in coconut milk.
Though this kuzhambu is served along with rice in general you can also serve this as a side dish for idli or dosas. The tangy taste of the tomatoes and the heat from the spices will be a treat to your senses.
Ingredients
Tomato - 2medium size
Onion - 1
Sambar powder - 1&1/2tsp
Green chillies - 5
Coconut milk powder - 3tsp +1tsp
Salt - as per your taste
To temper:
Oil - 2tsp
Mustard seeds - 1/2tsp
Curry leaves - few
Method
1
Method:
1. Boil enough water in a pan & when it boils, add the tomatoes & boil it for 1minute.
2. Allow it to cool down completely & remove the skin of the tomatoes.
3. Squeeze & mash the tomatoes well with your hands & finely chop the onions & slit the green chillies.
4. Take 1tsp of coconut milk powder & add 1/3cup of water & make thin coconut milk. Likewise, take 3tsp of coconut milk powder & add 3tsp of water & make thick coconut milk. Keep this aside.
5. Heat oil in a pan & temper the ingredients that are listed under "to temper" table.
6. Add the finely chopped onions,green chillies & curry leaves. Saute them until translucent.
7. Now add the mashed tomatoes, thin coconut milk,salt & sambar powder. Boil this in medium flame for 5-7min.
8. Add the thick coconut milk & boil them until oil seperates.
Note:
I have used coconut milk powder. You can use fresh coconut milk also.
Use ripe tomatoes for making this kuzhambu.
You can replace sambar powder with red chilli powder & corainder powder.
Onions can be replaced with shallots also.
This recipe was contributed by a ChefInYou member.
Related Recipes You May Like
Be the first to showcase this recipe!

Your Name
Did you make this recipe?
Please click below to share your experiences while you were making this recipe. Thanks for your input!
Have a favorite recipe?
Know a family recipe your mom used to make? Or maybe a go to recipe that works everytime? Share it with your fellow foodies!