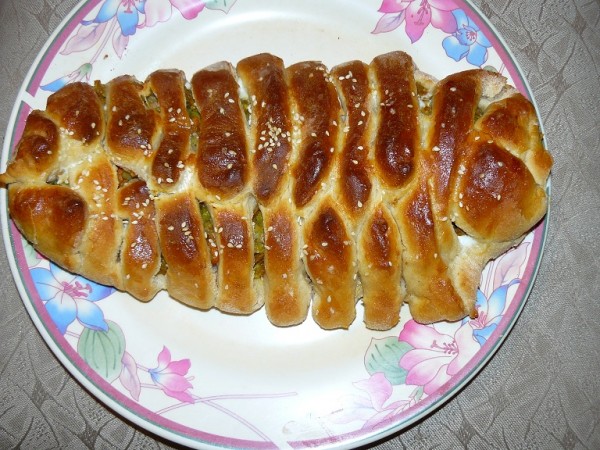 Yummy tummy braided bread.
Basic Information
Cook Time
:
30 min to 1 hour
Ingredients
Maida or Self raising flour --1 cup
Whole wheat flour -1 cup
yeast -7 gms
warm water -as needed
olive oil -1 table spoon
butter -1 table spoon
egg -1
salt -1 1/2 spoon
sugar -1 spoon
sesame seeds to garnish
Stuffing ingredients Mushrooms, boiled potatoes, boiled peas, corn, carrots, beans even meat like chicken mince cooked, mutton mince cooked, prawns too and what not to its upto ur choice to the ingredients add the spices like salt, chilli pdr and garam masala and make a mixture of vegetables or meat.
Method
1
To make dough:- In a big bowl add 7 gms of yeast and add sugar and luke warm water to it allow to raise yeast clouds. Now add salt,egg, olive oil 1/2 table spoon and flour in small quantities. and mix well to make a dough formation which is not too sticky or too tight. And let the dough stand in a warm place for 2 hrs minimum.
2
Now the dough will be doubled in size punch down the excess air in the dough and split the dough in 2 parts and make it flat and now add the stuffing in the middle of the bread and cut the two sides in to form a braided bread.
3
Allow the bread to raise another 1 1/2hrs and add butter to the baking tray and place the bread and bake in a preheated oven of 180 degrees until the bread is baked.
4
For top glace brush it with egg or milk and add sesame to garnish
This recipe was contributed by a ChefInYou member.
Related Recipes You May Like
Be the first to showcase this recipe!

Your Name
Did you make this recipe?
Please click below to share your experiences while you were making this recipe. Thanks for your input!
Have a favorite recipe?
Know a family recipe your mom used to make? Or maybe a go to recipe that works everytime? Share it with your fellow foodies!