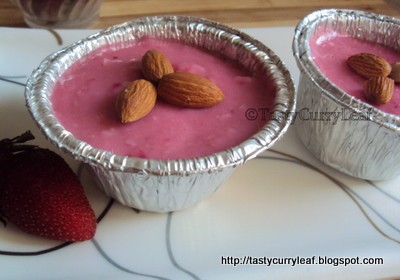 Delicious North Indian rice pudding with a strawberry twist.
Ingredients
1 and 1/4 cup Milk
Almost 4 tsp Rice flour
2 tbsp sugar or more as per taste
4 tbsp (atleast) strawberry puree
Handful of lightly toasted Almonds for garnish
Method
1
In a small bowl,mix together 1/4 cup milk and rice flour to get a thick paste which should be lump free. Keep aside.I have used more rice flour than mentioned in the original recipe.
2
In a thick bottomed bowl,bring to boil the remaining milk to which sugar has been added.Remove from heat,thoroughly mix in the rice flour-milk paste and return to heat. Let it simmer till thickens stirring almost constantly.It will thicken maximum within 5-7 minutes. Remove from heat and let it come to room temperature.
3
Fold in the strawberry puree. I had pureed strawberries adding a little sugar which I added to the thickened milk. Pour it in bowls- preferably earthenware or matkas- or any serving bowls and let it chill for atleast 30 minutes or dessert time. Garnish with nuts and serve.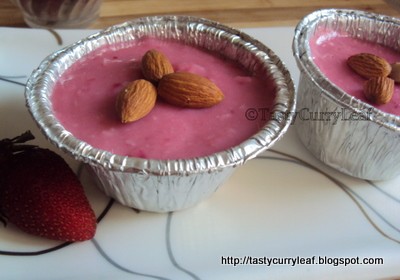 4
Simple creamy dessert.I have avoided adding cardamom as I felt that the spice overrides the strawberry when I made it the first time.Feel free to make your own version of phirni which is excellent for the summer.
5
For authentic phirni - wash the basmathi rice in several changes of water, then dry in the sun and finally grind/powder in a clean coffee grinder and use in the above recipe instead of rice flour.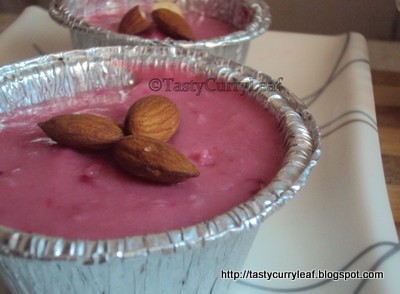 This recipe was contributed by a ChefInYou member.
Related Recipes You May Like
Be the first to showcase this recipe!

Your Name
Did you make this recipe?
Please click below to share your experiences while you were making this recipe. Thanks for your input!
Have a favorite recipe?
Know a family recipe your mom used to make? Or maybe a go to recipe that works everytime? Share it with your fellow foodies!