My Notes: I dunno precisely why or how, may be due to standing time being longer, my dough stretched like Elasti Girl. I think mine stretched more than 2 by 3. I stopped only when the holes in the dough started getting bigger. But it was super duper thin!
Cut away the thick dough around the edges with scissors. The dough is now ready to be filled.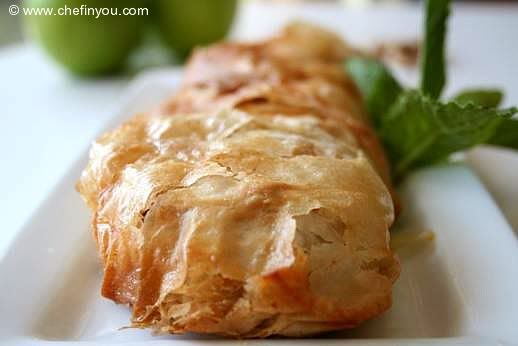 My Notes: I hardly had any thick edges since I stretched them all!!!!! I dint cut any dough off!
Tips
- Ingredients are cheap so we would recommend making a double batch of the dough, that way you can practice the pulling and stretching of the dough with the first batch and if it doesn't come out like it should you can use the second batch to give it another try; - The tablecloth can be cotton or polyster; - Before pulling and stretching the dough, remove your jewelry from hands and wrists, and wear short-sleeves; - To make it easier to pull the dough, you can use your hip to secure the dough against the edge of the table; - Few small holes in the dough is not a problem as the dough will be rolled, making (most of) the holes invisible.