Wholegrain Milk & Cheese Bread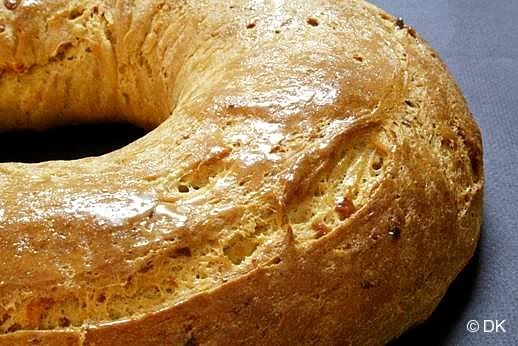 I love good food. Period. But like any other person out there, I also constantly worry about weight! Occasionally (ahem!) I want to splurge myself. When Temperance announced the theme for Bread Baking day as Cheese Bread, I grabbed it with full fervor - no not because its cheese (although its a good reason to be you know!) but for the fact that I had this wholegrain Milk and cheese bread recipe from our kind neighbors about whom I have already mentioned in this blog.The minute it came out of the Oven, I knew it was a keeper.

I had few guests coming over with kids and Cheese is always a favorite. I dint have time to make elaborate lunch, thanks to hectic work schedule, but Baking is something which gets done on the side. I served these with some warm soup along with a light lunch. It not only was a great hit but at the end, everyone ended up feeling rather full and heavy over my light lunch! ;-) This recipe is enough to serve like 5-7 people, so go ahead and halve the recipe if you want. I just have one teeny weeny piece left over which I am munching right now while writing this post :).
Basic Information
Cook Time
:
30 min to 1 hour
Yield
:
Makes two 8"X4" loaves
Ingredients
6 cups whole wheat flour
2 cups whole milk
1 cup cheddar cheese
1/4 cup honey
2 tsp active dry yeast
1/2 cup warm water
2 1/2 tsp salt
Method
1
Scald the milk and cool it to lukewarm. Stir in the honey to the milk.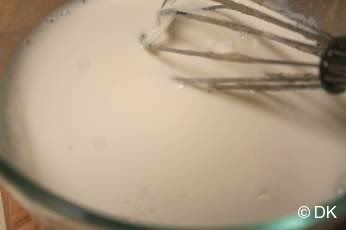 2
Dissolve the yeast in warm water. Set aside.Measure out the flour and salt in a bowl and mix. Pour the milk and yeast into it.
3
Make a stiff dough without adding any flour.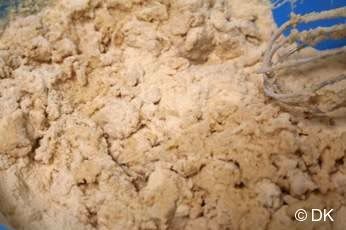 4
Add additional water if required. The dough should be soft and elastic. Knead in the butter bits, continuing to work until well incorporated. Add the cheese.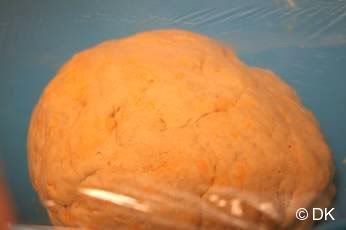 5
Place it in an oiled bowl and set it aside covered with plastic wrap. It takes about 1-2 hours for the first rising.knead it for few minutes and keep it once more for second rising. this takes only like 30 min. Press the dough to deflate. you can at this point, either divide the dough into two to make loaves or else use them to make a circular shape as depicted in the picture.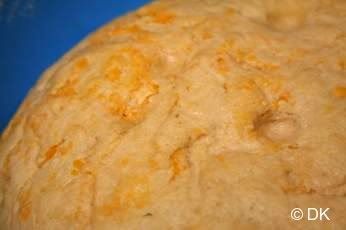 6
for that, simply knead it into a sausage shape,
7
shape it like a circle, join it, place it in the baking sheet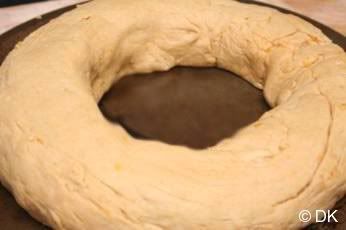 8
and bake it in a preheated 350F oven for 40-50 minutes or until golden in colour. You can brush it with either honey or butter after it comes out.
9
There it is :) warm and totally yummy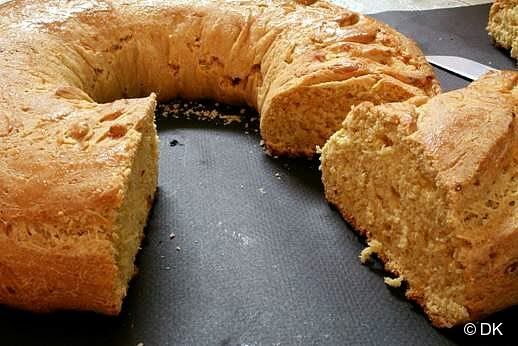 Related Recipes You May Like
Be the first to showcase this recipe!

Your Name
Did you make this recipe?
Please click below to share your experiences while you were making this recipe. Thanks for your input!
Have a favorite recipe?
Know a family recipe your mom used to make? Or maybe a go to recipe that works everytime? Share it with your fellow foodies!