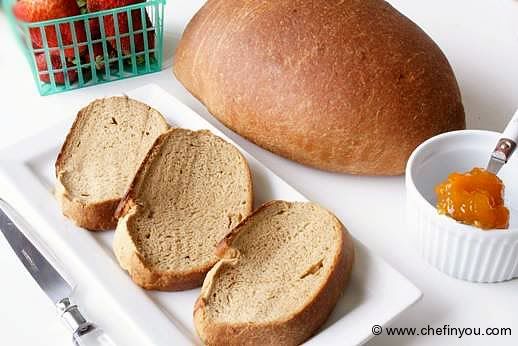 Indians are not big on eating bread - at least the ones I know of. Having toast in the morning was (note the "was") not a regular affair. My mother had this sandwich maker which she got from some exhibition in Delhi but which she rarely used. I dunno if she still has it, but I was its fan. Many a times when my mother was busy and I had to prepare my own lunch, I used to take the maker, place two slices at both ends, dump (..and I literally mean it) with whatever I could get my hands on and make sandwich with it. I used to feel pretty proud of it too - although my dad till date teases me with the "supposed fillings" i used to have inside them and very 'graciously' stayed away from them!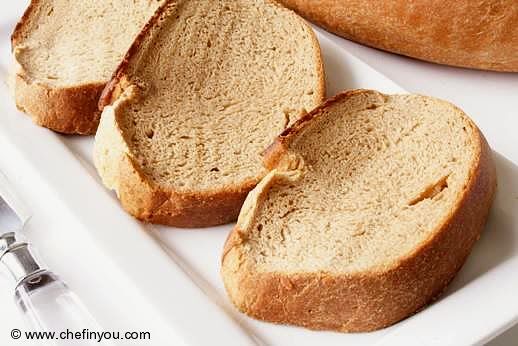 Anyways, on the rare cases when we did buy bread - my mother to keep it healthy used to avoid the white bread and go for 'Brown bread'. It was called that and it was whole wheat bread. If you eat that, you will realize why most people avoid wheat breads. It was bad! A complete 'blech'. I used to accuse my mom of depriving me of my happiness of eating breads by buying these and she used to patiently explain that 'unfortunately healthy dishes are sometimes bad- you have to put up with them!". But then Baking is not common in India - so making your own bread (a brown bread at that!) cannot be thought of. All these thoughts brimming on my mind on this Father's day, I ended up making sandwiches - but with fillings my father wouldn't be able to stay away from :) I made them with these Whole Wheat Bread (or should I say "Brown Bread") in remembrance of my mom's healthy cause. Hope this post reminds them of all those memories just the way it did for me. Now to the recipe. If you are not fan of whole wheat bread because they are dense and heavy then you should try this one. Its spongy, light and delicious. I got this recipe from
this Master Baker I ever knew.
Basic Information
Cook Time
:
30 min to 1 hour
Yield
:
Makes two 9X5 inch loaves
Ingredients
2 cups lukewarm whole milk
1/4 cup honey
2 tsp active dry yeast
1/2 cup warm water
6 cups stone ground whole wheat flour
2-1/2 tsp salt
1/2 cup water
2 tbsp butter, unsalted
Method
1
Mix honey and milk together. Dissolve the yeast in the warm water. Take a large bowl and mix flour and salt together.
2
Make a well in the flour and pour the milk and yeast mixture into it.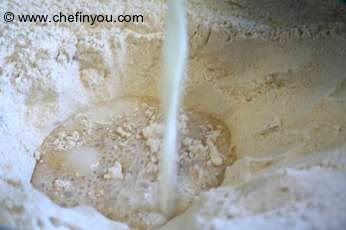 3
Mix to make a stiff dough.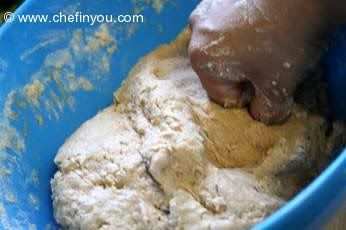 4
Knead vigorously without adding any flour until the dough becomes soft and elastic. Use the second 1/2 of water for this. Dont add more water until really necessary. Now knead in butter bits until well incorporated.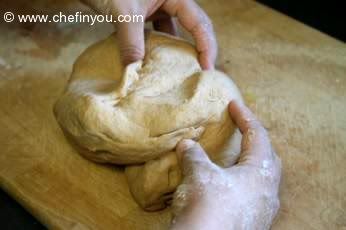 5
Mostly by this time your hands would be screaming to come out of your shoulder sockets - so catch your breath and relax for 2 minutes. Form the dough into a ball and place in a clean bowl.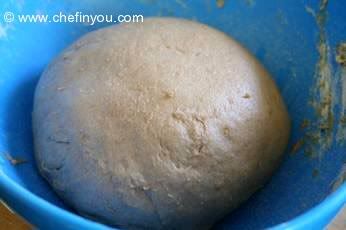 6
Cover with a plastic wrap and let it rise. Takes about 2 hours. Update : When I say rise, I dint mean that it would rise like how all-purpose flour with yeast does normally. It will puff up little. Try to make an indentation to the dough with your wet finger 1/2 inch deep. If the dough sighs or does not spring back then it is ready. I am used to working with wheat flour, hence failed to mention this piece of information.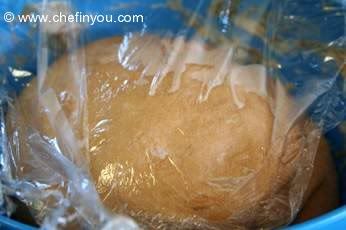 7
Now knead it for few more minutes and let it rise again. Take just half the time than the previous.Now divide the dough into 2 and shape them into loaves/or any shapes you like. I made one and seeing me shape the bread,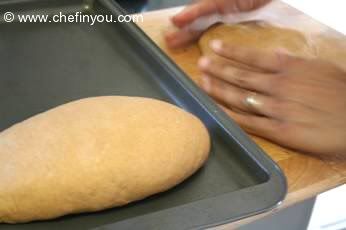 8
the interest of my better half got piqued and so he shaped the other one.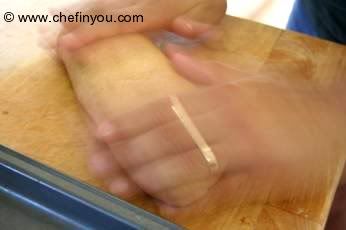 9
The good looking one is mine though ;)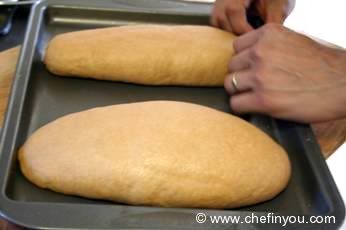 10
Bake them in a preheated 350F oven for 40 - 45 min or until done.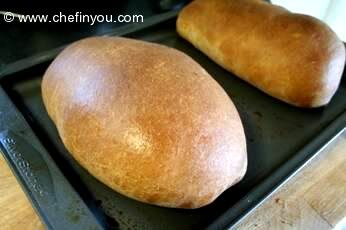 11
Cool it and then slice it.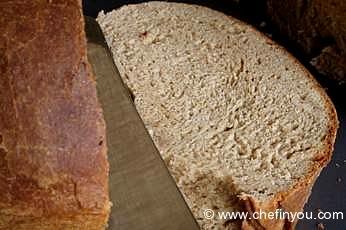 12
We finished half of "his" loaf the very same day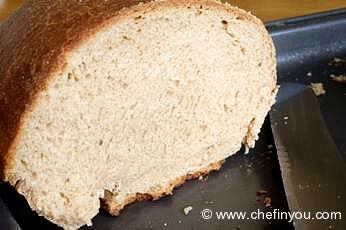 for our evening tea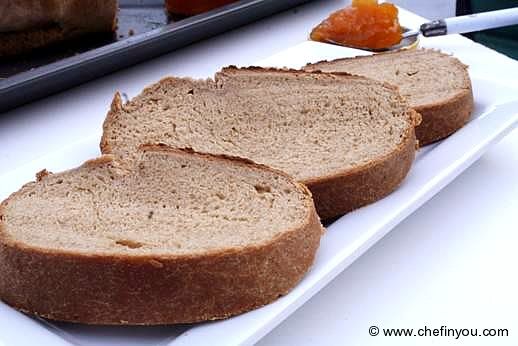 with some home made apricot preserve.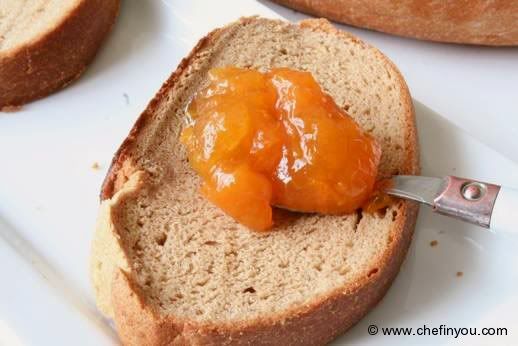 Related Recipes You May Like
Did you make this recipe?
Please click below to share your experiences while you were making this recipe. Thanks for your input!
Have a favorite recipe?
Know a family recipe your mom used to make? Or maybe a go to recipe that works everytime? Share it with your fellow foodies!