I almost missed this months challenge citing various reasons.
Week -1
1) Too much work - no time to sit for a WHOLE day in the kitchen ( "
would you say the same thing if you were given some type of bread!
" - asked my too-smart-for-my-own-good husband)
Week - 2
2) How about this - Too MANY eggs - 10 Eggs! you got to be kidding me, too eggy for me. ("
yet you gobbled up these butter cookies. I am sure the chocolate will mask the egg taste
" - yes HIM again (#$$#%T#$))
Week - 3
3) I am on a DETOX diet - can't be eating so much butter (2 sticks!) and look at that chocolate ("
Don't worry - you dont have to - I will take it to work!
"- what? isnt it obvious now to who said that ! ($@#$$))
Week - 4
4) aah..(splutter)..huh! OK OK I give up..I accept defeat! I can't Bake TORTE for the life of me - leave alone something called as Dobos Torte. I can bake anything else..not anything too sweet!~ I am NOT going to ( "
Oh well- ok then! But this is Daring Bakers- its not for those who Bake only what they like and can. Its for those who can't do it with flair too - that's why its CHALLENGE! Otherwise what's the point
. " - smart pants!)
On the day of the challenge post - yes TODAY
Ok then - I will try and if its a mess don't laugh at me ( "
of course I won't. As long as you try- that's all matters!
" - My encouraging husband :)) So as mentioned, it was not a hit in the looks department - but it tasted too good though. What more it dint taste eggy at all - the rich chocolate butter cream ruled the roost.
Since I had to post it soon, I dint have time to set it first in the fridge for the specified time.
But before I go into the recipe "YAYYYYYYYYYYYY! I ACTUALLY MADE A YUMMY TASTING TORTE"
*Update
: After setting it in the fridge for 2 hours, its now even more delicious to cut and also to taste. The layers are more prominent now - but too late to take photos yet again! I am tired!*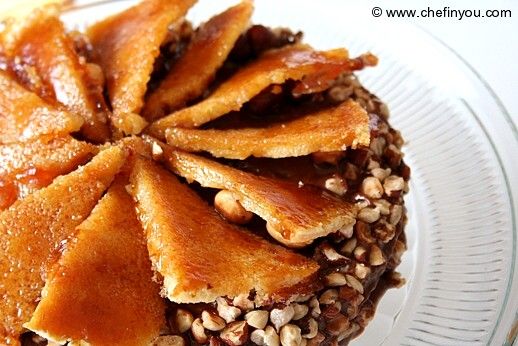 Now to Notes from the Daring Baker's Challenge
The Dobos Torta is a five-layer sponge cake, filled with a rich chocolate buttercream and topped with thin wedges of caramel. (You may come across recipes which have anywhere between six and 12 layers of cake; there are numerous family variations!) It was invented in 1885 by József C. Dobos, a Hungarian baker, and it rapidly became famous throughout Europe for both its extraordinary taste and its keeping properties. The recipe was a secret until Dobos retired in 1906 and gave the recipe to the Budapest Confectioners' and Gingerbread Makers' Chamber of Industry, providing that every member of the chamber can use it freely. Lorraine and I would like you to make this famous cake which we chose in the spirit of being Daring and Challenging us. Variations are discussed at the end of this post and as always, if you have to make substitutions for dietary or financial reasons, that is fine.