Kamut and Mixed Greens Pilaf
I have been on a DETOX sort of a diet for a while now. I use the word 'sort of' since the recipes I follow are not exactly from any detox book, but which follows the basic essence of detoxing. Too much of work, lack of proper sleep and exercise, eating food outside are starting to show on me. What more, I am starting to feel it too. If you have been a regular reader of my site, you would know that I am not a follower of any 'diets' per se. They don't work for me and I don't believe in depriving myself of anything. But Detox is more about helping your body get rid of toxins and what they actually deprive you of, are something I don't mind at all - things like alcohol, caffeine, eating outside (to avoid high saturated, high sodium, sugar and highly processed foods). Sounds like a good plan to me. After following it for a while, I am starting to feel better and the best thing is I feel this on my own terms and not because some diet insisted that after depriving me of everything I should feel good at this stage!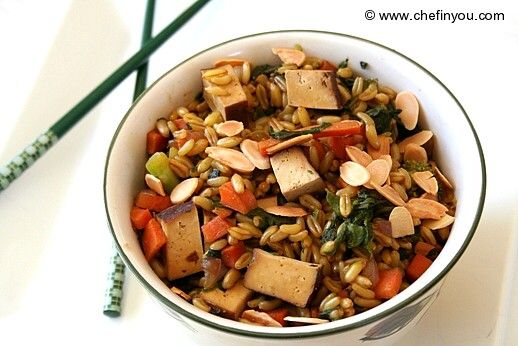 I have been eating lots of wholegrain based foods. Being a vegetarian already has only helped me in this cause since lots of vegetables and fruits are the in thing for this diet. But its great for non vegetarians too - I see that there are many options for non vegetarians during Detox. Anyways one of the lunches which I enjoyed recently was this Kamut Pilaf. It has almost all the goodness you can ask for and what more its delicious. Its simple to put together too. It was one of those 'cleaning-my-fridge-hence-dump-all-remaining-ingredients-together' kind of pilaf. You can use whatever you have on hand - but make sure to include some greens.
Basic Information
Prep Time
:
30 min to 1 hour
Ingredients
About 2-3 cups of mixed greens ( I used rainbow chard, dandelion greens and spinach)
1 onion, chopped
1 carrot, chopped small (or julienned to cook faster)
About 1 cup of small Broccoli florets
1/2 tsp ginger-garlic paste (or simply used thinly sliced ginger and minced garlic)
1 tbsp soy sauce
1-2 tsp sichuan stir fry sauce, as per taste ( or use chilli sauce or simply add in few sliced chillies)
1/2 cup chopped baked tofu
Salt to taste
few toasted sliced almonds to garnish
Method
1
Use your stir fry pan and cook in high heat. Once the pan is hot, add 1/2 tsp oil (peanut,sesame or plain olive oil). Add in the ginger garlic paste, give a quick toss, drop the chopped onions and carrots along with salt. Give a quick toss again for a minute or so until you see the carrots softening a bit. When the aroma starts to hit you- add in the broccoli. Make sure to keep stirring otherwise the vegetables will get burnt in high heat. Keep all the ingredients next to you whenever you stir fry making it easy to add in ingredients.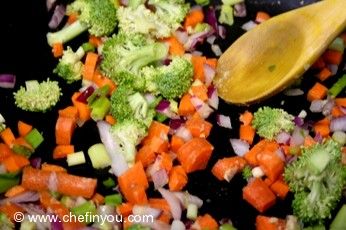 2
Next add in the greens and keep tossing it for a minute or so.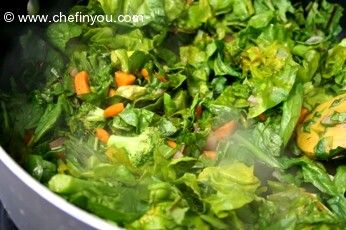 3
When you see them wilting, add the cooked kamut and tofu. Give it a quick stir until well combined. Add the sauces and keep cooking for another 2-3 minutes until the sauce coats all the other ingredients and gets well combined ( another 2-3 minutes )
Serve hot garnished with toasted almonds. The whole process takes only about 10-15  minutes to cook, is nutritious, is hearty and delicious too. You can do the same with any left over brown rice, wild rice etc. It tasted yummy with some simple cucumber raita. ( talk about combo's!!!) .
For other wholegrain based recipes check here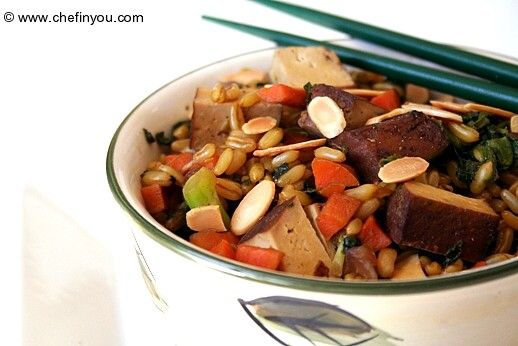 Related Recipes You May Like
Be the first to showcase this recipe!

Your Name
Did you make this recipe?
Please click below to share your experiences while you were making this recipe. Thanks for your input!
Have a favorite recipe?
Know a family recipe your mom used to make? Or maybe a go to recipe that works everytime? Share it with your fellow foodies!