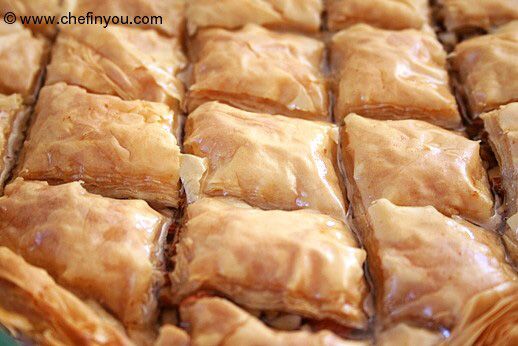 This recipe is in my drafts for like ages. To be precise 8 months!. But after getting repeated recipe requests for Baklava, I had to do "
open sesame
" and post this now. Why the hesitation? This Baklava is the Best one I have ever tasted, it just was the photo. It simply does not do justice to the heavenly sensation that it creates in your mouth and down your throat. I was waiting for the moment, when I would make this sinful indulgence again, but well it just did not arise. Anyways, I personally think that we should ban Baklava. yes, you heard right. Its worse than drugs - makes you a die hard addict. I mean see it this way - I, don't love sweets. Period. I am among the 0 .00000001% of women who
DON'T
go gaga over chocolate. In fact I run the other way. Sugar syrup makes me hurl and even the smell of desserts in general does not give that velvety esthesis which it usually induces in average humans. Inspite of all this - I did a complete U-Turn and all but finished a huge plate of Baklava all by myself. I simply couldn't stop myself from reaching the fridge like 10 times a day to fork a mouthful!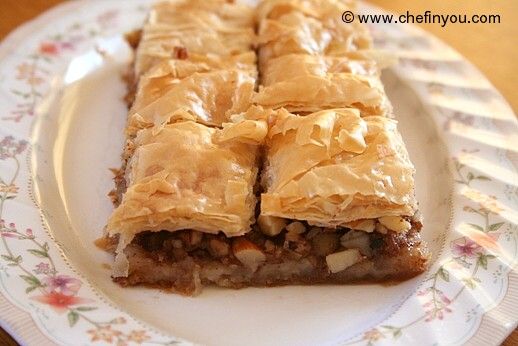 Once it was over, with the wardrobe suddenly shrinking, I finally realized what an addiction this Baklava is. So, to avoid you all those emotional backlashes, I am warning you beforehand - THIS IS ADDICTIVE, THIS IS HIGH CALORIE, YOU WILL SURELY EAT MORE THAN YOU SHOULD, DON'T FORGET TO BUY BIGGER CLOTHES BEFOREHAND. Phew! Now that I have let the steam out, lemme go into this recipe which I noted down from Greek cookbook ( no recollection of title or author). This step by step instruction will help you to conquer one of the most loved sweets in the world today!
Basic Information
Prep Time
:
30 min to 1 hour
Cook Time
:
30 min to 1 hour
Ingredients
For the Filling
2 cups (8 oz) finely chopped almonds
1 cup (4 oz) finely chopped walnuts
1/4 cup (2 oz ) caster (superfine) sugar
2-3 tbsp bread crumbs (optional. It helps to bind the filling. I dint use it in this recipe. I came to know of this trick later)
2 tsp ground cinnamon
1/8 tsp ground cloves
For the syrup
2 cups (1 lb) sugar
2 cups (16 fl oz) water
1 stick cinnamon
1 tbsp lemon juice
For the cover
150 grams (5 oz) unsalted butter, melted
12 oz packet filo pastry (375g) (see how to make Phyllo dough from scratch here)
Method
1
Place all the ingredients under 'filling' in a bowl.
2
Combine until blended. Meanwhile place all the ingredients for the syrup together in a saucepan and bring it to a boil, while stirring for the sugar to dissolve. Simmer for 10 minutes and leave it to cool.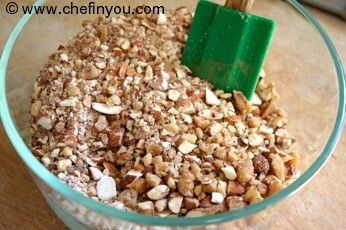 3
Brush a 12X10 in baking dish with butter. Brush 10 sheets of filo with melted butter.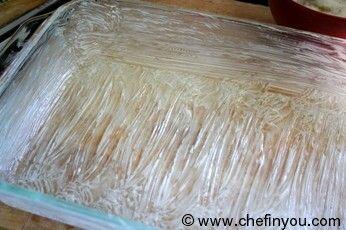 4
Lay them on the dish one by one.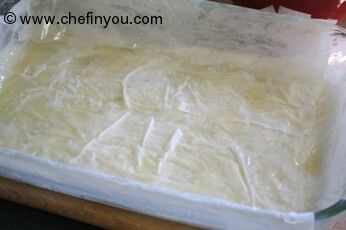 5
Spread the filling in the dish.
6
Now top it off with further 10-12 sheets of pastry, buttering each sheet as needed. You can trim off the excess pastry hanging on the side of your baking dish. Now brush the top of the pastry with more butter.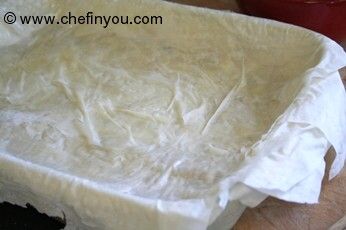 7
With a sharp knife, score the top layers in large diamond shapes.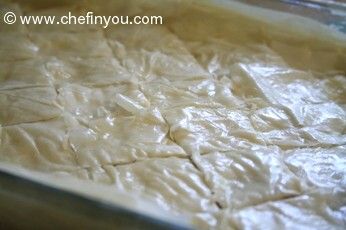 8
Bake in a preheated 160C (325F) oven for 1 hour or until the top turns golden brown. If you find that the top is turning color too quickly, then cover the top with foil.
9
Remove from the oven and slowly pour the syrup over the top.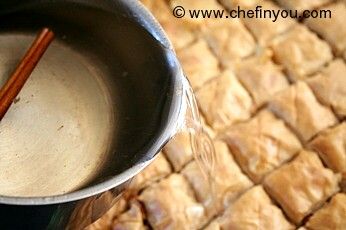 10
Now comes the MOST DIFFICULT part. You have gotta to let it sit for at least 5-6 hours for it to absorb the syrup.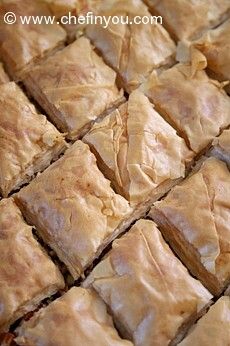 Since I found that impossible, I cut myself few pieces. This is how it looks
after 1 hour of soaking
( clearly its not enough!)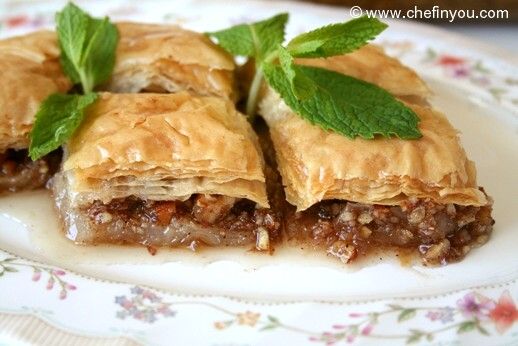 The syrup oozes out and believe me, it is amazing! I mean come on its not against law to enjoy a baklava before it soaks the syrup completely! I made it, and I will break the rules. This is how it looks after it has completely absorbed the syrup -
about 8 hours later
.Yes, I managed to avoid going to the fridge for THAT long.
Related Recipes You May Like
Did you make this recipe?
Please click below to share your experiences while you were making this recipe. Thanks for your input!
Have a favorite recipe?
Know a family recipe your mom used to make? Or maybe a go to recipe that works everytime? Share it with your fellow foodies!