WARNING
: If you are an ardent food blogger whose back side has an constant itch until the prepared food has been satisfactorily photographed, then remember NOT to make this when you have anyone around you while making this - Men, Women least of all kids! Pets?? Oh well may be - I don't know what effect these cannoli have on them, I don't have any pets. But keep a look out, will you? I made this huge mistake of making them for the first time with few family/friends visiting and the cannoli's kept disappearing the minute I set them at the kitchen counter! I had to specifically become an unruly host and whisk away few to photograph them - I had to post them today!!!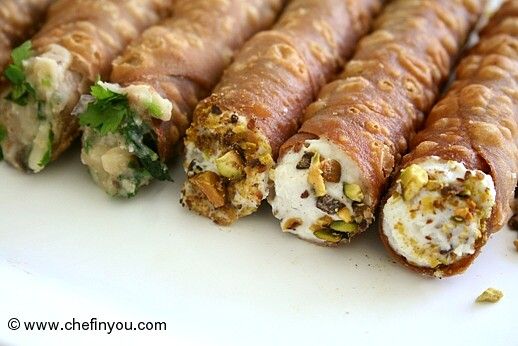 But unruliness was forgiven when I hesitantly gave them the plate..I had no idea how they photographed. I had no time to beautifully pipe in the stuffing in the cannoli, no time to make a wonderful presentation to do justice to these mind boggling fried goodies. Leaving everything to the photography angel, I watched all my cannoli vanish into thin air (uh! into wide open dark tunnels which we call as mouth to be precise!) Keeping the Italian theme in mind, I wanted to two fillings - one savory and one sweet. The men gobbled up savory like it was going extinct and the women enjoyed the sweet version like it was going out of fashion! The kids wanted it all - they enjoyed both the sweet and savory version. We could choose our own fillings and this challenge also paved way for alcohol free version. Since I had kids coming in, I used fruit juice. Before going to the recipe,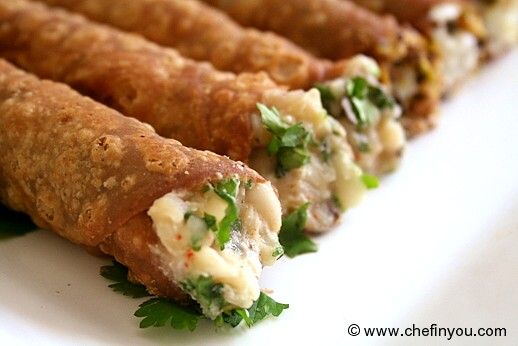 What is Cannoli?
Cannoli are known as Italian-American pastries, although the origin of cannoli dates back to Sicily, specifically Palermo, where it was prepared during Carnevale season, and according to lore, as a symbol of fertility. The cannoli is a fried, tube-shaped pastry shell (usually containing wine) filled with a creamy amalgamation of sweetened ricotta cheese, chocolate, candied fruit or zest, and sometimes nuts. Although not traditional, mascarpone cheese is also widely used, and in fact, makes for an even creamier filling when substituted for part of the ricotta, or by itself. However, cannoli can also be filled with pastry creams, mousses, whipped cream, ice cream etc. You could also add your choice of herbs, zests or spices to the dough, if desired. Marsala is the traditional wine used in cannoli dough, but any red or white wine will work fine, as it's not only added for flavor or color, but to relax the gluten in the dough since it can be a stiff dough to work with.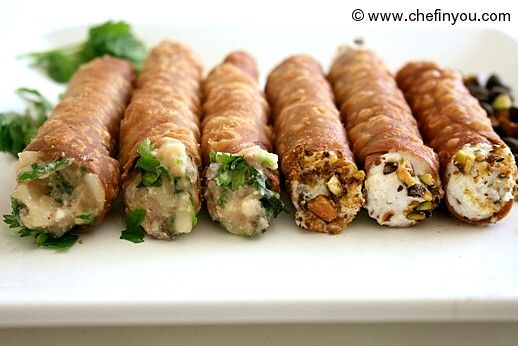 What do you need?
Cannoli forms/tubes
- optional, but recommended if making traditional shaped cannoli.
How to make Cannoli without Shells/Forms/Metal tubes?
Nothing beats the original form to make a great looking Cannoli. But then here are some options you can try. I haven't personally used any of the following (I had the forms!) but this is a concise list from internet and from fellow daring baker's personal experiences. Hope this helps:
Dried cannelloni pasta tubes work just as well!
You can try using heavy duty aluminum foil and roll into a tight cylinder.
Use broomstick handles! Cut down a thin broomstick to 4-6-inch lengths (or any length you require). Wash and scrub it well with hot soapy water until clean. Make sure the surface is smooth. Rinse in hot water and dry thoroughly. Use them as it is, which proved to be quite a problem for some fellow daring bakers since the dough got stuck to it. My tip that could possibly work is to wrap the broom handle with aluminum foil and then wrap the dough on it.
Use steel curtain rods. Cut it into 4-6 inch pieces and use them as forms