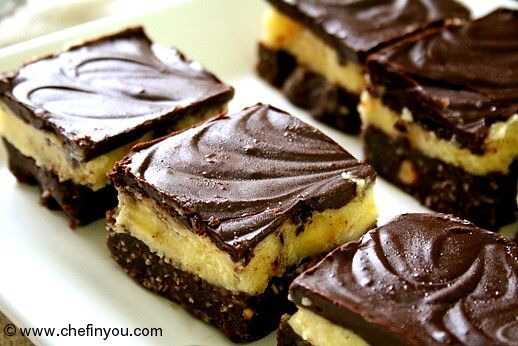 The January 2010 Daring Bakers' challenge was hosted by Lauren of Celiac Teen. Lauren chose Gluten-Free Graham Wafers and Nanaimo Bars as the challenge for the month. The sources she based her recipe on are 101 Cookbooks and www.nanaimo.ca.
OMG!!!!!!! In the name of sweet lord Jesus!
Ok before regular readers get a culture shock hearing this from me, hear me out! I was given a fair warning by my dear fellow dbers. They told me this was a rich dessert. I was neglectful and blase about it - I mean I am not a chocoholic! In fact I don't like chocolates( Don't gasp! Who ever said I was your average woman? - Have thus been rightfully chucked out of all women's club! )- hence did not think that this so called rich dessert could suck up to my taste buds! But guess what? - I am GLAD to say I have been smacked left, right and center!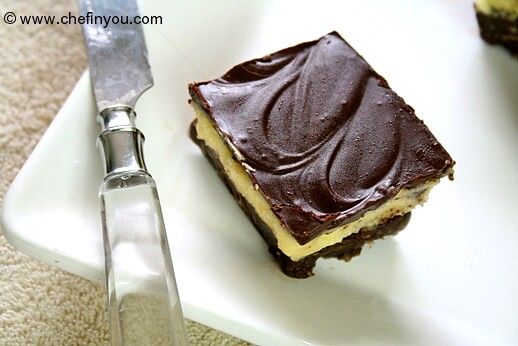 Me, who sniffed at the person who came up with the word 'food porn', has to warn all of you - the minute you take a bite of these bars, the sound coming out of you will ape the ones you usually hear from a Porn site! Bliss! Please try it - its not hard at all! Special thanks to Lauren from Celiac Teen who introduced these to me. Yay to you :)
Lets start with the top layer. See all that beautiful chocolate layer below? It had such a caramel'ish taste to it ( may be cos I almost burnt it?? Oh well who cares as long as it tastes so good....) It was not too sweet at all - the one thing I relied greatly on to stop me from eating it..since it was not, well you are right - I did end up indulging!!:(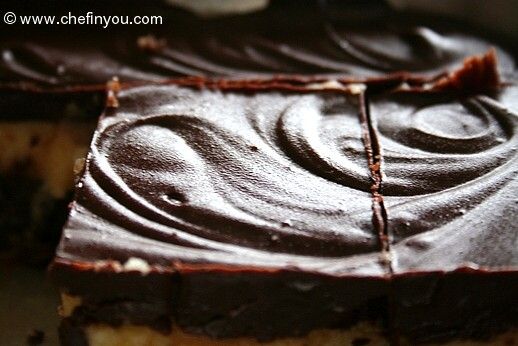 Then comes the middle layer - that custard, butter and sugar....ahhhhhhhhh! How can anything with such ingredients NOT taste heavenly???????? It does and by now if you are thinking that you are in total bliss - wait till you reach the bottom!!!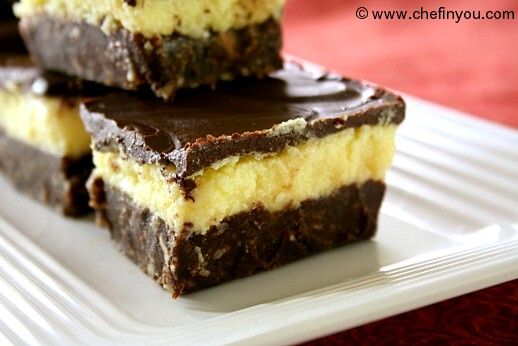 That delicious crunch from the nuts and coconut! I have mentioned in so many of my earlier posts that the only way I would eat chocolates would be if they are filled with nuts or wafers or BOTH!  This bottom layer has nuts, chocolate and coconut and is worth nibbling up every single bit that might fall off from your knife while you are cutting through it - see that bottom layer in the picture below? Can you see all that coconut and nuts peeping through the chocolate? That, my dear readers, is what we call as Food Nirvana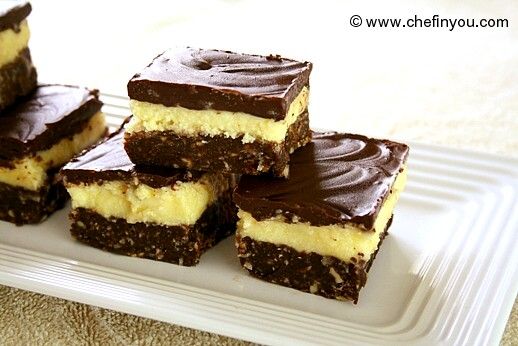 If you are thinking , that this girl must have lost her marbles , then I challenge you...Make this and show me any other reaction from what I have described above and I will accept defeat (and no...hiding that feeling and acting as if nothing happened is cheating....you would be disqualified..I will find it out. Telling you, it shows on your face!)
Without further delay lets go into the recipe now shall we? Lets take this step by step -
Basic Information
Yield
:
Makes around 16 bars
Ingredients
Actual baking time: 12 minutes total, plus a few minutes to get your oven from 200°F to 375°F.
(Preparation time: 30 to 45 minutes total active prep, 2 ½ hours to overnight and 45 minutes inactive prep.)
For Gluten-Free Graham Wafers
1 cup (138 g) (4.9 ounces) Sweet rice flour (also known as glutinous rice flour)
3/4 cup (100 g) (3.5 ounces) Tapioca Starch/Flour
1/2 cup (65 g) (2.3 ounces) Sorghum Flour
1 cup (200 g) (7.1 ounces) Dark Brown Sugar, Lightly packed
1 teaspoon (5 mL) Baking soda
3/4 teaspoon (4 mL ) Kosher Salt
7 tablespoons (100 g) (3 ½ ounces) Unsalted Butter (Cut into 1-inch cubes and frozen)
1/3 cup (80 mL) Honey, Mild-flavoured such as clover.
5 tablespoons (75 mL) Whole Milk
2 tablespoons (30 mL) Pure Vanilla Extract
(Preparation time: Nanaimo Bars: 30 minutes.)
Nanaimo Bars — Bottom Layer
1/2 cup (115 g) (4 ounces) Unsalted Butter
1/4 cup (50 g) (1.8 ounces) Granulated Sugar
5 tablespoons (75 mL) Unsweetened Cocoa
1 Large Egg, Beaten
1 1/4 cups (300 mL) (160 g) (5.6 ounces) Gluten Free Graham Wafer Crumbs (See previous rec ipe)
1/2 cup (55 g) (1.9 ounces) Almonds (Any type, Finely chopped)
1 cup (130 g) (4.5 ounces) Coconut (Shredded, sweetened or unsweetened)
For Nanaimo Bars — Middle Layer
1/2 cup (115 g) (4 ounces) Unsalted Butter
2 tablespoons and 2 teaspoons (40 mL) Heavy Cream
2 tablespoons (30 mL) Vanilla Custard Powder (Such as Bird's. Vanilla pudding mix may be substituted.)
2 cups (254 g) (8.9 ounces) Icing Sugar
For Nanaimo Bars — Top Layer
4 ounces (115 g) Semi-sweet chocolate
2 tablespoons (28 g) (1 ounce) Unsalted Butter
Method
1
Method - For the wafers
In the bowl of a food processor fitted with a steel blade, combine the flours, brown sugar, baking soda, and salt. Pulse on low to incorporate.
2
Add the butter and pulse on and off, until the mixture is the consistency of a coarse meal.
3
If making by hand, combine aforementioned dry ingredients with a whisk, then cut in butter until you have a coarse meal. No chunks of butter should be visible.
4
In a small bowl or liquid measuring cup, whisk together the honey, milk and vanilla.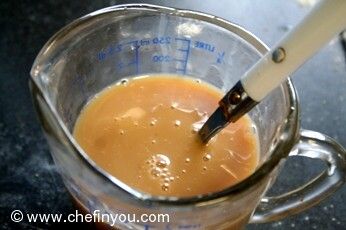 5
Add to the flour mixture until the dough barely comes together. It will be very soft and sticky.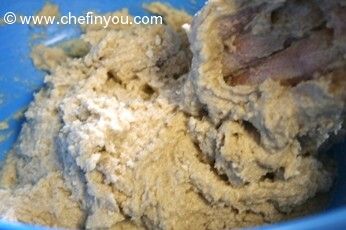 6
Turn the dough onto a surface well-floured with sweet rice flour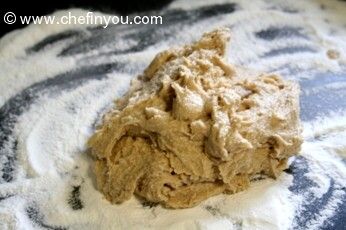 7
and pat the dough into a rectangle about 1 inch thick. Wrap in plastic and chill until firm, about 2 hours, or overnight.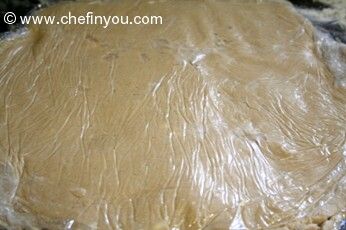 8
Divide the dough in half and return one half to the refrigerator. Sift an even layer of sweet rice flour onto the work surface and roll the dough into a long rectangle, about 1/8 inch thick. The dough will be quite sticky, so flour as necessary. Cut into 4 by 4 inch squares. Gather the scraps together and set aside. Place wafers on one or two parchment-lined baking sheets.
My Notes:
Mine were too sticky and I could not roll it on just floured surface. I placed it instead on a well floured Parchment paper. Placed another parchment paper on top and rolled the flour.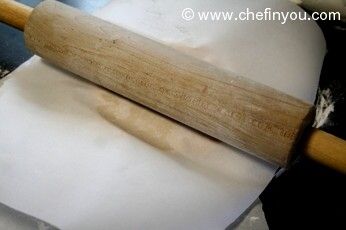 9
Rolled it out to 1/8 inch thickness.
10
It was easier this way and for the first batch of dough, I was unable to take the wafers out that easily. Hence I chilled the dough with the parchment paper itself. Chill until firm, about 30 to 45 minutes. Repeat with the second batch of dough. 5. Adjust the rack to the upper and lower positions and preheat oven to 350 degrees Fahrenheit (180 degrees Celsius). 6. Gather the scraps together into a ball, chill until firm, and reroll. Dust the surface with more sweet rice flour and roll out the dough to get a couple more wafers. 7. Prick the wafers with toothpick or fork, not all the way through, in two or more rows. Batch 1 dough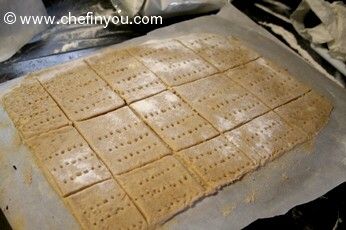 11
Batch 2 dough
12
Bake for 25 minutes, until browned and slightly firm to the touch, rotating sheets halfway through to ensure even baking. Might take less, and the starting location of each sheet may determine its required time. The ones that started on the bottom browned faster.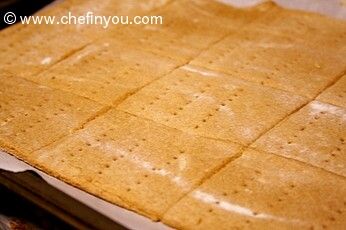 13
When cooled completely, place enough wafers in food processor to make 1 ¼ cups (300 mL) of crumbs. Another way to do this is to place in a large ziplock bag, force all air out and smash with a rolling pin until wafers are crumbs.
Additional Information:
These bars freeze very well, so don't be afraid to pop some into the freezer.The graham wafers may be kept in an airtight container for up to 2 weeks. Mine lasted about that long.If making the graham crackers with wheat, replace the gluten-free flours (tapioca starch, sweet rice flour, and sorghum flour) with 2 ½ cups plus 2 tbsp of all-purpose wheat flour, or wheat pastry flour. Watch the wheat-based graham wafers very closely in the oven, as they bake faster than the gluten-free ones, sometimes only 12 minutes.For the Nanaimo Bars, if making with wheat, replace the gluten-free graham wafer crumbs with equal parts wheat graham wafer crumbs!
Method - For the Bars
For bottom Layer:
Melt unsalted butter, sugar and cocoa in top of a double boiler. Add egg and stir to cook and thicken. Remove from heat. Stir in crumbs, nuts and coconut.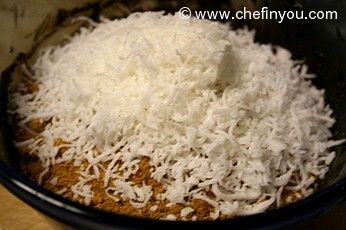 14
Press firmly into an ungreased 8 by 8 inch pan.
15
For Middle Layer:
Cream butter, cream, custard powder, and icing sugar together well. Beat until light in colour.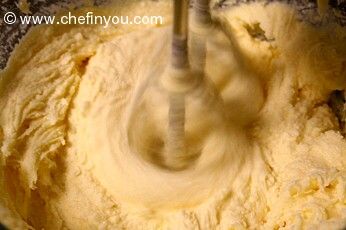 16
Spread over bottom layer.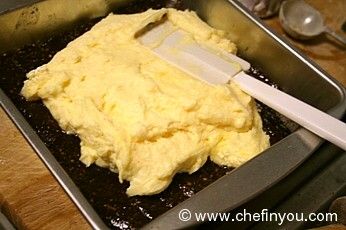 17
For Top Layer:
Melt chocolate and unsalted butter over low heat.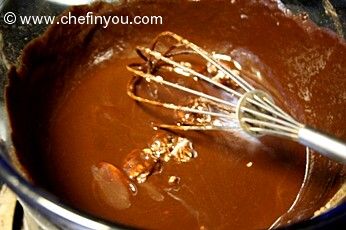 18
Cool. Once cool, pour over middle layer
19
and chill.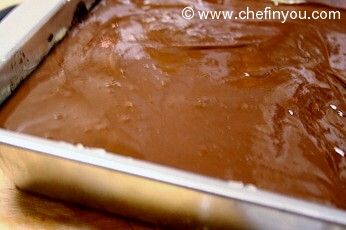 I chilled it overnight since I finished making these only during previous night. I cut them out into squares the next morning. My husband usually tells me that I have an eye for beauty. Well that title has been taken away from me when he saw me take these out and cut them. I was in a hurry....
(for a good reason since I had just tasted the scraps that were sticking to the knife when I cut the first one out and was already in a frenzy! They were so damn yummy!)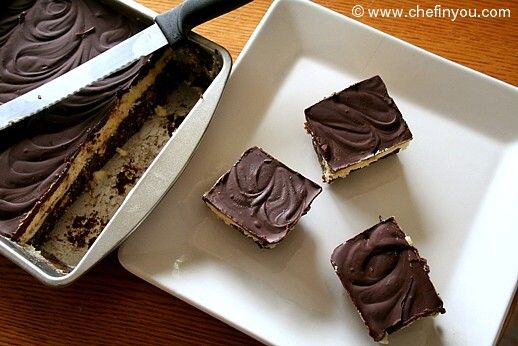 Look at these beauties and tell me honestly - would you be able to resist something like these? Imagine my plight when I had to sit and take photos of them.......Uh huh! Not happening ppl!
They almost got over pretty fast - Don't look that shocked - I did not eat them all....I still dont like chocolate remember? One whole piece by me, another one by my 'I am missing my sweet tooth too' husband; What happened to the rest of them? Good question - come to think of it, not everyone seems to have been born like us, with their sweet tooth missing - hence many of them came for seconds. I just have these left over - 
Care for these anyone?
I am not a very good photographer like many of my fellow food bloggers - hence I cant say that I have managed to capture the beauty of these goodies, the way they captured the beauty of  my palate mechanism. :)
Notes for gluten-free Graham Wafers and Nanaimo Bars:
Glutinous rice flour does not contain any gluten, as it is made from a type of rice called glutinous (or sweet) rice.
The graham wafer dough is very sticky. Make sure you are flouring (with sweet rice flour) well, or the dough will be difficult to remove from the surface you roll it out on. Also be sure to keep it cold. You do not want the butter to melt.
I chose these flours because of their availability. Tapioca starch/flour and sweet rice flour can often be found in Asian grocery stores, or in the Asian section of you grocery store. Sorghum can be slightly more difficult to find, but it can be replaced with brown rice flour, millet flour or other alternatives.
In the Nanaimo Bars, it is very important that the chocolate be cool but still a liquid, otherwise the custard layer will melt, and it will mix with the chocolate, being difficult to spread. Allow the chocolate mixture to come to room temperature but not solidify before spreading the top layer on.
Fellow amazing daring baker Audax Artifex shares useful tips (dont forget to check out some amazing filling in his variations! Mind blowing!)
The dough is very very soft so the best method to use is to roll the dough out using two layers of floured-parchment paper and I found that it was too soft to lift off so I just cut the rolled-out dough into the square shapes and placed the bottom parchment paper onto the baking sheet.
After the 25 mins baking time the wafers were still soft on top but became crisp and hard after cooling. They puffed up a lot I just used a clean towel to push the fresh-out-of-oven wafers flat.
You need to only make a 1/4 batch of the wafer recipe to make enough crumbs to make the bar.
The butter/icing sugar/custard powder layer (the middle layer) whips up to a very light and puffy mixture.
Just use volume measurements for the crumbs and the cocoa etc the nature of the bar recipe allows for the use of volumes instead of the normal weight measurements.
Australia (Sydney) is so HOT at the moment so the recipe took about seven hours there was a lot of chilling for each of the layers.
The resulting bar needs a lot of chilling to be able to be sliced into nice shapes.
Most likely the bar will be a little soft if making it in a very hot and humid country like Australia.
This bar tasted like the best 'Cherry Ripe' recipe I have very had since there is so much butter and yummy ingredients in the bar wonderful with iced tea on a hot summer's day.
I think I will try slicing the bar after it has chilled overnight the picture below is after about 1 hour of chilling.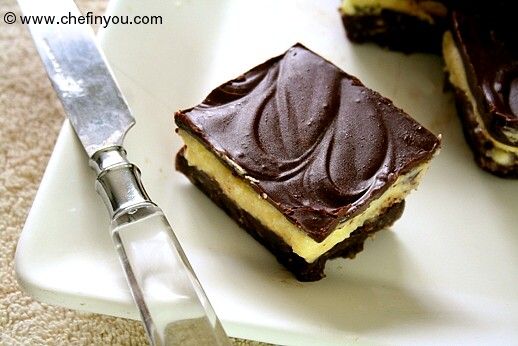 3 members have made this recipe!
Did you make this recipe?
Please click below to share your experiences while you were making this recipe. Thanks for your input!
Have a favorite recipe?
Know a family recipe your mom used to make? Or maybe a go to recipe that works everytime? Share it with your fellow foodies!