How to make Phyllo/Filo dough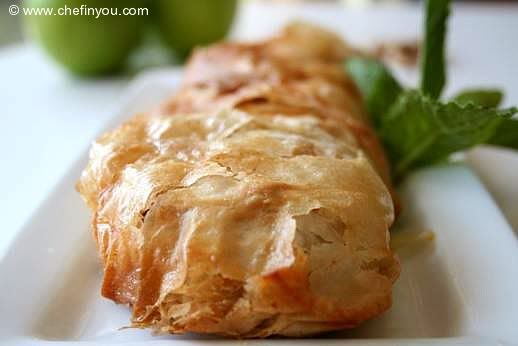 I have been getting so many requests for making Puff Pastry and Filo/Phyllo dough. But for some reason, readers have been missing the posts where I have shown how to make these pastries. Hence, after getting tired by adding the links in reply to so many of the emails, I thought, what is the best thing I can do which will help me continue to be my lazy self ;). Hence this - a separate post on how to make the filo. The picture that I have reused is of the classic Apple Strudel where I first made these phyllo dough from scratch. Its not as tough as I earlier imagined it to be! Few precautions and you are good to go.
References
recipe from "kaffeehaus – exquisite desserts from the classic cafés of vienna, budapest and prague" by rick rodgers
Basic Information
Yield
:
Makes dough that's 2 feet (60 cm) wide and 3 feet (90 cm) long,
Ingredients
1 1/3 cups (200 g) unbleached flour
1/8 teaspoon salt
7 tablespoons (105 ml) water, plus more if needed
2 tablespoons (30 ml) vegetable oil, plus additional for coating the dough
1/2 teaspoon cider vinegar
Method
1
Combine the flour and salt in a stand-mixer fitted with the paddle attachment. Mix the water, oil and vinegar in a measuring cup. Add the water/oil mixture to the flour with the mixer on low speed. You will get a soft dough. Make sure it is not too dry, add a little more water if necessary.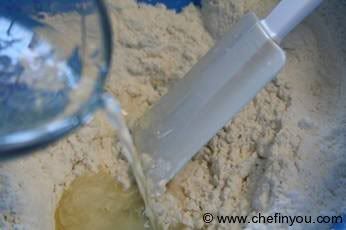 2
Take the dough out of the mixer. Change to the dough hook. Put the dough ball back in the mixer. Let the dough knead on medium until you get a soft dough ball with a somewhat rough surface.
Take the dough out of the mixer and continue kneading by hand on an unfloured work surface. Knead for about 2 minutes. Pick up the dough and throw it down hard onto your working surface occasionally.Shape the dough into a ball and transfer it to a plate. Oil the top of the dough ball lightly. Cover the ball tightly with plastic wrap. Allow to stand for 30-90 minutes (longer is better).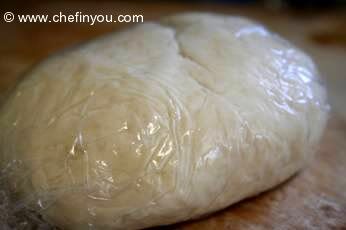 3
My Notes: Since I made it on a weekend, I had time to kill, hence I allowed the dough to stand for close to 2 hours. The dough turned out to be amazing to work with! 3. It would be best if you have a work area that you can walk around on all sides like a 36 inch (90 cm) round table or a work surface of 23 x 38 inches (60 x 100 cm). Cover your working area with table cloth, dust it with flour and rub it into the fabric. Put your dough ball in the middle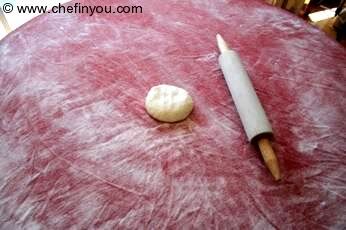 4
My Notes: To repeat what I mentioned previously : Flour well and roll it out as much as you can.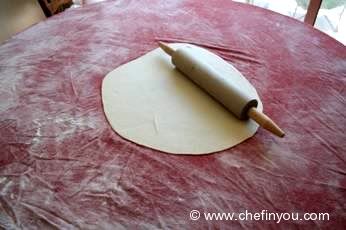 5
Pick the dough up by holding it by an edge. This way the weight of the dough and gravity can help stretching it as it hangs. Using the back of your hands to gently stretch and pull the dough. You can use your forearms to support it.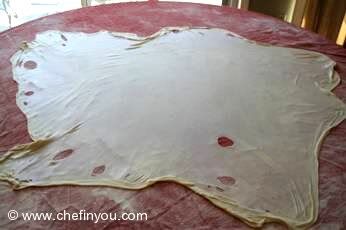 6
The dough will become too large to hold. Put it on your work surface. Leave the thicker edge of the dough to hang over the edge of the table. Place your hands underneath the dough and stretch and pull the dough thinner using the backs of your hands. Stretch and pull the dough until it's about 2 feet (60 cm) wide and 3 feet (90 cm) long, it will be tissue-thin by this time.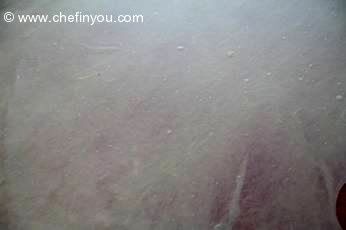 Related Recipes You May Like
Did you make this recipe?
Please click below to share your experiences while you were making this recipe. Thanks for your input!
Have a favorite recipe?
Know a family recipe your mom used to make? Or maybe a go to recipe that works everytime? Share it with your fellow foodies!