The Malaysian, the Singaporean, Indian and the Austrian share the "stretching" the dough technique by way of their Roti Canai, Roti Prata,
Kerala Parotta
and
Apple Strudel
respectively. The concept is same in all of them, with very minor technical changes. If you learn one technique, you can pretty much conquer the rest. How about that for convenience? :) Whatever technique I learnt from making the
Pizza dough
,
rumali roti
,
parotta
and the
strudel
, they all came into play for making the famous Malaysian Roti Canai which is v similar to Singaporean Roti Prata ( Indian "
Parotta
" - Singaporean "
Prata
" - even names match!). Add a fried egg at the end to this Roti and you get
Roti Telur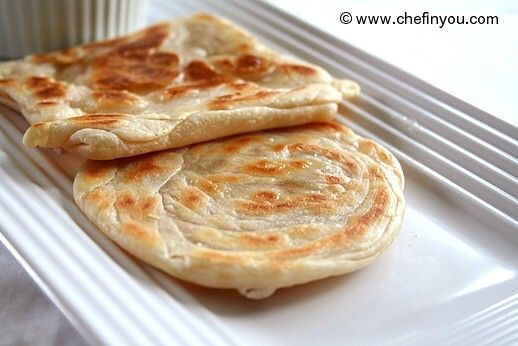 I am going to show 3 methods of making this
Malaysian delicacy
. The first method is what is usually followed by the professional vendors there. Complicated to the less acrobatic inclined. The second method is my way of making it easier for the home cooks - who either don't want to the twists and turns in the air ( who wants a dirty ceiling or floor?) or don't have the patience/time for the same. May seem more laborious than the air twists, but believe me, it saves really lot of time if you are starting out. The third method is very similar to making parottas. I think the traditional Malaysian flat bread are mostly square/rectangle shaped, but I also found versions which are round. Hence my third method is for making nice round/oval shapes.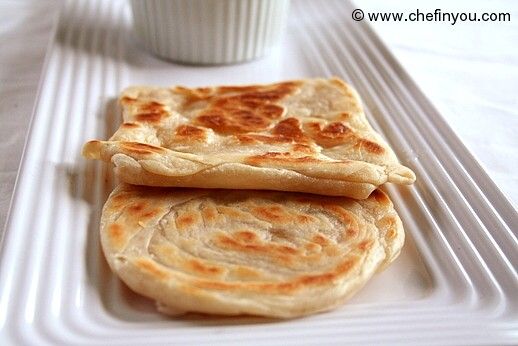 All of them make amazingly flaky flatbread and is delicious. But this is RICH and HEAVY dish thanks to the use of all that Ghee ( clarified butter). Butter may be used, but I would advise getting some traditional ghee for this dish. Its worth it and the taste is out of this world. Make any spicy side dish to go with canai. Many recipes use eggs in the dough, but I have made an eggless version. If you want, you can add an egg to this recipe and reduce the amount of water/ghee while making the dough.