Tres Leches (3 Milk) Cake
I made...I ate....and I got conquered! That's all I have to say for this uber delicious cake. I made it cos I was curious. I was certain from the reviews that both of us would not end up eating more than 1 spoon and I already was listing the names of ppl, I was going to gift it too. Which we did anyways, but far less than what I thought originally! Now why did I think that we won't be eating more than a spoon? Well cos its supposed to be v sweet! And in our dictionary a cup of milk with 2 spoons of sugar is v v sweet. So you can imagine our taste buds!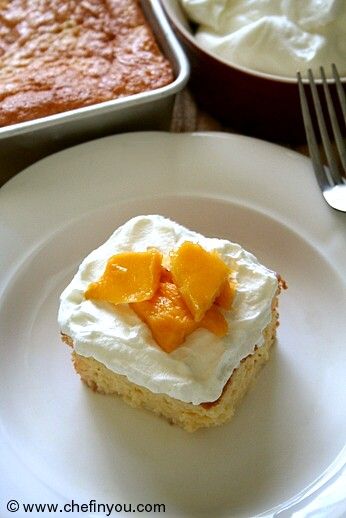 The taste tester was my husband who actually came home early when he knew that I was making the cake - he wanted it fresh out of the Oven (in this case - out of the fridge - but he wouldn't listen!) The thing is you need to let the cake sit for some time so that it can soak up all that milk. The perfect leches cake, I personally think, is that which is soaking wet of the milk, yet retains the shape and texture - can you imagine the airy sponginess while it oozes out that delicious sweet milk in your mouth? Can you? That's heaven for some - while its rich yet too delicious to stop at one spoon for few others (like us!) It was sweet but not as sweet as we dreaded. My husband finished one row of the cake all by himself which is a RECORD in all the years I have known him! So for the sweet tooth owners - YOU GOTTO MAKE THIS!
I checked out quite a number of recipes but I finally settled down for the less complicated one. Yes, this is my first recipe from Ree of PWC fame. I admire her blog for the technical aspects of it, the simple homely pictures (
the type which makes you think, Oh yes! I can make this dish at home in my own kitchen
) yet which makes the food look stunningly beautiful. This is the kind of photography that I dig and aim for :) This is
her recipe
with slight modification. Although
"Tres Leches"
in
Spanish
means
"Three milk cake"
- this recipe calls for more than 3 milk - but well who cares for the technicality when the result is the way it is! Without further adieu - lets go to the recipe. Enjoy it for the upcoming
Cinco De Mayo!
:)
Basic Information
Cook Time
:
30 min to 1 hour
Yield
:
Yielded one 8 inch pan (which was 2" deep) cake
Ingredients
For the Cake
1 cup + 2 tbsp cake flour (or use 1 cup all purpose flour/maida)
1-½ teaspoon Baking Powder
¼ teaspoons Salt
5 whole Egg, separated
1 cup Sugar, Divided
1 teaspoon Vanilla
⅓ cups Milk
1 can Evaporated Milk
1 can Sweetened, Condensed Milk
¼ cups Heavy Cream
FOR THE ICING:
1 pint Heavy Cream, For Whipping
3 Tablespoons Sugar
Method
1
Preheat oven to 350 degrees. Spray a 9 x 13 inch pan liberally until coated. I used an 8 inch pan which was 2" deep. Sift and  Combine flour, baking powder, and salt in a large bowl.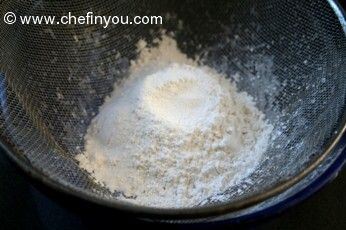 2
Beat egg yolks with 3/4 cup sugar on high speed
3
until yolks are pale yellow.
4
Stir in milk and vanilla.Pour egg yolk mixture over the flour mixture and stir very gently until combined.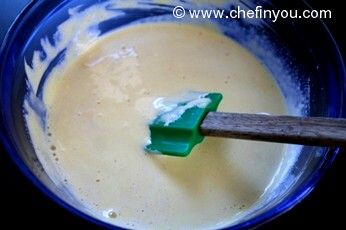 5
Beat egg whites on high speed until soft peaks form.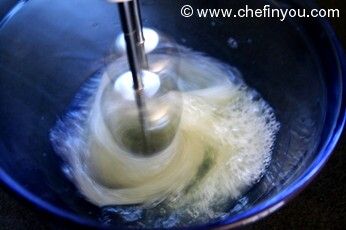 6
With the mixer on, pour in remaining 1/4 cup sugar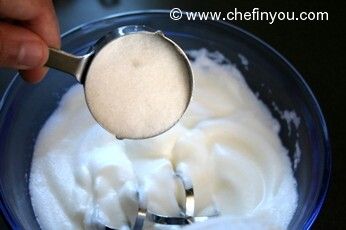 7
and beat until egg whites are stiff but not dry.
8
See the cute peaks?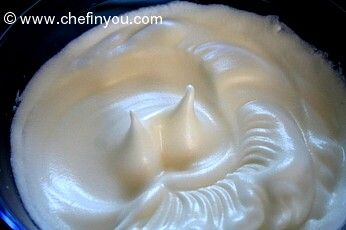 9
Fold egg white mixture into the batter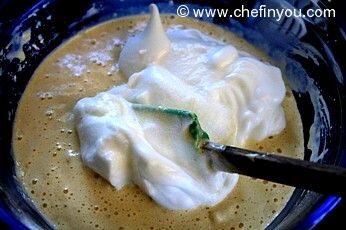 10
very gently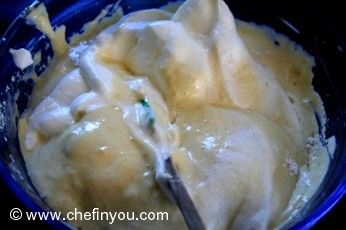 11
until just combined.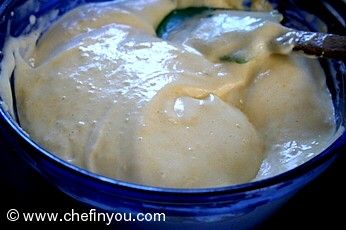 12
Pour into prepared pan and spread to even out the surface.
13
Bake for 35 to 45 minutes or until a toothpick comes out clean.Allow to cool. If you are like me - you will commit the same mistake of opening the oven a 100 times in excited frenzy! May be that's why my cake went in a bit? who knows! As long as the taste was YUMMO who cares!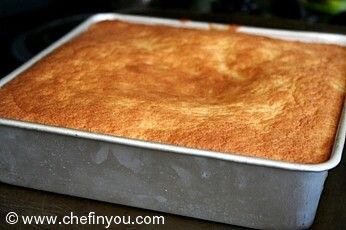 14
Combine condensed milk, evaporated milk, and heavy cream in a small pitcher.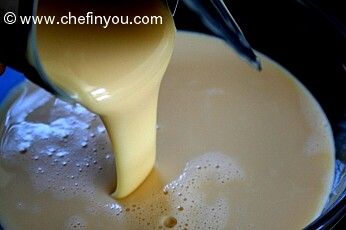 15
When cake is cool, pierce the surface with a fork several times.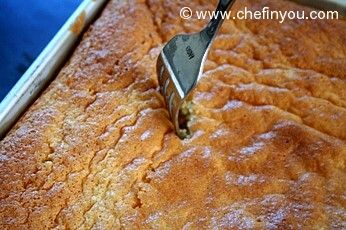 16
Slowly drizzle all but about 1 cup of the milk mixture—try to get as much around the edges of the cake as you can. Although Ree insists on pouring everything except 1 cup, I managed to squeeze in some more - thankfully cos mine was a deep pan!!!  The remaining I used to make some Yummy rice pudding!!! So don't fret over left over milk mixture - make some rice pudding- that's another heaven on a plate :)
17
Allow the cake to absorb the milk mixture for 30 minutes. A trick if you find that its very soggy inspite of not pouring in all the milk mixture - let it sit in the fridge for some time. Problem solved :) To ice the cake, whip 1 pint heavy cream with 3 tablespoons of sugar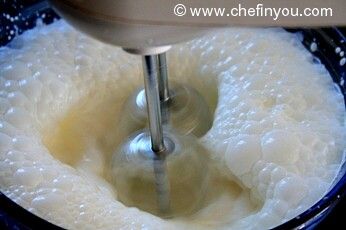 18
until thick and spreadable.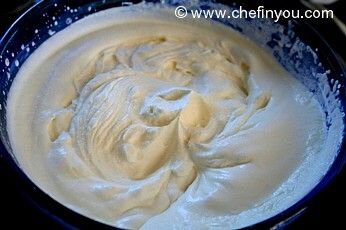 Spread over the surface of the cake. I instead of topping just kept it separately since not everyone likes the whipped cream - but if its liked by all in your home - go for it :) See how it looks after a piece is cut? You can see light milk mixture at the bottom but the cake by itself was not soggy'ish - instead it had soaked up the milk beautifully yet retained its sponginess which you can see in the first photo or the photo just below.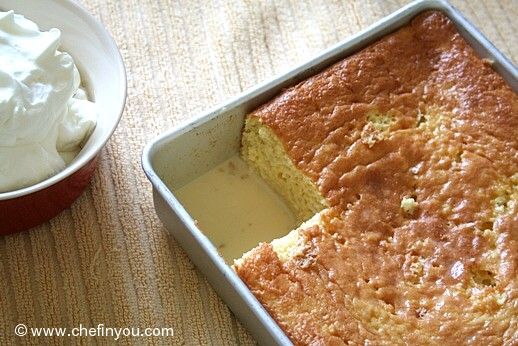 I have read that its traditionally served and topped with peaches, cherries etc. I had lots of mangoes and I thought why not!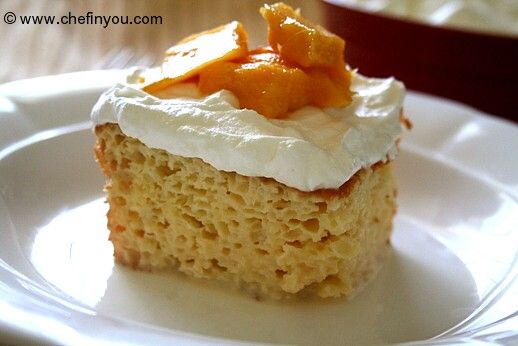 Not dissapointed at all :) Cut into squares and serve.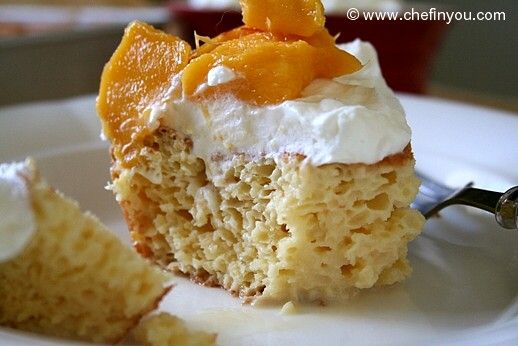 Related Recipes You May Like
Did you make this recipe?
Please click below to share your experiences while you were making this recipe. Thanks for your input!
Have a favorite recipe?
Know a family recipe your mom used to make? Or maybe a go to recipe that works everytime? Share it with your fellow foodies!