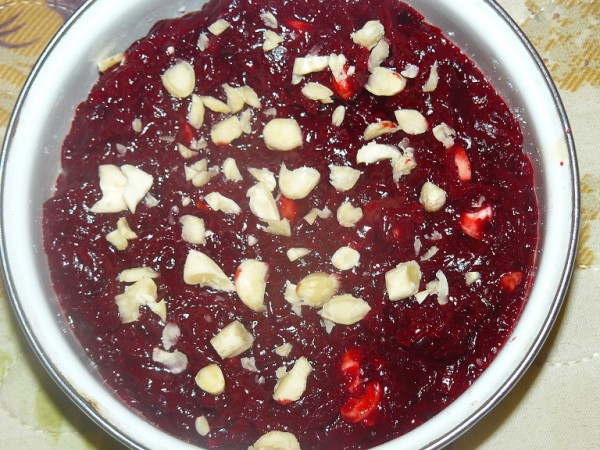 Beetroot Halwa its a traditional recipe.
Ingredients
Grated Beetroot - 1cup
Sugar - 1/2 cup
Milk - 1/2 cup
ghee - 3 table spoons
elachi pdr - 1 spoon
Nuts - badam and cashew roasted in ghee.
Method
1
Grate beetroot and take 1 cup of beetroot grated
2
In a heavy bottomed pan add 1 tb spoon of ghee and roast the grated beetroot. and add 1/2 cup milk and allow it to cook.
3
Now add 1 cup of sugar to the cooked beetroot and stir until it becomes thick and reach the halwa consistency and side by side add ghee approx 2 table spoons totally.
4
Add elachi pdr and atlast garnish with roasted nuts.
This recipe was contributed by a ChefInYou member.
Related Recipes You May Like
Be the first to showcase this recipe!

Your Name
Did you make this recipe?
Please click below to share your experiences while you were making this recipe. Thanks for your input!
Have a favorite recipe?
Know a family recipe your mom used to make? Or maybe a go to recipe that works everytime? Share it with your fellow foodies!