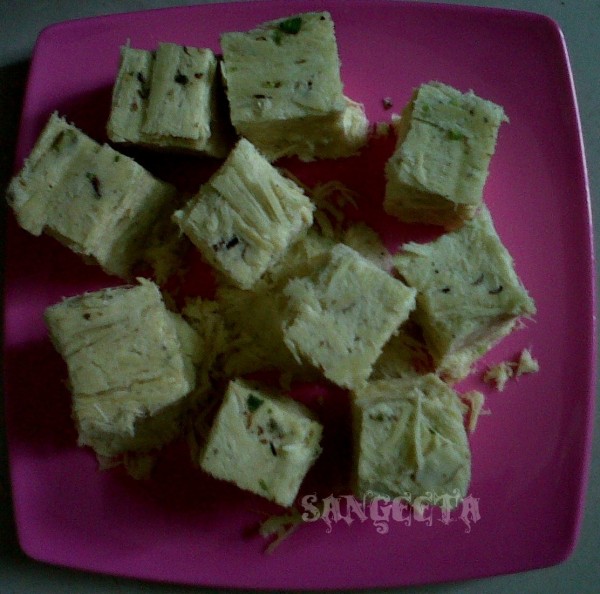 Soan Papdi,is flaky Indian dessert available,all over the country.Though it is made and available in so many flavor but i personally prefer the regular one:)
References
this dish is made by my mom,i had done only one job,of clicking the pic and finishing it off:d
Basic Information
Yield
:
make small 15-20 pieces
Ingredients
1 cup gram flour
1 cup all purpose flour
2 cup sugar
1 cup water
1 cup ghee
1 tsp cardamom powder
For Garnish:
almonds and pistachios bits
Method
1
In a large deep pan,heat ghee,on a medium flame toast flours until light brown and immediately transfer to another bowl to stop further heating.
2
In another deep pan,make sugar syrup by dissolving sugar in water until you get, 2 1/2 thread consistency.
3
Mix syrup in bowl with toasted flour,beat until it forms flakes,pour into a greased dish.(my mom use little big wooden fork ,which she specially brought for son papdi only)
4
Pat it down into 1 inch thickness,cool for at least half hour,mean while sprinkle chopped nuts and pat lightly,cut into pieces .
5
Store in airtight container or wrap individually into square pieces of thin plastic sheet,store in airtight container. Can be stored on self for 3 months,if remain;)
6
NOTE:
Sugar syrup will form a ball when dropped in cold water and when removed from the water can be easily flattened.Getting a correct syrup consistency is one of the most important step.
This recipe was contributed by a ChefInYou member.
Related Recipes You May Like
Be the first to showcase this recipe!

Your Name
Did you make this recipe?
Please click below to share your experiences while you were making this recipe. Thanks for your input!
Have a favorite recipe?
Know a family recipe your mom used to make? Or maybe a go to recipe that works everytime? Share it with your fellow foodies!