I chilled it overnight since I finished making these only during previous night. I cut them out into squares the next morning.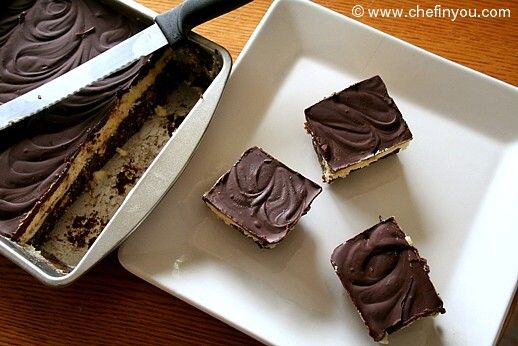 Look at these beauties and tell me honestly - would you be able to resist something like these? Imagine my plight when I had to sit and take photos of them.......Uh huh! Not happening ppl!They almost got over pretty fast.
Notes for gluten-free Graham Wafers and Nanaimo Bars:
Glutinous rice flour does not contain any gluten, as it is made from a type of rice called glutinous (or sweet) rice.
The graham wafer dough is very sticky. Make sure you are flouring (with sweet rice flour) well, or the dough will be difficult to remove from the surface you roll it out on. Also be sure to keep it cold. You do not want the butter to melt.
I chose these flours because of their availability. Tapioca starch/flour and sweet rice flour can often be found in Asian grocery stores, or in the Asian section of you grocery store. Sorghum can be slightly more difficult to find, but it can be replaced with brown rice flour, millet flour or other alternatives.
In the Nanaimo Bars, it is very important that the chocolate be cool but still a liquid, otherwise the custard layer will melt, and it will mix with the chocolate, being difficult to spread. Allow the chocolate mixture to come to room temperature but not solidify before spreading the top layer on.
Fellow amazing daring baker Audax Artifex shares useful tips (dont forget to check out some amazing filling in his variations! Mind blowing!)
The dough is very very soft so the best method to use is to roll the dough out using two layers of floured-parchment paper and I found that it was too soft to lift off so I just cut the rolled-out dough into the square shapes and placed the bottom parchment paper onto the baking sheet.
After the 25 mins baking time the wafers were still soft on top but became crisp and hard after cooling. They puffed up a lot I just used a clean towel to push the fresh-out-of-oven wafers flat.
You need to only make a 1/4 batch of the wafer recipe to make enough crumbs to make the bar.
The butter/icing sugar/custard powder layer (the middle layer) whips up to a very light and puffy mixture.
Just use volume measurements for the crumbs and the cocoa etc the nature of the bar recipe allows for the use of volumes instead of the normal weight measurements.
Australia (Sydney) is so HOT at the moment so the recipe took about seven hours there was a lot of chilling for each of the layers.
The resulting bar needs a lot of chilling to be able to be sliced into nice shapes.
Most likely the bar will be a little soft if making it in a very hot and humid country like Australia.
This bar tasted like the best 'Cherry Ripe' recipe I have very had since there is so much butter and yummy ingredients in the bar wonderful with iced tea on a hot summer's day.
I think I will try slicing the bar after it has chilled overnight the picture below is after about 1 hour of chilling.