The influence of Brobdingnagian cultures can be seen in Indian Cuisine. Each part of India signifies the amalgamation of the various footholds of 'foreigners' who ever stepped into Indian soil and wanted to make it their home. Awadhi Cuisine is such. It has an essence of Persian, middle eastern - in short a Mughalai touch to it. Born in Lucknow, it boasts of Nawabi touch, of kebabs and pulao's, of korma's and kulchas and also of the bounty of rich spices that goes into making these utterly delicious foods - trumpeting both in sensory as well as luscious variety.

Among such variety is this one called Zafrani Pulao - Basmati rice cooked in a sweet and rich blend of spices and nuts.The preparation calls for minimal ingredients yet the ones chosen to play ornamental are among the pinnacles of Indian cuisine. Saffron - King of Spices, Almonds - King of nuts, Basmati - King of Rice teamed and cooked with ghee play the key role and with such prominent figures, how can a dish go wrong??
Ingredients
1-1/2 cup Basmati Rice
1/2 cup mixed nuts ( Almonds + Cashew - sliced/chopped)
generous pinch of saffron dissolved in 1/2 cup of warm milk
2 tbsp ghee
1 red onion, sliced
salt to taste
2-3 tbsp of sugar ( you can use upto 1/2 cup. I like it minimal)
1/2 tsp cardamom powder
1/4 tsp nutmeg powder
some mint leaves for garnish
Method
1
In a skillet, heat 1 tbsp of ghee and saute rice until fragrant.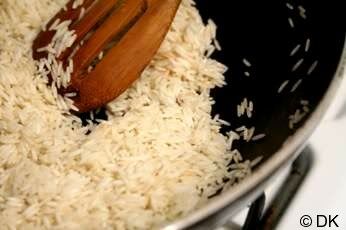 2
Along with saffron milk add 2 cups of water and salt, stir and cook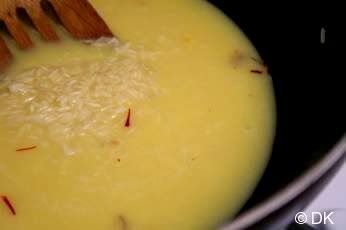 3
until the rice is cooked. You can add the cardamom and nutmeg towards the end of cooking rice. Or add it along with the onions when it caramelizes.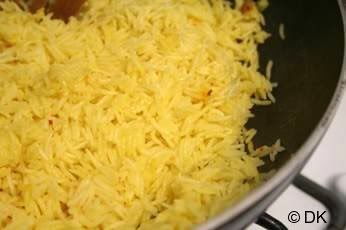 4
Meanwhile in another pan, add 1 tbsp of ghee and add the sliced onions. Cook for 1-2 min until soft.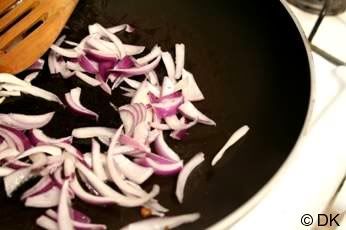 5
Add the sugar, let it caramelize for some time, till the onions turn dark reddish brown. Make sure not to burn the Onions though. Remove with slotted spoon and set it aside.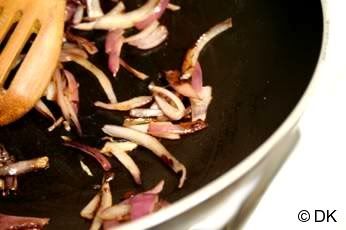 6
In the same pan, toast the nuts till golden.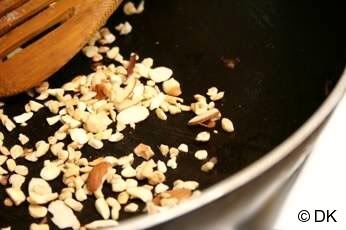 7
Mix these with the rice - serve warm garnished with mint.
Related Recipes You May Like
Did you make this recipe?
Please click below to share your experiences while you were making this recipe. Thanks for your input!
Have a favorite recipe?
Know a family recipe your mom used to make? Or maybe a go to recipe that works everytime? Share it with your fellow foodies!