Zopf (Züpfe) - Swiss braided Bread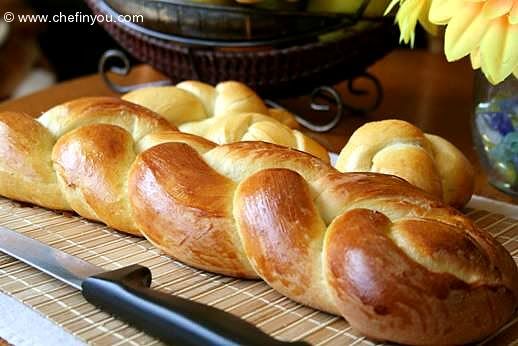 Most of my weekends will include me baking an
yeasted bread.
Weekends are meant to be relaxing and baking such breads are so therapeutic and unwinding for me from all those hectic weekdays. I keep the
quick breads
for the weekdays in case I get the baking bug. Anyways one such weekend found me baking this utterly beautiful and delicious Swiss white bread.
Zopf
translates to braid and this is exactly what this bread is all about. White flour, butter, eggs and yeast constitute the bread - There is nothing about this which you cannot like and this recipe which I noted from 'God knows where' has been my friend for last 2 years. It comes out perfect every time I make and tastes like your local professional baker's bread.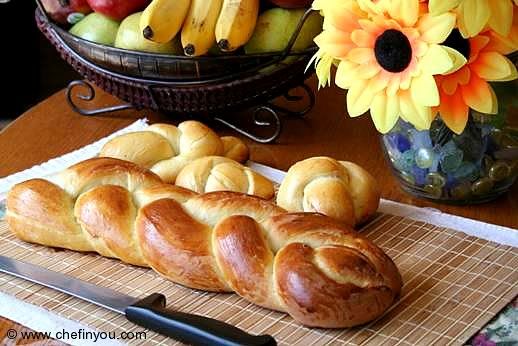 For me nothing beats out the feeling of having some beautiful breakfast - Some fruits, fresh beautiful looking breads and some tea is my kind of royal breakfast.Any bread goes - be it wheat, rye or sourdough. I resort to whole grains most of the time, but on rare cases I don't mind homemade white breads too. Last weekend was one such Bed and Breakfast for us :) Refreshing and enticing.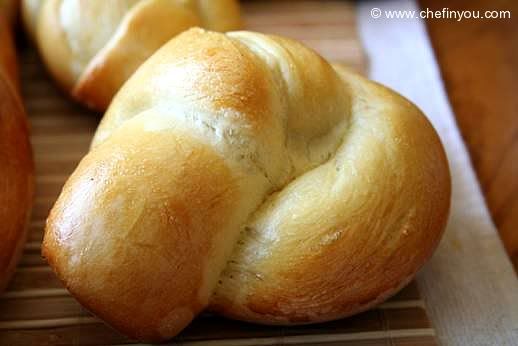 Few months back when I treated a friend to this bread, she loved it and also asked me how I make the braid. I explained but she wanted me to do it my style - through the blog with step by step pictures. Every time, I am informed how useful someone finds my blog, it gives me unprecedented joy. This post is for you Aaliyah.
References
misplaced original source
Basic Information
Cook Time
:
30 min to 1 hour
Yield
:
Makes one large braid (and two knots)
Ingredients
3 and 3/4 cups bread flour (see substitutes)
1 tsp salt
1 egg  (see substitutes)
1 tbsp active dried yeast
1 tsp honey
1 cup lukewarm milk
4 tbsp melted butter
Method
1
Combine the wet ingredients along with the yeast (except the egg). Stir and let it stand for 15min until dissolved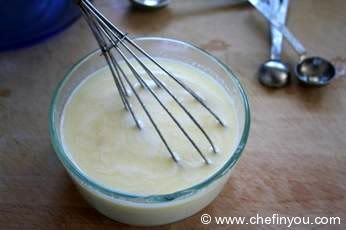 2
In a large bowl, mix together the flour and salt. Make a well and add the egg and the yeast mixture.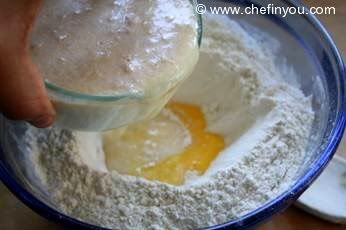 3
Combine well to obtain a rough dough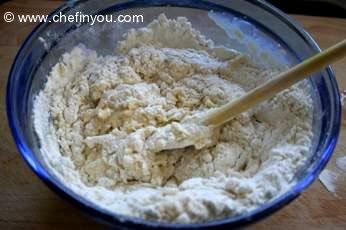 4
Transfer to a floured surface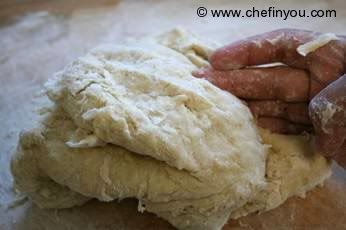 5
and knead until smooth and elastic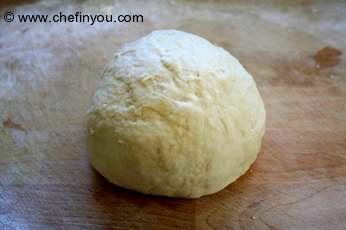 6
Place in a clean bowl, cover with plastic wrap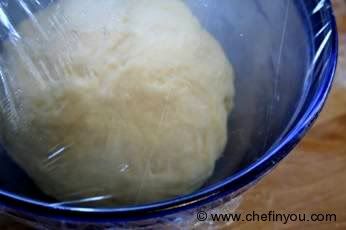 7
and let it double about 2 hours (depending on climate you enjoy)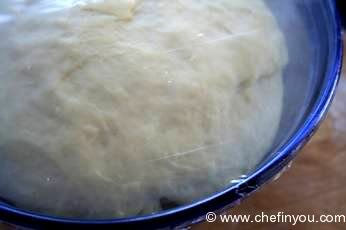 8
Grease a baking sheet. Punch the dough and divide into 3 equal pieces. Roll each into a long thin rope.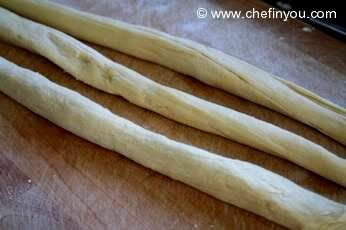 9
Bring one of the ends together.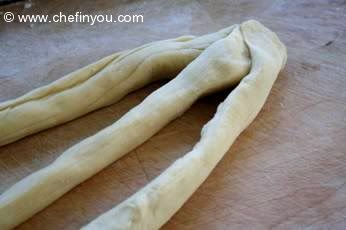 10
Start braiding by bringing right end across the center rope. Now the right rope comes to the center and the center ones goes to the right hand side.
11
Now bring the left most rope on top of the center one.
12
Repeat the process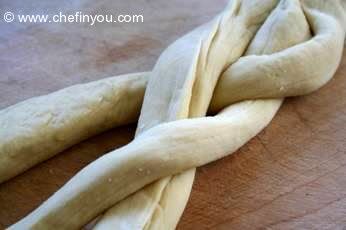 13
till you reach the end of the rope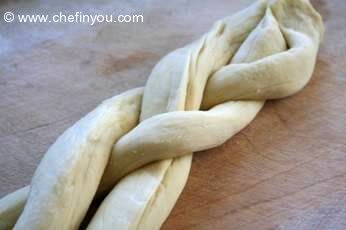 14
Tuck the ends beneath the braid.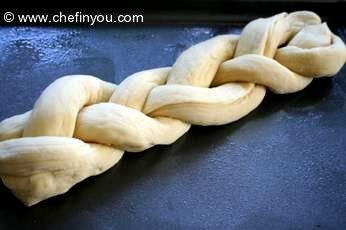 15
I had some more dough left over and I thought I will make them into small knots. I rolled the dough into a long rope.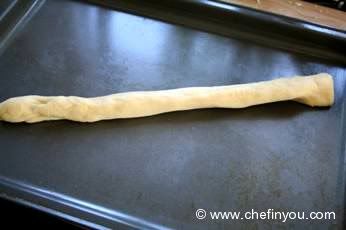 16
I brought the ends together to form sort of a circle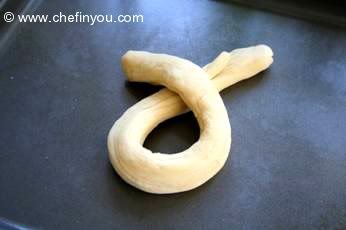 17
Stretch one end and put it into the circle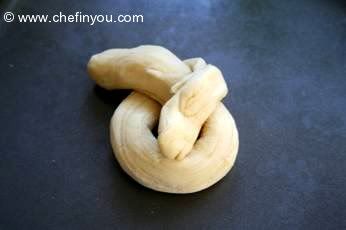 18
and pull it from the other side to form a knot.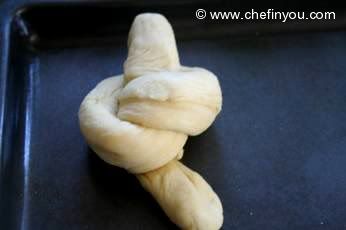 19
Cover them loosely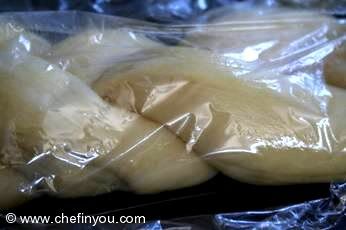 20
and let sit for another 30 min until risen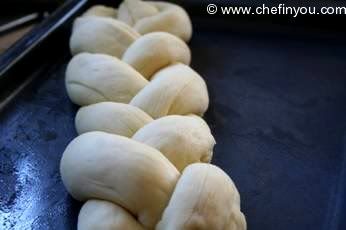 Preheat Oven 375F. Now brush the braid and the knots with egg yolk and bake them for 30-45min or until golden. Let them cool and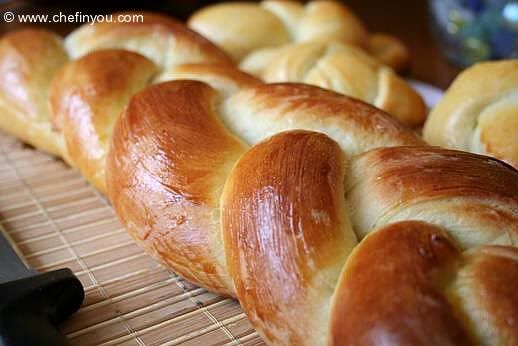 slice them.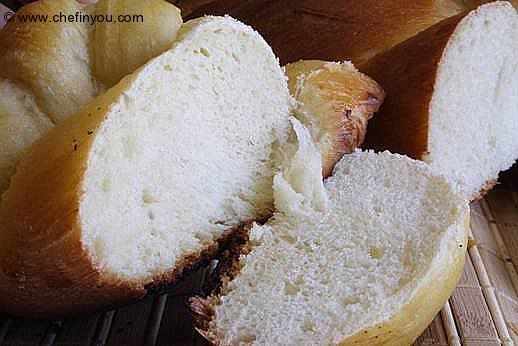 Enjoy with your favorite Jam/preserve or with some soup. What about storage you ask me? Storage- what storage? It wont last you more than 1 day (2 days max!)
Related Recipes You May Like
Did you make this recipe?
Please click below to share your experiences while you were making this recipe. Thanks for your input!
Have a favorite recipe?
Know a family recipe your mom used to make? Or maybe a go to recipe that works everytime? Share it with your fellow foodies!