The result is still 50-50! Not a success at all - but not a complete failure either. If like me, you are wondering why so much hoopla is made about getting some "feet" at the base of these meringue pastries, then you need to see this post!
Macaron Flop Show - Batches 1, 2, 3 , 4 and 5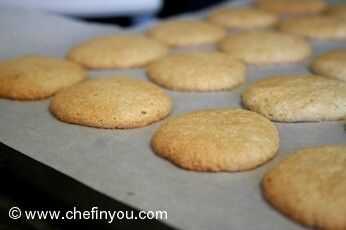 I know
I READ all
instructions again and again - guess theory alone didn't do any good! These came out tasting great - but the base was soft - with no feet
Macaron Flop Show- Batches  6, 7 and 8
Yet again different technique but same old sad story - Taste once again, great but looks wise and feet wise - this batch did not sprout feet either. Happy Feet they sure weren't! In fact there was NO FEET!!!
Macaron Batch 9
Just when I was giving up - tired, cranky, irritable, cursing woman is not good to be around with (ask my husband!) - one last batch of egg whites and last 2 cups of almond flour and 1/2 cup of powdered sugar beckoned me yet again! They seemed to tell me, "Just try one last time! - Dont give up on us!". So back to the computer - rewrote all techniques yet again, read through 50 more sites, glanced through 1000 tips yet again ( just let me get my hands on few of those ppl who wrote it #$%R%R$@!!!!!) and ground some powdered sugar at home for the recipe (late to shop)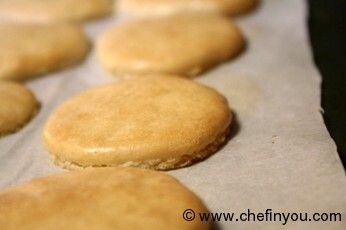 And tada -
few BABY FEET AT LAST!
Not great - but I had something to show at the end of it all and also some little justification for the immensely messy kitchen and for looking like a Halloween Ghost with all those powdered sugar on me! So the main purpose of this post is to give you
HANDS ON TIPS
- so that you save those 8 batches of footless macarons! Try variations with tips that will not make you waste time with wrong base or technique. I have given tips at the end of every method where applicable to help out the beginners like me!