Gobi (Cauliflower) Paneer Paratha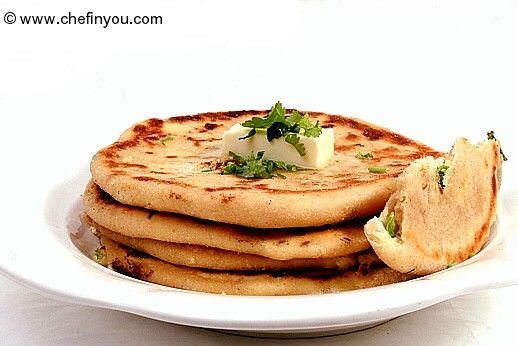 Indian Paratha is famous - for good reason. Fluffy flatbreads with delicious fillings. Creativity is the name of the game - almost anything and everything goes for filling up these paratha. There are of course famous versions just like in any type of dish. Most known variety includes Gobi Paratha where "Gobi" in Hindi means Cauliflower. Fresh Cauliflower grated and mixed with aromatic spices are used as a filling in this type. Paneer is a star in my household - we enjoy it with so many variations that its become a staple. I add grated paneer to this mix to make Gobi Paneer Paratha. Its optional of course and you can skip it for this recipe to make the traditional favorite. But adding paneer never spoiled a dish in my kitchen - it only makes anything taste all the more better ;)There is nothing to talk or sing praises with - the dish says it all :) Lets go to the recipe shall we?
Basic Information
Prep Time
:
30 min to 1 hour
Yield
:
Makes around 8-10 parathas
Ingredients
For the Bread/Paratha
1 cup wheat flour
1 cup all purpose flour
salt to taste
1 tsp cumin seeds
1 tsp ghee (or oil/melted butter)
enough milk to bind the dough
For the filling
1 cup grated cauliflower
1 cup grated paneer
1-2 green chillies, sliced thinly (or as per taste)
1-2 tbsp cilantro, chopped
2 spring onions, greens and whites sliced thinly
little salt (adjust accordingly since dough also has salt)
Method
1
Lets start with the dough. Mix the flours along with salt and cumin.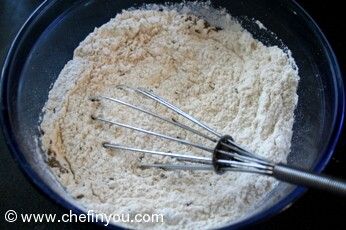 2
Now add the oil/ghee and enough milk into a well in the center of the dough and mix until it becomes a pliable dough.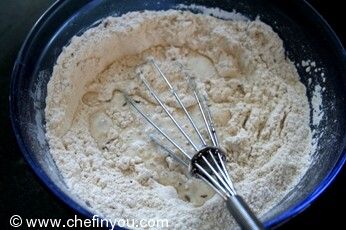 3
Place it on a lightly floured surface and knead the dough well until smooth. Add more flour if its sticky or little ore oil/milk if too dry. Set this aside to test for 10-15 minutes. Its not necessary but little  bit of sitting makes it work better.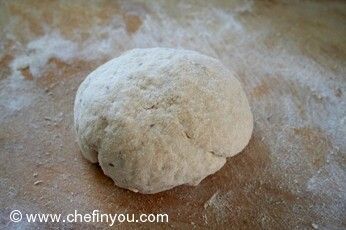 4
Meanwhile mix all the ingredients for the filling together.
5
Now take a small piece of the dough - size of lime and roll it in your hands to make a small ball. Keep some flour nearby since you would require constantly for dusting. Now dust this ball with little flour, place it on a floured surface and press it with your palms to flatten it a bit. Use a rolling pin to flatten it a bit more.
6
Now take a small amount of the filling, press it together to form a small ball. Make sure this filling is a little smaller than the circle you made with your dough. Place this in the center of the circle.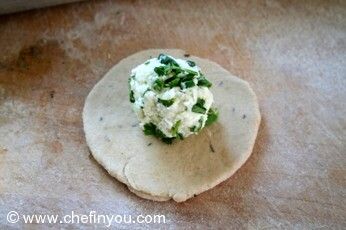 7
Bring the ends of the dough upwards enclosing the filling on all sides.  Pinch the dough together on the top to cover the filling completely.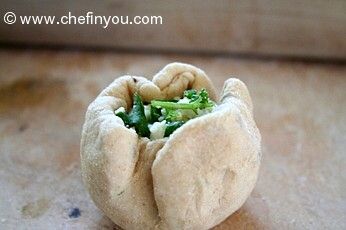 8
Once covered, with your palm press it down to flatten the dough.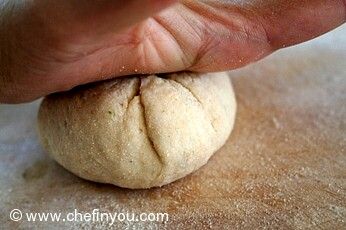 9
Make sure the filling is covered well.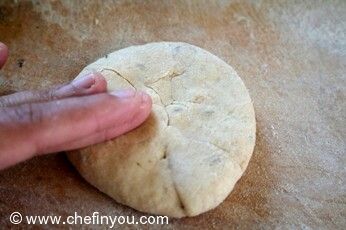 10
Now slowly using a rolling pin flatten the bread. Be gentle with it, you dont want the filling bursting all over the seams (not that it really matters as far as taste goes!! - but just for presentation make sure the filling is still within the cover)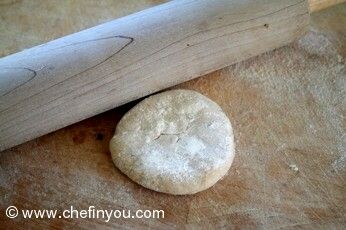 11
The thickness of the paratha (flatbread) depends on the preference - Usually they are thicker than
regular roti
. I like making mine small and thick :)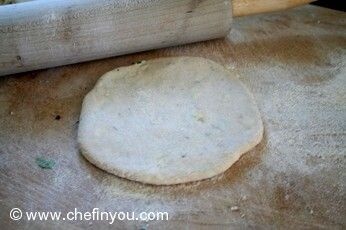 12
In a non stick skillet (Tava), on medium heat, place the paratha and trickle down ghee/oil on all its sides and a little on top.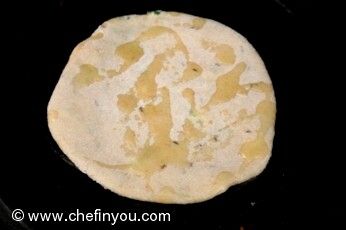 13
Let it sit for 2-3 minutes or until you see it browning beneath. Once done, turn it and cook for another 2-3 minutes (or until done). You dont have to add ghee/oil again.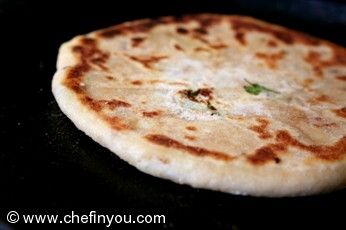 Traditionally it is served with some ghee or butter and spicy Indian pickle.  Even simple raita would work very well. Make sure you side dish is lighter since parathas are heavy themselves. A spicy dal would be perfect too. Serve hot.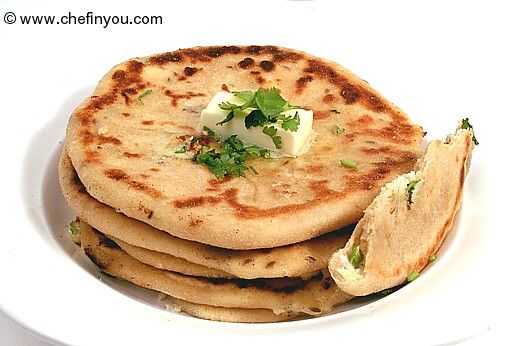 Related Recipes You May Like
Be the first to showcase this recipe!

Your Name
Did you make this recipe?
Please click below to share your experiences while you were making this recipe. Thanks for your input!
Have a favorite recipe?
Know a family recipe your mom used to make? Or maybe a go to recipe that works everytime? Share it with your fellow foodies!