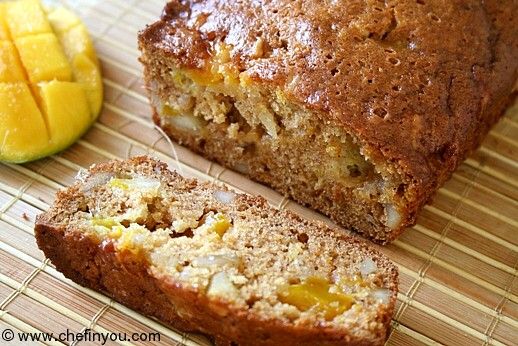 I am seeing Mangoes everywhere. I love them and the memories of my growing up days abound. The times when I used to sit around in the backyard of my grandma's house, sucking those ripe and luscious mangoes..aah Bliss! They seem like just yesterday yet I am painfully made to aware of how long back they were. Anyways, after enjoying them, I got this baking bug with the remaining ones. And whenever it comes to baking, my first thoughts always go to making breads first. Then comes muffins, pies, or whatever else baking fairy blesses me with!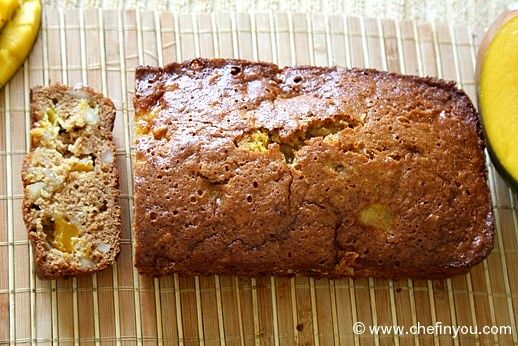 The bits of mangoes dotting the bread and the slight crunch of nuts makes this one of my favorite breads. I can't for the life of me figure out the source of this recipe. I recall noting it down from a magazine but cannot recall which one. You can easily make this eggless by increasing the qty. of oil in the recipe. If you want to cut down the additional fat, use mango puree instead. Just blend few mango pieces in a blender and use it instead of egg whites.You can use either walnuts or macadamia and since I had the latter, I used it. I also modified the recipe slightly to suit my pantry needs.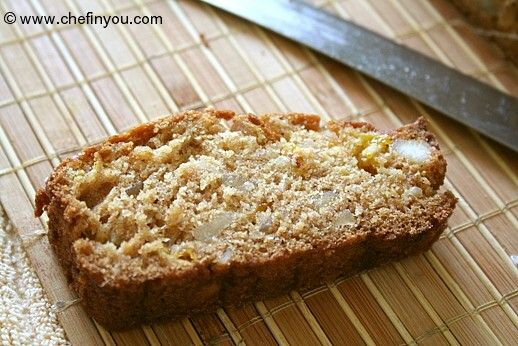 Basic Information
Yield
:
Makes one 9X5 inch loaf
Ingredients
1 cup all-purpose flour(maida)
3/4 cups sugar
1/2 tsp baking soda
1/4 tsp salt
1/4 tsp cinnamon powder
2 egg whites, slightly beaten (or use 1/4 cup of vegetable oil instead 0r 1/4 cup mango puree)
1/4 cup vegetable oil
1/2 tsp vanilla extract
1 generous cup of chopped mangoes
1/2 cup chopped walnuts or macadamia
Method
1
In a bowl, mix together eggs (or mango puree), oil and vanilla.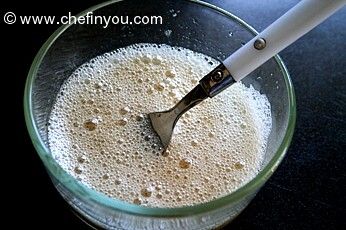 2
Next add the first five ingredients together in another large bowl. Then add the wet ingredients into dry, just until moistened.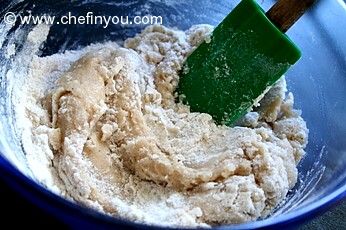 3
Fold in mangoes and nuts.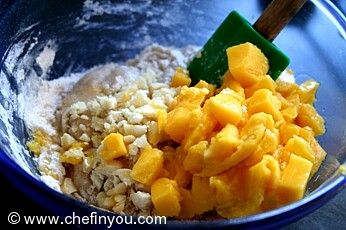 4
Mix it all together and spoon into a greased loaf pan.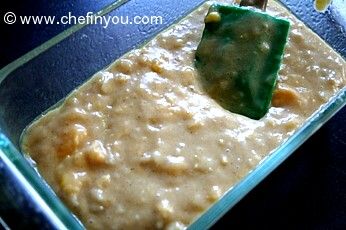 5
Bake at 350F for 50-60 minutes or until a toothpick inserted near the center comes out clean.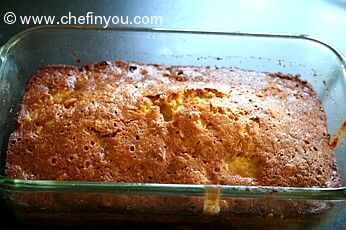 6
Cool for few minutes and then turn it onto a wire rack.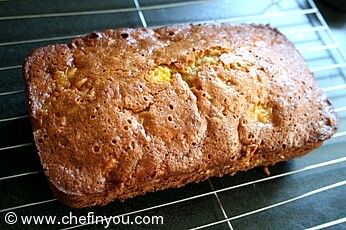 Let it cool down completely before cutting them into slices. The pieces of mangoes with every bite makes it not only moist but also makes it enriched with mango flavor. Delicious, moist bread is also a great start to a day! We enjoyed it not only during tea but also for breakfast the next day.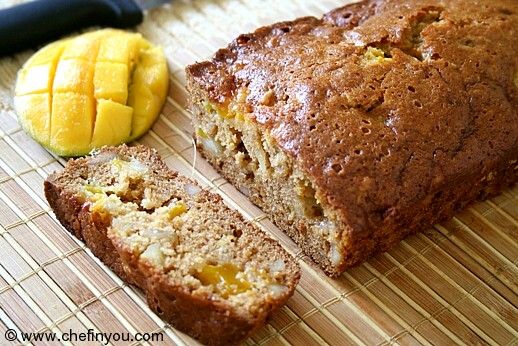 Related Recipes You May Like
Did you make this recipe?
Please click below to share your experiences while you were making this recipe. Thanks for your input!
Have a favorite recipe?
Know a family recipe your mom used to make? Or maybe a go to recipe that works everytime? Share it with your fellow foodies!