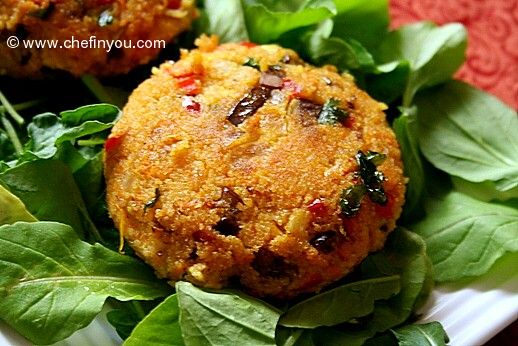 Sometimes it can indeed get boring and monotonous to make the same things again and again. But by making  few changes, either by way of adding new ingredients, adopting a different cooking process or something as simple as changing the way the dish is presented can provide that much needed difference. Just because I love trying out new ingredients (whatever I see in the groceries around me), I do not always feel inclined to try a new type of dish. I mean, its great but I am not one to buy one bottle of spice or sauce when all I am going to use it for is ONE recipe! I see these Food network chef's using a small bit from a huge bottle - well they sure can afford to do that - but not me! I try to look out for/ create new things in the kitchen mostly with regular ingredients in my pantry. Trust me - if you look for it, you will be astounded at the variety that's available out there in your own pantry!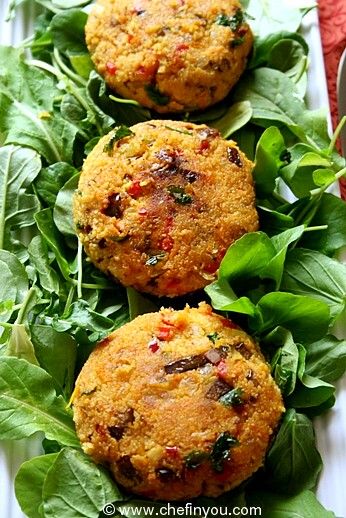 Keeping that in mind is this recipe for Couscous patties. I enjoyed a similar recipe in my colleagues house where she had added cheese, eggs and bread crumbs along with few vegetables to regular couscous to make deep fried croquettes. They were MIND BLOWING! I loved them and got her recipe. I made changes with few things to suit my needs and whatever I had on hand. I ended up using almost same vegetables since I had them but made them eggless and shallow fried them instead of deep frying. I also made them into patties instead of cylinders. Lets go to the recipe directly now shall we?
Basic Information
Cook Time
:
30 min to 1 hour
Ingredients
1 cup whole wheat couscous (or use regular)
2-3 small eggplants called Indian brinjal, chopped finely (or use 1 medium eggplant)
1 carrot, grated
1 red capsicum, finely chopped
1 onion,chopped finely
1-2 cloves of garlic, minced
1 tbsp cumin-coriander powder
1/4 tsp turmeric powder (optional)
1 tbsp tomato paste
zest of one lemon and 2 tsp of lemon juice
about 6-7 tbsp fresh plain yogurt
few sprigs of cilantro,chopped
salt to taste
Method
1
Place the couscous in a bowl and pour 1 cup of boiling water. Close the lid and let it sit aside for about 10 minutes or until all the water has been absorbed.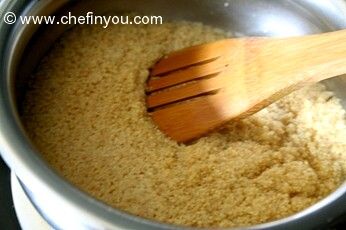 2
Fluff up the grains using a fork. Set aside.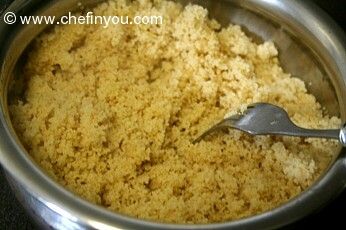 3
In a skillet, add 1 tsp of oil and fry the eggplant until soft and golden.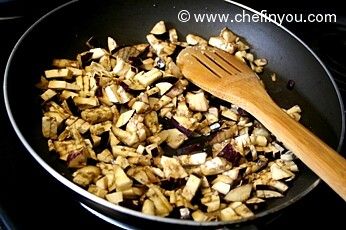 4
Place it in a bowl.
5
Next in the same skillet, add the onions, garlic, carrot, tomato paste along with spice powders and cook until soft. Add little salt to the mixture and sprinkle little water. This way you don't have to add oil again for cooking. Cover and cook for few minutes until its soft and cooked.
6
Add it to the eggplant.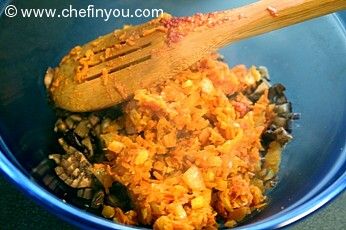 7
Next add another 1/2 tsp of oil to the same skillet and add the capsicum. I know it sounds monotonous, but separately cooking helps them to cook properly. Or you can always use any vegetables you like - which you normally would while making your couscous pilaf/upma.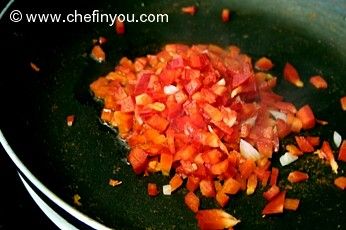 8
Once cooked add the bell peppers to the bowl with other vegetables.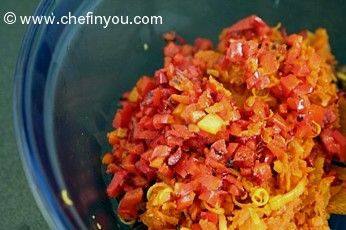 9
Next add the couscous and rest of the ingredients top the bowl.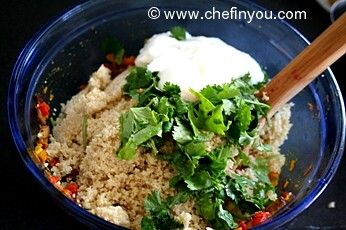 10
Give it a good mix. Add seasoning if needed.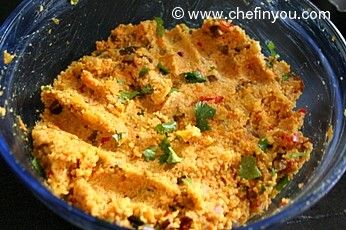 11
Now shape them into patties and refrigerate them covered for at least 15 minutes.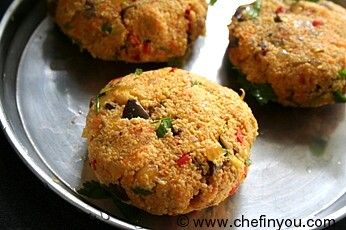 12
Now there are multiple ways you can proceed with the recipe 1) You can enjoy them as it is. Everything is already cooked hence it can be enjoyed as it is. 2) You can Bake them at 400F for few minutes to heat them up and to crust the surface. The idea is just to create a light crust on the surface of the patties. 3) You can shallow fry like I did. It really does not soak up oil that much to fear the calories. Just add enough oil to coat the bottom of the pan  which is what I have done here.
13
Turn after 3-4 minutes. See that light crust. Makes the surface crispy.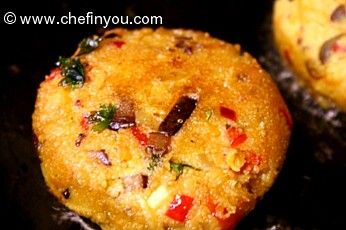 14
Drop them on a paper towel.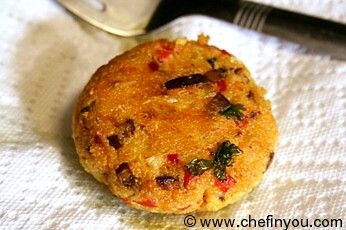 I serve them with salads - esp. with green salads, this really goes well. Loads of nutrition, hearty and a great way to coax kids to eat healthy stuff!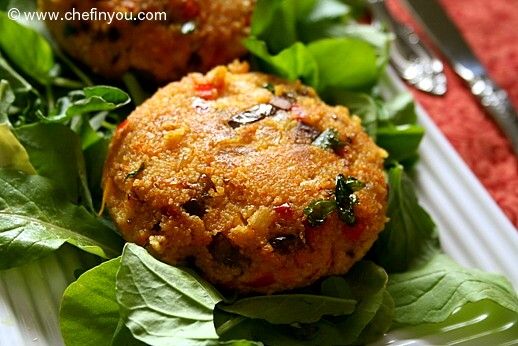 Related Recipes You May Like
Did you make this recipe?
Please click below to share your experiences while you were making this recipe. Thanks for your input!
Have a favorite recipe?
Know a family recipe your mom used to make? Or maybe a go to recipe that works everytime? Share it with your fellow foodies!