Easy Cinnamon Chocolate Fudge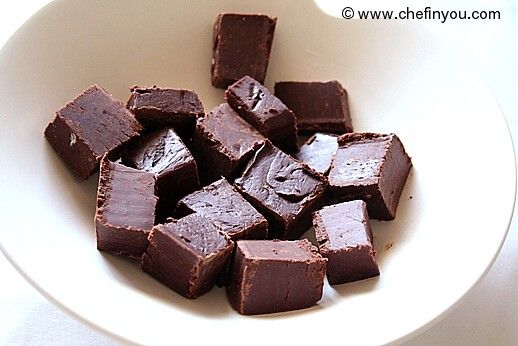 This is such an incredibly easy recipe. My choco-holic friend refers to these as "Petite Pick me Ups". One of my husband's colleagues left the country for ever and his wife , who is a chef,  had an assortment of kitchen stuff to give away. Among the few that I took, she forced me to take bunch of chocolate she had hoarded! I was in a fix since we are not chocolate/Sweet/Dessert eaters in my house. But she insisted and armed with loads of chocolate I came home.  The one thing I knew was that I would be making something with these and giving it away to my choco-monster of a friend and parcel rest away for my husband's colleagues at work.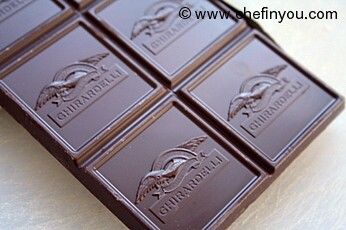 This is such a simple recipe to put together from Giada and I had everything on hand, so made it. Needless to say - it was over before you could blink your eyes. Its Pure chocolate heaven (so the lovers say!). The previous times I made this, I stuck to the recipe but this time I changed it a bit since I had different chocolates and needed to use them. I have added my minimal changes on the side of the original recipe.
Basic Information
Yield
:
Makes 4-6 servings
Ingredients
1 (14-ounce, 396 gms) can sweetened condensed milk
2 teaspoons ground cinnamon
1 teaspoon pure vanilla extract
1 pound (about 2 cups) bittersweet (60 percent cacao) chocolate chips (recommended: Ghiradelli) ( I used half of bittersweet chocolate and half semi sweet chocolate chips which is what I had on hand)
3 tablespoons unsalted butter, cut into 1/2-inch pieces, at room temperature
Kosher or flake salt, optional ( I would recommend it!)
Tips
Note:
You can add nuts to this if you wish. I have tried it with and without it and both have come out tasting delicious. I like walnuts better with this
Method
1
In a medium glass or stainless steel bowl, combine the condensed milk, cinnamon, and vanilla. Stir in the chocolate chips and butter.
2
Put the bowl on a saucepan of barely simmering water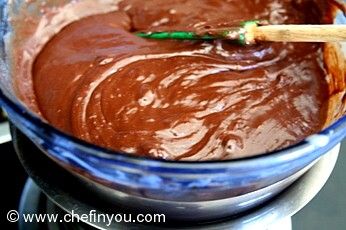 3
and mix until the chocolate chips have melted and the mixture is smooth, about 6 to 8 minutes (mixture will be thick).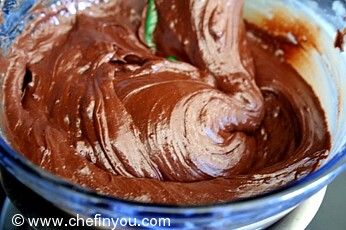 4
Using a spatula, scrape the mixture into a greased 8X8 pan which has been greased and lined with parchment paper.Make sure to cover it well since you will be lifting it out of the pan using the parchment paper.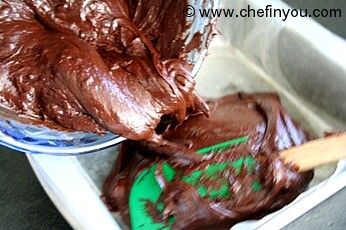 5
and smooth the top. Sprinkle with salt, if using .(I did not do this for this recipe since I did not have the kosher salt on hand - no loss!)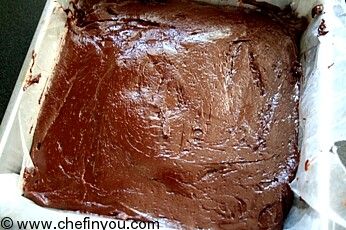 6
Refrigerate for at least 2 hours until firm. It took me little more than that to set - I think about 3 hours.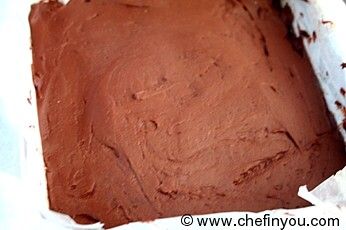 7
You can now cut the fudge into small pieces - either right in the pan - or better remove the parchment from the pan and then cut into slices.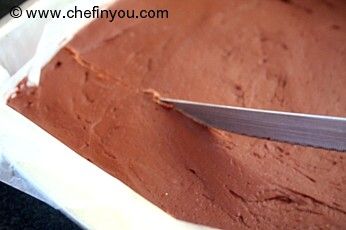 8
If you greased the paper well, you will see that you can easily peel the parchment from the fudge.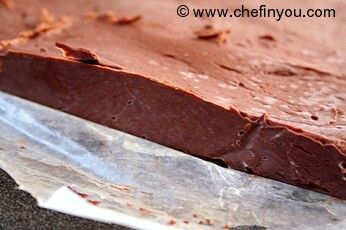 Cut into small pieces. These are like eating pure chocolate. Place it in a bowl and watch them disappear.
Related Recipes You May Like
Did you make this recipe?
Please click below to share your experiences while you were making this recipe. Thanks for your input!
Have a favorite recipe?
Know a family recipe your mom used to make? Or maybe a go to recipe that works everytime? Share it with your fellow foodies!