Rava Kesari (Semolina Pudding)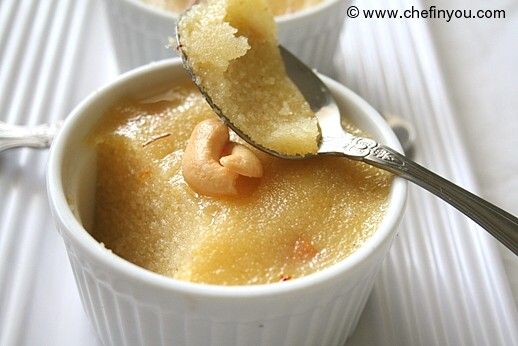 One of the most basic and loved sweets in the whole of India - Semolina Pudding. The North Indians refer to it as Sooji or Suji Halwa while the South Indians know it as Rava Kesari or simply Kesari. As I mentioned, it is one of the simplest sweets to make among the myriad (and complicated!) Indian sweets. Gets done in a jiffy, involves minimal ingredients and the effort is minimal. For all the "minimum" so and so, the taste is par excellence. It is one of our favorites and is among the rare sweets we like. The amount of sugar can be adjusted to your liking and that makes it easier for us to use as little as possible.
Its a very forgiving recipe and is hard to mess up. However a little care (see tip in the middle of the step) can make it extra delicious. Its also versatile - in the sense that different flavor essence can be added to give a special twist - so its like eating a different sweet every time. I find in many restaurants that Pineapple flavoring seems to be popular.We personally like it plain with just the hint of saffron. I LOVE adding lots of roasted cashews. Something about that delicious nutty crunch along with soft semolina seems to strike the right balance in my palate. This recipe comes specially for prasanthi, a 14 year old sweetheart who wants to surprise her mom. (Bless her! I was too busy eating at her age to bother learning cooking! Hugs). Starting out the year 2011 on a sweet note.
Basic Information
Yield
:
Depending on portions, this can serve 2-4 people
Ingredients
1/2 cup Semolina (Rava, sooji)
1 to 1-1/4 cups water
1 cup Sugar, see Tips
1-2 tbsp broken cashews
2-3 tbsp Ghee (clarified butter)
1/4 tsp cardamom powder
pinch of saffron
few drops of food coloring (optional)
few drops of flavor essence like pineapple, mango, rose etc (optional)
Pinch of salt (optional) - see Tips
Tips
1.
Sugar:
The amount of sugar will depend on your taste. If you like it mild, start with 1/2 cup sugar.
2.
Salt:
My personal experience dictates that adding a wee little salt brings amount a profound balance in flavors than without. But my mother never added the salt. So its upto you. Make sure its just a little bit - a pinch.
Method
1
In a skillet heat the ghee. Roast the cashews until brown.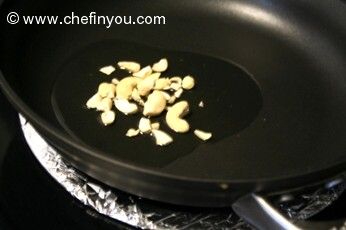 2
Remove the cashews and set aside.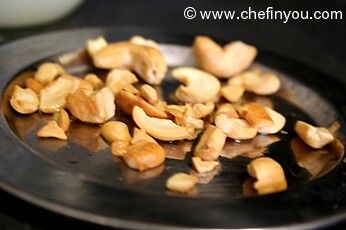 3
In the same pan, roast the semolina for 2-3 mins in low flame. It will start being aromatic. The purpose for doing this slow roasting is dual. One for avoiding lumps while adding water later and also to get rid of the rawness of the semolina. Alternatively bring the water to a boil.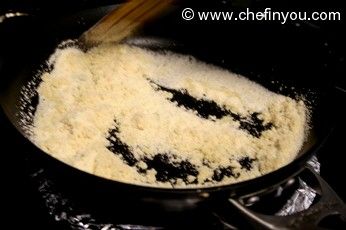 4
Now slowly add the water to the semolina,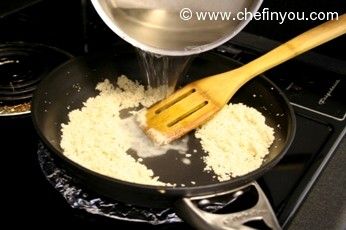 5
making sure to keep stirring the pan
6
so that the semolina does not form into lumps.
7
The semolina should be completely cooked and you can find it out by touching it. It will be  soft, will not stick to the sides and will come together as one mass.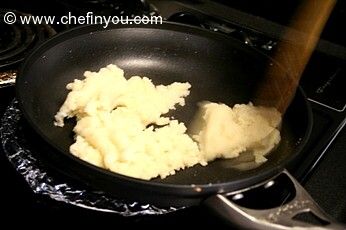 8
At this point add the sugar. Make sure to add sugar only after the semolina is well cooked.
9
Sprinkle it over evenly on the surface.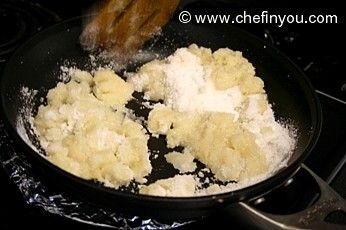 10
Keep stirring while the sugar melts.
11
and comes together into a thick pudding like consistency.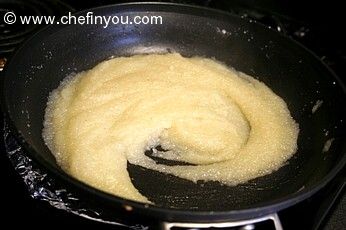 12
At this point add the saffron, cashews and food coloring if using (I added 1 drop of food coloring this time. I usually don't.) You can also dissolve the saffron in few drops of hot milk and add it.
Tips:
For different tastes/variety you can add few drops of essence at this stage like pineapple, mango, rose, vanilla etc.
Remove from pan and Serve it hot garnished with cashews if desired.
And then...what else..DIG IN! :)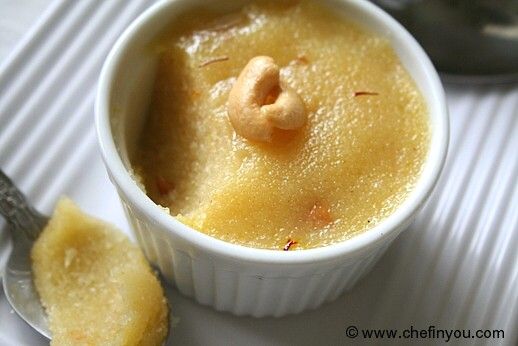 Related Recipes You May Like
Did you make this recipe?
Please click below to share your experiences while you were making this recipe. Thanks for your input!
Have a favorite recipe?
Know a family recipe your mom used to make? Or maybe a go to recipe that works everytime? Share it with your fellow foodies!