Eggless Mawa (Khoya) Cake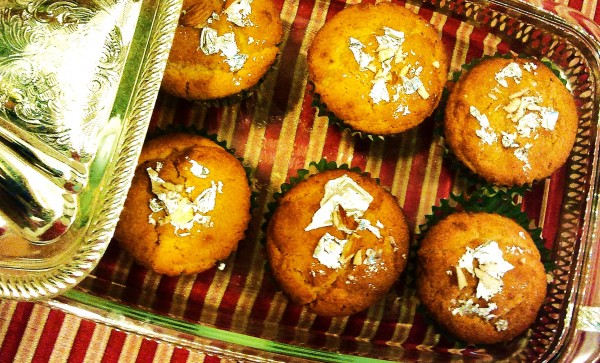 As a child I would wait for Saturdays when my mom used to get those lovely, warm mawa cakes. Those golden cakes used to have a lovely crust and a soft inside with a lot of goodness in them. They used to be made with eggs. I have tried to recreate an eggless version of those cakes.
References
the main source of this recipe is the memory of that taste which can only come with ample use of mawa in it. the core ingredients of this recipe were used in varying proportions till the desired results were arrived at. this is my earnest effort to share my childhood memories.
Ingredients
200 grams plain flour (maida)
130 grams butter
150 grams castor sugar
150 grams mawa (khoya)
2 tablespoons yogurt (dahi)
1 teaspoon baking powder
1/2 teaspoon soda bi-carb
1 tablespoon cashew nut powder
150 mls milk
a few drops of rose essence
Method
1
Preheat the oven to 180 deg. C. Line the muffin mould with paper cups. Sieve the flour, baking powder and soda bi-carb together. Mix the cashew nut powder in it and keep aside.
2
In another bowl cream the butter and add sugar to it, one tablespoon at a time while beating coutinuously. Once all the sugar is used up add the mawa, beat a little and then add the yogurt and beat further till the mixture is even.
3
Fold half of the flour mixture and half of the milk into the butter mixture. Take care to fold gently and not to beat vigorously. Repeat with the remaining flour mixture and milk till the batter is of a smooth, shiny and even consistency.
4
Fill in 3/4th of each of the 12 paper cups with the batter and baked in the preheated oven at 180 deg. C for 25 minutes till nice and golden in colour.
5
Decorate each cup cake with silver foil (varak) and pistachio slivers for a festive look (optional). Have the cakes when they are warm.
This recipe was contributed by a ChefInYou member.
Related Recipes You May Like
Be the first to showcase this recipe!

Your Name
Did you make this recipe?
Please click below to share your experiences while you were making this recipe. Thanks for your input!
Have a favorite recipe?
Know a family recipe your mom used to make? Or maybe a go to recipe that works everytime? Share it with your fellow foodies!