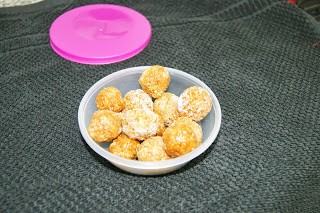 Kamarkat is a toffee made with jaggery and grated coconut. The important step in making kamarkat is preparing the syrup to the right consistency. I think I removed it from stove a little earlier. I ended up with chewy kamarkat. Actually it has to be really hard.
It came out very flavourful & tasty with the smell of coconut & jaggery..Though it gave a good exercise to the jaws , its worthy to taste . Do try n let me know how u liked it..
Ingredients
Jaggery - 3/4cup
Water - 1/4cup
Grated coconut - 1/4cup
Ghee - 1tsp
Rice flour -2tsp
Method
1
1. Melt a tsp of ghee in a pan and roast the grated coconut till u get a nice aroma & slight brown color. Keep this aside & allow the coconut to cool down completely.
2.Take a broad pan, add the grated jaggery along with little water just to cover it. Melt the jaggery and strain to remove the impurities.
3. Again heat the syrup, it will become frothy & thick. After few minutes , pour a drop of syrup in a plateful of water, you should be able to roll a hard ball & makes a "tung" sound when dropped.
4.Now add the roasted coconut & again keep it in medium flame & keep on mixing it. At one stage , the mixture become thick & it leaves the sides.
5.When the mixture is still warm , grease your hands with rice flour or with ghee and make tight balls. Roll in rice flour & set aside. Allow the balls to cool down completely.
6.Follow the same for all the balls. Rolling in rice flour prevents sticking of kamarkat with each other when stored.
2
Rolling in rice flour is very important to avoid the sticking of balls with each other.
If you are using desicated coconut, then no need to roast the coconut.
Cardamom powder can also be added.
This recipe was contributed by a ChefInYou member.
Related Recipes You May Like
Be the first to showcase this recipe!

Your Name
Did you make this recipe?
Please click below to share your experiences while you were making this recipe. Thanks for your input!
Have a favorite recipe?
Know a family recipe your mom used to make? Or maybe a go to recipe that works everytime? Share it with your fellow foodies!