Kasi Halwa/Pushinikka Halwa/White Pumpkin Halwa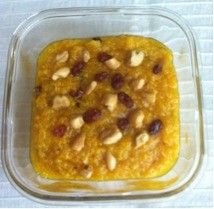 Kasi halwa/White pumpkin halwa is a popular south Indian sweet/halwa served in weddings mostly.wondering why the same not done regularly at home.when asked mom she told me that in weddings the cook throws away the water from the scrapped white pumpkin and makes halwa,but the original version i mean the way it is done at home is to retain the water and make the halwa and it used to take long time for the water to get absorbed... but it tastes very nice this way....hmmm.......tedious and time consuming...no wondering not a regular dish done at home.....yesterday i went to market and ended up buying half a pumpkin.....and the result is the golden and lovely halwa before your eyes....Very very tasty believe me.......and easy to make too...lets see how to make it.
Basic Information
Prep Time
:
30 min to 1 hour
Cook Time
:
30 min to 1 hour
Yield
:
A big bowl of Halwa
Ingredients
Pushinikka/White pumpkin - 1/2 or 1 big bowl scraped
Ghee - 4 tsp
Cashews - 1 tsp
Raisins - 1 tsp
Low fat milk - 1/2 cup
Condensed Milk - 4 tsp
Saffron -- few strands(Soak it in 2 tsp of warm milk for 10 min)
Sugar - 1/2 a cup(a little bit less)
Cardamon - 2
Method
1
peel the outer skin of pumpkin and scrape it in a scrapper and keep it aside.
In a pan heat 1 1/2 tsp of ghee and fry the cashews and raisins and take it in a bowl and keep it aside.
In the same pan add the scrapped white pumpkin and fry a little bit till all the water is evaporated.
2
To this add milk, and let it cook nicely.
once cooked add sugar,cardamon powder, saffron to this and keep stirring until it becomes halwa consistency.
Add the remaining 2 1/2 tsp ghee while stirring little by little. add half of the fried cashew and raisins.
cook until ghee separates.
3
Garnish with the remaining cashews and raisin.Nice tasty and yummy Kasi halwa/Pumpkin halwa is ready to eat...
Note:- You can throw way the water from the scraped pumpkin its up to you. As i didn't have so much water from the scraped pieces i have done as it is with the water. You can use food colour(orange) a little bit but as i wanted a natural colour i used saffron mixed with little milk hence the lovely golden yellow colour.... As i used condensed milk i have reduced the sugar other wise the consistency is for 2 cups pumpkin one cup sugar can be added, but take care once cooked the quantity reduces..so add sugar accordingly. You can use full fat milk and avoid condensed milk too...
4
Sorry ...Unable to add the step by step pics here. You can have a look at the same in my blog.
http://vasiniskitchen.blogspot.com/2012/07/kasi-halwawhite-pumpkin-halwa.html
This recipe was contributed by a ChefInYou member.
Related Recipes You May Like
Be the first to showcase this recipe!

Your Name
Did you make this recipe?
Please click below to share your experiences while you were making this recipe. Thanks for your input!
Have a favorite recipe?
Know a family recipe your mom used to make? Or maybe a go to recipe that works everytime? Share it with your fellow foodies!