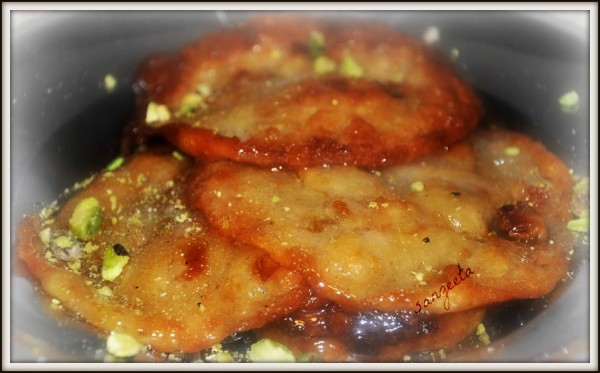 Malpua is an Indian pancake served as a dessert.Malapua is popular in Bangladesh, Orissa, West Bengal, Bihar and Maharashtra and Rajasthan,where it is served during festivals along with other sweets.
References
my mom makes world best malpuas ,its her recipe,m really thank full to her for serving me, so many years and so many delicacies.
Ingredients
For Batter:
1 liter whole milk
1/4 cup semolina( dry rosted till golen )
1/4 cup plain flour
For Frying:
Ghee( clarified butter )
For Sugar Syrup:
1 cup sugar
1/2 cup water
few cardamom seeds
For Garnish:
Pistachios( Chopped )
Method
1
In a pot,boil the milk till it reduces to half of its quantity,transfer to a deep bowl and cool it off.
2
Now add,roasted semolina and plain flour to,the reduced milk,whisk in one direction,take care,that there should not be any lumps.(if wish one can use hand blender too.)Rest the batter for 30 min in some warm place.
3
Heat the ghee in a flat pan,when ghee melts,pour the ladle full of batter, in circular movements into the ghee to form a small pan cake,cook on medium heat,when it becomes golden from down side,turn over and cook.(Take care that it does not become crisp and hard)
4
For Batter:
In a pot,boil milk,till reduced to it's half quantity on slow flame,stir in between.Now transfer to a deep bowl and cool it off.
5
For Sugar Syrup:
In a pan add,water,sugar and cardamom seeds,bring to boil on high flame stirring constantly,till one thread consistency is formed.
7
Now dip the malpura in the sugar syrup and lay out on a plate.Garnish with chopped pistachios.Serve hot or cold with Rabri or Basundi or even served HOT with Vanilla Ice cream on top,with some fresh fruits and nuts on top...enjoyyy...:)
8
NOTE:
Vegan can replace dairy milk with soy milk.
9
NOTE:
Those who are more calorie conscious,can fry it in oil or shallow fry it and can use cows milk instead of whole milk.
10
NOTE:
To give twist to this traditional sweet,one can add fresh fruit pulp instead of reduced milk and can add fruit emulsion to the sugar syrup too.
This recipe was contributed by a ChefInYou member.
Related Recipes You May Like
Be the first to showcase this recipe!

Your Name
Did you make this recipe?
Please click below to share your experiences while you were making this recipe. Thanks for your input!
Have a favorite recipe?
Know a family recipe your mom used to make? Or maybe a go to recipe that works everytime? Share it with your fellow foodies!